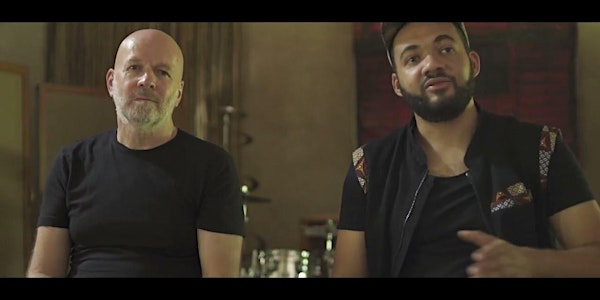 Newport Live Presents Steve and Bokani Dyer - Jazz from South Africa
Newport Live Presents South African Father/Son Jazz with Steve and Bokani Dyer Quartet. Friday, May 5th, Newport Classical Recital Hall 7:30
Date and time
Friday, May 5 · 7:30 - 9:30pm EDT
Location
Newport Classical Recital Hall 42 Dearborn Street Newport, RI 02840
About this event
Newport Live will present Father and Son South African jazz artists, Steve and Bokani Dyer, for a performance by their quartet, on their last date before returning to South Africa. The show will be at 7:30 PM on Friday, May 5th at Newport Classical's Recital Hall at 42 Dearborn Street in Newport, RI.
The father and son duo of the elder saxophonist and flutist Steve Dyer and the pianist and producer Bokani Dyer are both visiting teacher-performers within Jazz at Lincoln Center's Music Education program. They will jointly lead their quintet for a performance of Dyerlogue, a personal, instrumental journey through their native South Africa. Following in the footsteps of their collaborators Oliver Mtukudzi and Vusi Mahlasela and drawing upon the region's deep jazz and folk traditions, Steve and Bokani seamlessly blend the sounds of tribal antiquity and contemporary jazz into a hearty groove. Their set commemorates the 28th anniversary of South African independence and the April 1994 elections that brought Nelson Mandela to power.
The Father and Son Duo, featuring Steve Dyer on Sax, his son Bokani playing Piano and The Nonsemble Selectors Collective as your hosts and musical comrades invite you and yours to join us for an intimate eve of AFRICAN JAZZ brought us straight from the Motherland.
These two established and esteemed lions out of the pan-African jazz community are on their way out here for their very first Newport show!
Please come on out to help us welcome and celebrate them, their music and their journey!
Saxophonist Steve Dyer recalls how excited he was when his first born child Bokani was born in 1986. He even composed a tune for the new born baby who was still in hospital. The young Bokani used to say he was his father's secretary. Steve took his son to typing lessons while he was very young. That probably helped Bokani in finger co-ordination that is a big strength in his piano and keyboard playing"
While growing up in Pietermaritzburg as a young man, Steve Dyer would see maskandi musicians walking the streets as they played their guitars, and hearing the sound of Soul Brothers and kwela music playing on the radio. He began composing music at the age of 10.
Upon finishing his music degree, Steve was expected to join the SADF as was compulsory for all white males. He refused military conscription. "I never for one moment thought about wearing an apartheid army uniform", he said. The young music graduate left South Africa and lived in Botswana for 5 years where he was a cultural activist with the Medu Art Ensemble.
Bokani was born in Gaborone while the Dyers were living in exile. When he heard the news about the birth of Bokani, Steve was so thrilled and composed a song titled "B.A. from Durban way" which was included in the debut album of Southern Freeway, a group that he founded.In 1988 Steve settled in Zimbabwe, where he formed the group Southern Freeway that recorded two albums, their self titled which was released in 1989 and Indlela Yenkululeko in 1992.
Steve later joined the Amandla cultural ensemble of the ANC. He returned to South Africa in 1993 when it was clear the country was moving towards democracy. Since his return, he has released 7 solo albums which are "Down South in Africa" (2000), "Son of the Soil" (2004), "Lifecycle" (2006), "Native Art "(2007), "Ubuntu Music" (2012), "Confluence" (2014) and "Genesis of a Different World" (2019) which was recorded live at the Jo'burg theatre on the 2nd and 3rd of August last year. "Lifecycle", "Native Art" and "Ubuntu" received SAMA nominations. Besides the 7 solo albums that he released, Steve has also embarked on several projects. In 1993 he was the music producer for the Walter Sisulu documentary which was directed by John Matshikiza. When the ANC celebrated its centenary in 2012, he was the cultural programmes creative advisor, curator and co-ordinator.
2011 saw the release of Bokani's debut album titled "Mirrors" where he worked with his contemporaries in Cape Town. He released his second album "Emancipate The Story" in the same year, and won the Standard Bank Young Artist of the Year. In 2014 he was chosen for a Pro Helvetia funded Artist Residency in Switzerland. His third recording "World Music" was released in 2015 which received a South African Music Award (SAMA) nomination for Best Jazz Album. Bokani moved to Johannesburg and is working on several projects with his father Steve. He composed the original for "Catching Feelings", a film directed by top SA comedian Kagiso Lediga. Together with his highly acclaimed Bokani Dyer Trio, made up of double bassist Romy Brauteseth and drummer Sphelelo Mazibuko, he released his fourth album "Neo Native" in 2018.
Please come help us give this wonderful father and son duo from South Africa a warm Newport welcome for an exciting evening of South African based jazz. (The show is their quartet!)
About the organizer
Newport Live is a Rhode Island-based 501(c)(3) non-profit arts organization whose mission it is to celebrate and preserve diversity in music traditions by creating community-based opportunities for cultural exchange.