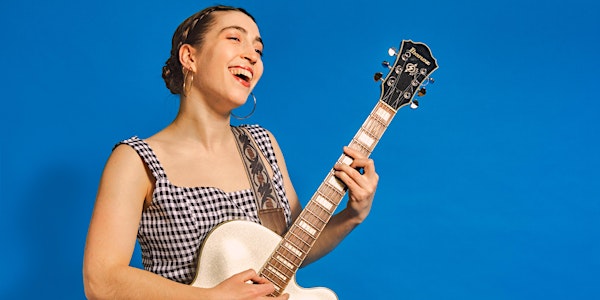 Newport Live Presents Alisa Amador. "Women's Voices" Series
Newport Live and the Jamestown Arts Center Present Alisa Amador. "Women's Voices" Series
When and where
Location
Jamestown Arts Center 18 Valley Street Jamestown, RI 02835
About this event
Newport Live is collaborating to present their "Women's Voice series" at the Jamestown Arts Center in Jamestown, RI with 2022's NPR Tiny Desk Concert of the Year Winner, Alisa Amador.
"It surely was a day of joyful tears. And those joyful tears for Alisa Amador, the winner of the 2022 Tiny Desk Contest, came at a time when she had been considering putting her music career on hold. For the staff of NPR and the Tiny Desk crew, it was our first Tiny Desk concert with an audience in over 800 days, and Alisa's captivating music surely intensified our spinning emotions. Alisa Amador opened with her Contest-winning entry "Milonga accidental," a song about embracing your contradictions. It's a song that our judges — iLe, Big Krit, Michelle Zauner (of Japanese Breakfast), Raveena, Nate Chinen (of member station WBGO), Tiny Desk producer Bobby Carter and I — all found to be so filled with passion. I often fall for a song because of the lyrics, and this is the first Tiny Desk Contest winner whose winning song is in Spanish. " — Brian Boilen, NPR
Alisa grew up in Boston, Maine, Puerto Rico and Argentina, and was raised by Rosi and Brian Amador, her Latin-folk musician parents who play in the band Sol y Canto. She's been singing since she was four, and has been entering the Tiny Desk Contest every year since 2018. In 2022, she won! Tiny Desk Concert of the Year.
Alisa Amador is a connector. Her EP, Narratives, is a six-song snapshot in time. It's a deep look at a person stumbling through life in two languages — English and Spanish — and in many states of mind about it all. Alisa's crystal-clear vocals are so effortless throughout Narratives that it's almost easy to forget how technically talented she is, until she moves from almost-spoken-word territory to a powerful chorus without hesitation or illustrates a repetitive refrain that's so affecting it feels like you might want to live inside it for a little while.
"Shawn Colvin meets Joni Mitchell has lunch with Amy Winehouse meets Suzanne Vega add Diana Krall in a quiet unassuming never loud package even singing in Spanish and French." — VANCE GILBERT
Alisa has been learning these lessons since she began performing as a backup singer for her parents' bilingual Latin folk band Sol y Canto at age five. This is where her ease with performing comes from; she and her twin brother grew up touring extensively with their parents' band. Through their high school years, Alisa and her twin were often crammed into a minivan or backstage, loading in and out, and passing time by making styrofoam puppets out of coffee cups and stirrers.
Alisa began playing classical guitar at age 10, inspired by her father, and eventually found the electric guitar a decade later. The new instrument was versatile enough to honor her many influences and styles. "I was 19, and playing it felt like coming home." When listening to Alisa's music, her time spent immersed in Latin folk and jazz is undoubtedly present in her own songs, written in both English and Spanish. But there is also pop, funk, soul, and something uniquely her own. Alisa's specialty is sparking connection, across both listeners and musical styles.
"Alisa Amador is a pitch-perfect rendition of my wildest dreams." — CYRENA TOUROS, NPR ALL SONGS CONSIDERED