Description
NewGen Peacebuilders is a global peace education, training and mentoring program.
JOIN US for NewGen Peacebuilders: YOUnited – Metro Charlotte, an interactive presentation featuring the team action peace projects of students selected from 14 public and private high schools across Mecklenburg and Gaston Counties. Over 12 weeks, these young people learned the fundamentals of conflict resolution and peacebuilding and designed peace projects to:
Raise awareness of human trafficking amongst K-12 youth in Charlotte
Educate communities about how to support LGBTQ-identified youth
Provide opportunities for food-insecure children to learn about nutrition and culinary skills
Elevate the voices of young people around issues of school safety
Create meaningful connections between homeless youth and the metro Charlotte community
Increase access to materials to promote college-readiness amongst at-risk high school students
Support K-12 teachers in creating more empathetic classroom environments
Collect essential food items for struggling communities in Venezuela
Reduce the impact of carbon emissions by planting Urban Orchards
Parking: Due to construction and other activity surrounding UNC Charlotte Center City, parking will be limited.
Pay to Park lot at 422 East 9th Street is across the street from UNC Charlotte.
Seventh Street Parking Deck is a short walk through First Ward Park. Visitors can pay to park by the hour.
We encourage you to use the Light Rail! Center City is a half a block from the 9th Street Station. Sugar Creek Station and Scaleybark Park and Ride locations are the closest to 9th Street Station.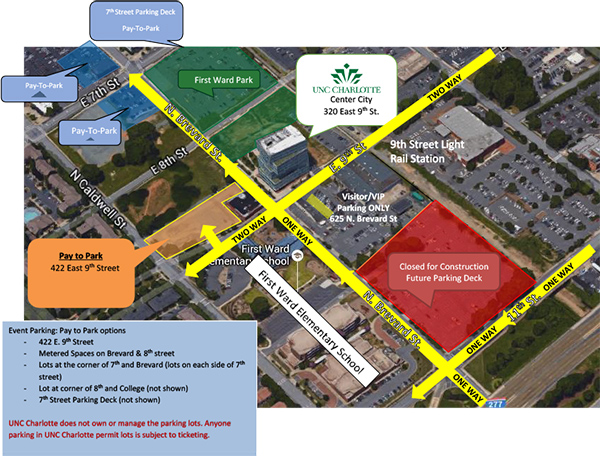 Questions: Elizabeth Peacock
epeacock@newgenpeace.org, Tel. or Text: 704.607.3301
www.newgenpeace.org
---

Special thanks to Rotary International District 7680 and local Rotary Clubs, primary funders of full scholarships for students participating in this Spring 2019 program.
To make a tax-deductible donation in support of NewGen Peacebuilders, please visit: NewGenPeacebuilders