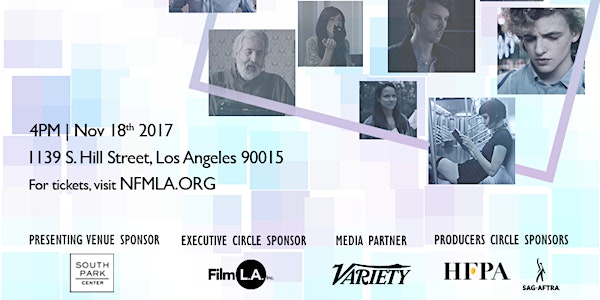 NewFilmmakers Los Angeles (NFMLA) Film Fesitval - November 18th, 2017
When and where
Location
South Park Center 1149 Hill Street #H300 Los Angeles, CA 90015
Description
Join NewFilmmakers Los Angeles (NFMLA) on Saturday, November 18th in celebrating independent cinema with great films and open bar!
The first program showcases 5 fantastic shorts by emerging filmmakers. From a sci-fi about memories, an NBA comeback story, to a Fugitive-esque murder mystery, this program features eccentric narratives that are sure to keep the audience on the edge of their seats.
Memory Box - Dir. by Aaron Aites & Audrey Ewell (11 Min.)
A young mother working in a memory re-creation facility is pushed by a client to break the rules.
Companion - Dir. by Matt Ferrucci (27 Min.)
Disgraced NBA superstar Jay "J-Train" Tyrell has lost everything. After being arrested at the Red Roof Inn with drugs, guns and transvestite prostitutes, his career and life are on the outs. Enter Nick Foster, a sober companion to the stars. He's hired by Jay's agents to keep him out of trouble and get him back on track. Most days consist of AA meetings, working out, and daily visits to Jay's many girlfriends. However, today is 24 hours before Jay's big court hearing and things are starting to heat up. Will Jay keep his nose clean or will he be derailed by lady drama, his ego and the glare of the unforgiving spotlight? Nick is Jay's last line of defense between relapse and redemption.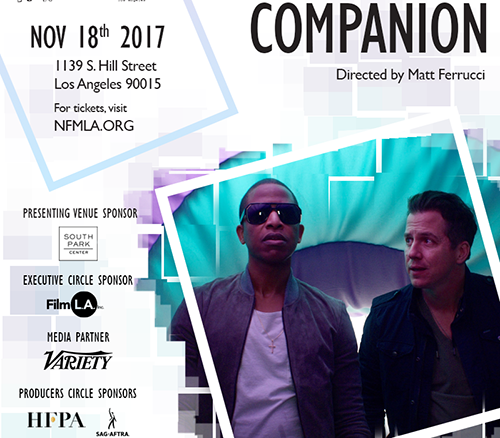 Leslie - Dir. by Alejandro Montoya (20 Min.)
A singer/songwriter must decide to keep following her dream when everything around her is telling her otherwise.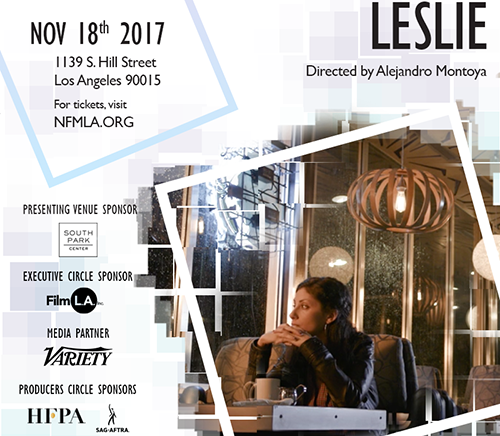 Kid Gambled - Dir. by Alex Familian (15 Min.)
An anxious 15 year old living in Las Vegas, Nevada, reluctantly smokes weed and agrees to steal beer from a gas station— all to impress his hooligan friends and a girl that he likes.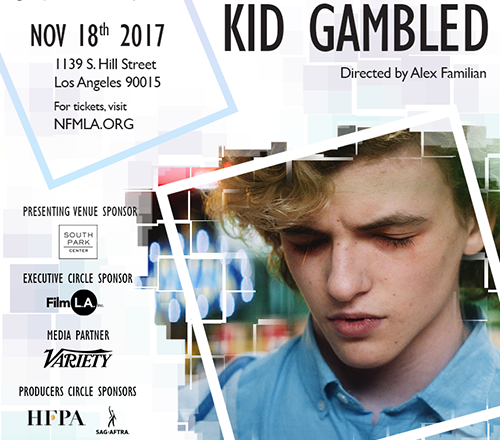 Camila - Dir. by Quinn Smith (22 Min.)
Bruce, a formerly convicted felon recently released from prison, discovers his wife Camila's long time affair with his brother Mark. He must prove himself innocent once Camila's dead body washes up on the shores of Cape Cod.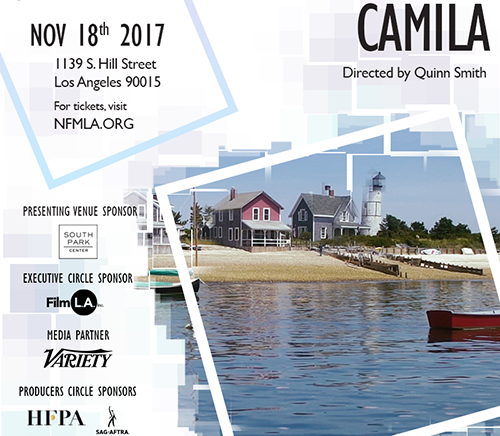 Our second program of the night is another installment of InFocus: Asian American Filmmakers - Growing Up in America. This program showcases the LA Premier of the thought-provoking feature film "Knowing Nothing Cold" by the talented auteur Jeff Kao. Telling the story about several teenagers coming of age in the Midwest in an avant-garde manner, Kao's film is certain to challenge and emotionally-stimulate the viewer.
Knowing Nothing Cold - Dir. by Jeff Kao (91 Min.)

Knowing Nothing Cold follows a group of teenagers living in the American Midwest of the 1970's as they attempt the impossible –a graceful entrance into adulthood.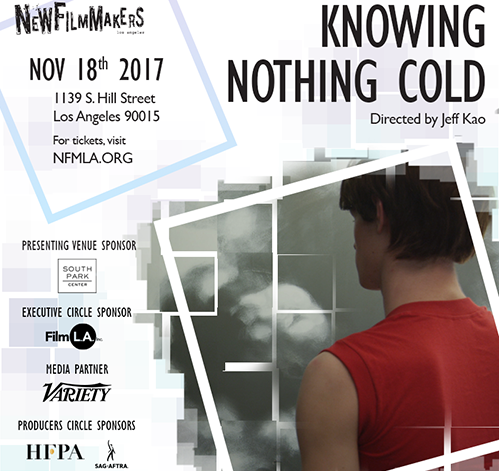 Closing out the night is another shorts program that includes 7 remarkable shorts from game-changing filmmakers. These stories range from a sci-fi romance about time travel, a Blade Runner-esque muppet short, and an experimental art film that makes the audience play the role of the detective at a crime scene.
Back Page Ripper - Dir. by Stephen Rutterford (5 Min.)
Blade Runner meets The Muppets. An experimentation with narrative.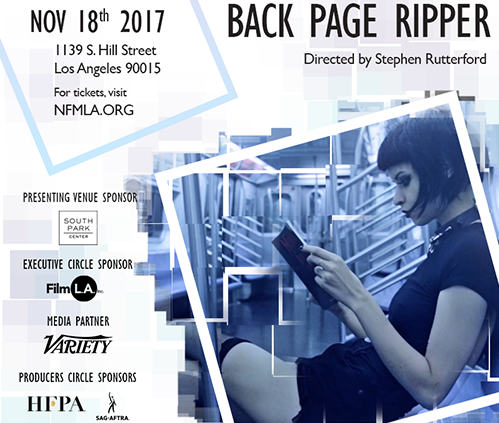 Shadows of my Mind - Dir. by Peter Harton (6 Min.)
Danish singer/songwriter Peder drags us into the darkest corner of our minds to the tune of dank, dusty blues in the short film for 'Shadows Of My Mind' directed by Peter Harton.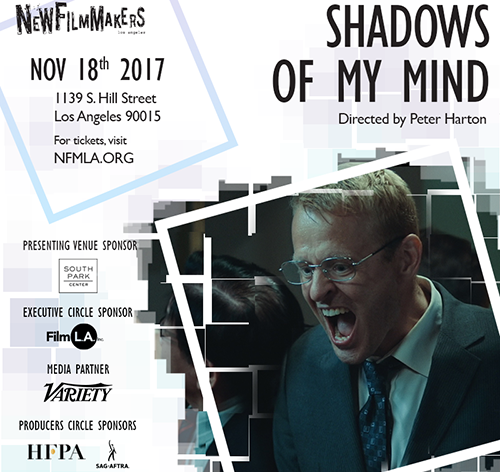 Illusory Promises - Dir. by Alejandro Echevarria (19 Min.)
A traveling young man and a hippie woman hitchhiking along the road don't exactly vibe together in this semiotic parable.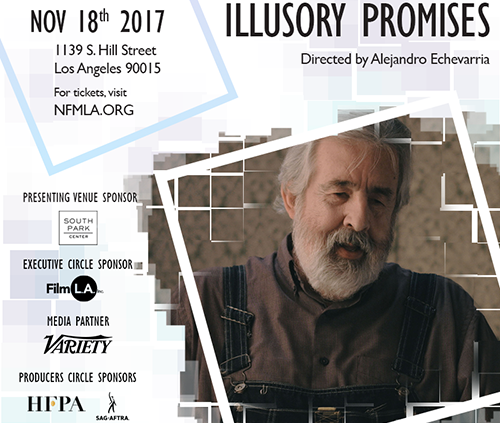 The Raisin - Dir. by Rob Carter (9 Min.)
A rural romance centred around the story of one raisin. This film looks at the effect loneliness can have on a person when they are finally met with the opportunity for companionship.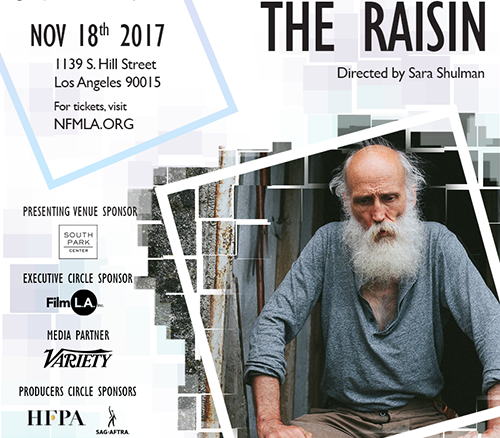 Killing a Tree - Dir. by Beau Jamieson (13 Min.)
A glimpse at the horrific crimes surrounding a family where we see everything except the people, showing the humanity alongside the inhumane. There is no cast and only one location. The story is told strictly through pictures and sound. The audience must piece together a narrative through the details presented to them, much like a detective at a crime scene.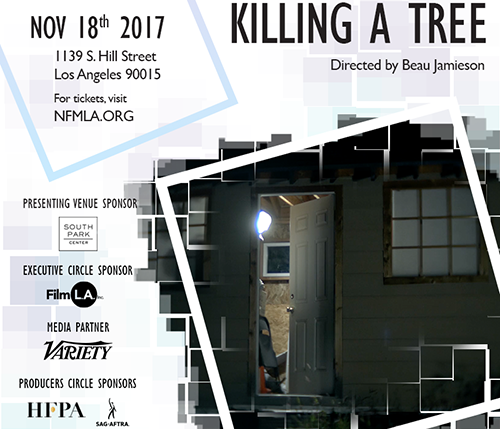 SPACEMAN. - Dir. by Christopher Oliva (19 Min.)

A young man with big aspirations sets out on a very curious and unique path to realize his dream of becoming an astronaut. Unemployed and living with his single mother, Rupert Madurski must find a nice balance in a world without spacemen.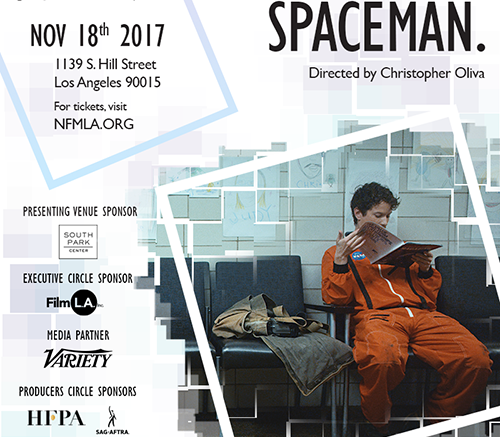 Eventually - Dir. by Tuan Le (13 Min.)
Evan meets a girl who claims to be his girlfriend from three years in the future.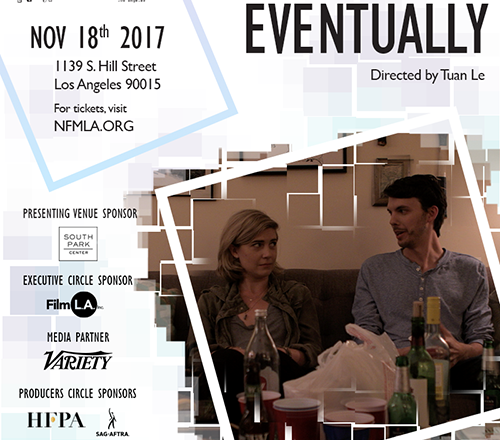 Throughout the event, attendees will have opportunities to mingle with the filmmakers, industry supporters and film lovers over cocktails in the Filmmaker Lounge at the South Park Center in Downtown Los Angeles.