BEACH CLEAN UP taking place on the coastline of Newcastle Co. Wicklow. Volunteer to keep our local beach clean.
About this Event
How to get involved:
Must register your attendance before thr clean up
You will need gloves, warm clothes and suitable shoes.
Bags, litter pickers will be provided + limited number of gloves.
Make sure to adhere to social distancing
Adhere to travel restrictions
There will be 2 Clean up Routes
Route 1 – 2.2km (Meet at Newcastle Beach)
Route 2 – 1.31km (Meet at Newcastle Beach)
*We recommend Route 2 for familys with younger children.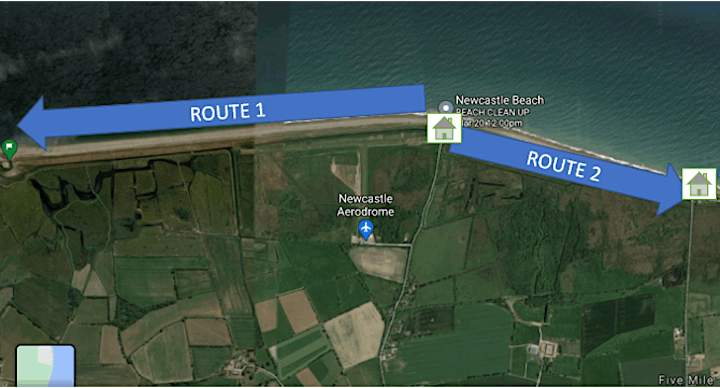 COVID RELATED INFORMATION
• If you have any symptoms of Covid-19 prior to the event, please do not attend the clean-up and ensure to get tested.
• Ensure only small groups attend for the clean-up and try to minimize the number of households attending.
• Please ensure that two metre social distance is maintained throughout the clean-up, in line with government advise.
• Please use hand sanitiser or wash hands with soap and water before and after the clean-up it will be provided at meeting points.
• It is important to use your own equipment, and do not share gloves and litter pickers during the clean-up.
• If you or any other of your group members are vulnerable to contracting Covid-19, don't hesitate to ask to people to wear masks on the clean-up if it would make you and others feel more comfortable. Please note that many may wear masks for their own safety and safety of others and this action should always be respected.
CLEAN UP SAFTEY INFORMATION
• When working on the coast, never conduct clean ups with your back to the water.
• Do not enter the water to collect rubbish – there could be dangerous currents.
• Avoid climbing boulders or rocks as they may be slippery and loose under foot, the flood defences along all routes are hazardous and caution should be taken around the defences.
• Avoid working alongside steep or overhanging cliffs as they may be unstable due to erosion.
• Any containers or drums that look as if they may be hazardous should not be touched.
• Beware of sharp objects, such as broken glass and syringes. Report to Safety officer - any such items should be removed by adults only and placed in a sharps box, not rubbish bags.
• Always use a litter picker or a shovel when picking up litter and never put your hands where you cannot see them. Please wash your hands after clean-up and before eating, drinking, or smoking and avoid touching face or eyes when working.
• Ensure that one member of the clean-up has a working mobile and check that there is signal before starting the clean-up.
• Report all accidents to the Safety Officer on number provided at clean up. In the event of a serious accident/incident do not hesitate to contact emergency services on 999 or 112.
• First Aid Kits will be available at Newcastle and Five Mile Point if needed.
• Bring your own and wear good gloves to keep hands clean.
• Wear High Visibility clothing – Be Safe Be Seen.
• Wear suitable footwear for the clean-up.