Newcastle AusMumpreneur Conference

Friday, May 25, 2012 from 8:30 AM to 4:00 PM (AEST)
Event Details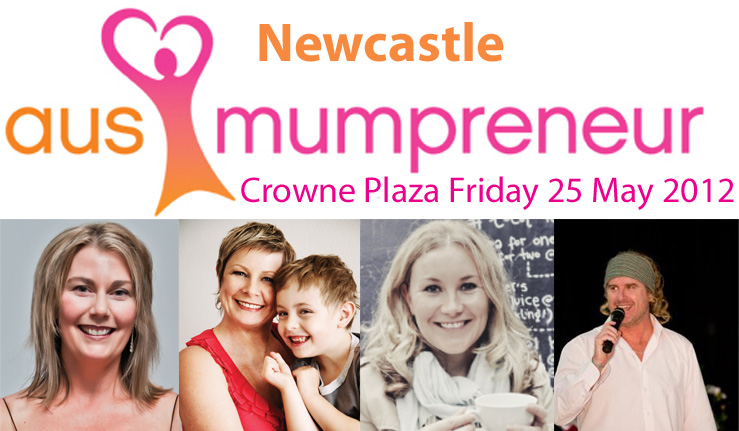 Newcastle AusMumpreneur Conference
25 May 2012
Join us for a day of networking, inspiration and business skill building.
At Crowne Plaza Newcastle

The Newcastle AusMumpreneur Conference is a very special conference for mums in business.
The conference is specifically designed to help inspire Mums to reach their full potential, and will include workshops with leading business experts, including:
Nick Bowditch - 

Social Media Sensation and Entrepreneur of The Bowditch Group and Clooee!

Denise Duffield-Thomas - Coach and Author of Luck Bitch!

Lise Taylor - Editor and owner of My Child Magazine


Simone Cadel - Entrepreneur and founder of Tiny Tutus!
Our Expert Speakers are holding interactive skill building workshops in Media and PR, Social Media including Facebook, Twitter, U-tube and Augmented Reality and Building a Successful Business.
AusMumpreneur events are all about connecting!
We bring together talented mums from all around Australia, who understand each other's unique challenges and triumphs in ways that other business owners don't.
Our attendees understand the work involved in being a successful business owner while raising a young family and the isolation felt by working from home and really benefit from the opportunity to connect with like-minded people.
AusMumpreneur Conferences are friendly and inviting and our participants say they feel a strong sense of belonging and community at our events.
Babies under 6 months are also welcome at our conferences. 
The conference also includes networking lunch, prize giveaways and a Mini Expo of exhibition stands from fellow mumpreneurs.
Attendees can also bring their questions and get advice from our panel of "Mumpreneurs Who Have Made It!"
Here's what some of last year's conference attendees said:
"Meeting other Mumpreneurs was so inspiring in itself. Everyone has an entirely different story but everyone had one thing in common. Have a dream and go for it. Being a mumpreneur is not always easy but it can be sooo rewarding. "  Jayne Day - Swish Lily Boutique
"I learned to refocus, reassess my values, and prioritize. I came away from the weekend feeling supported, motivated, and cared for." Nicole Grant - Gateway Therapies
"I was ecstatic to be surrounded by so many beautiful, amazing, talented, strong women who all have a zest for life and humble courage to meet life's challenges head on. Every time we come together I am awestruck by how powerful women are, and for all the right reasons, prepared to fight for their children and other's, their families and other's, the environment, and most importantly for themselves, because without them the world would be a much poorer place spiritually. I'm glad and proud to be a woman and a part of C2M's!" Sally Naughton - Strawberry Jam Designs
"I have been to lots of conferences over the years and this would have to have been one of the best. Yes there were great speakers and I have many strategies to now go and implement but the feelings of support, generosity and encouragement were palpable at this conference. I will definitely be back." Dr Lucy Burns
"Everything I do is for my family, nothing is for me…. I am so passionate about people and making others feel inspired and valued that I forget about myself. I think everyone in that room was just another version of me and I was astounded at the strength, honesty and passion that everyone had for what they were doing but also for each other. It is so common in day to day life that others feel insecure/petty/unnoticed and are ready and willing to shut you down but not one of the connect 2 mums girls made me feel that way and I LOVED IT." Lana Purcell - Kale Kids
"I enjoyed meeting everyone! There wasn't a single person that I met at the conference that I didn't learn from, and will probably continue to learn from as time passes.
What did I enjoy most? The instant rapport, the wealth of knowledge, the amazing and humbling stories of overcoming adversity to achieve, the laughter, the openness, the warmth and acceptance, and the common bond that we all had of being mums and business people that seemed just make us all "gel"."  Tanya Love - Love Bytes Photography                                       
"I loved everything about the conference. All of the speakers were awesome and I have once again learnt so much that will help me and my business jump it to the next level.I am all fired up !!!
The love and hugs that I received from old and new friends made me feel so special. I felt validated, supported, nurtured, cared for, educated and the list goes on……." Vicki Frittmann - Lunalei  
The Conference Day includes:
5 Guest speakers

Interactive workshops

Practical business building strategies

Up to the minute social media information 

Networking

Prize giveaways

Mumpreneurs Showcase Mini Expo

Morning and Afternoon Tea

Lunch
 We hope you can join us!
Motivation ~Inspiration~ Connection~ Celebration
Attendee List
Sort by:

Date

|

First Name

|

Last Name
When & Where

Crowne Plaza, Newcastle
Crn Merewether Street & Wharf Street
Newcastle, New South Wales 2300
Australia

Friday, May 25, 2012 from 8:30 AM to 4:00 PM (AEST)
Add to my calendar
Organizer

Are you a mum?
Do you have a business dream you would love to turn into reality?
Or are you already running a business?
The AusMumpreneur Network is your community.
With more than 16000 AusMumpreneurs – and growing – we believe that mothers in business can have it all.
Is it always easy? The honest answer is 'no'. But it's possible and it doesn't happen alone.
 As a member of the AusMumpreneur community, you benefit from practical tips, guidance and support to help you not only survive – but thrive – in business.
Join the network here: ausmumpreneur.com/ausmumpreneur-network-membership/