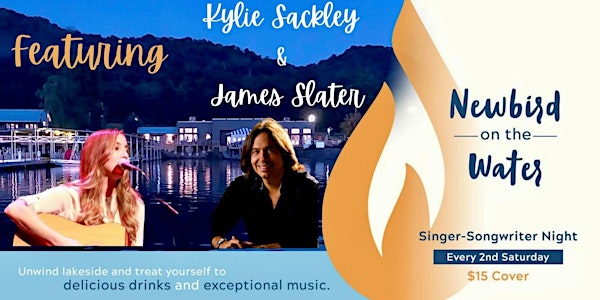 Newbird on the Water - Singer/Songwriter Concert Series at Wildwood Resort
Location
Wildwood Resort & Marina
7316 Granville Highway
Granville, TN 38564
A listening room concert experience on Cordell Hull Lake featuring hit songwriters James Slater and Kylie Sackley.
About this event
Every second Saturday of the month through the summer, Wildwood Resort & Maria hosts a phenomenal evening of songs and stories with the writers who made them famous. We call it NEWBIRD ON THE WATER!
Cover: $15. Seats are limited and must be purchased in advance online or by calling 931-653-4360. (Free for guests staying 2 nights or more at Wildwood.) All proceeds go directly to the artist.
Venue: This concert will be held under the Wisteria Pergola with seating provided. There will also be a large tent on the grounds directly behind the pergola incase of inclement weather. A bar cart will be available with beer, wine and snacks. Take out and prior to concert dinner reservations at the Lakeside Restaurant can be made by calling 931-653-4360.
_____
James Slater
James T. Slater is a two-time, grammy-nominated, piano-playing, bilingual singer-songwriter of Bolivian American descent signed to Disney Music Group Publishing in Nashville, Tennessee. Some of his hit songs have been recorded by: Rascal Flatts, Lady Antebellum, Willie Nelson, Carrie Underwood, Kenny Chesney, Chris Isaak and many others. Learn More
_____
Kylie Sackley
As a wunderkind performer in her birthplace of Australia, Kylie dazzled audiences with her authentic grasp of country, her gorgeously expressive vocals, and her electrifying stage presence. Some of her hit songs have been recorded by: Walker Hayes, Randy Houser, Sam Hunt, Leann Rimes, Alan Jackson and many others. Learn More
For more information and for a list of upcoming concerts visit: https://wildwoodresorttn.com/newbird-on-the-water/