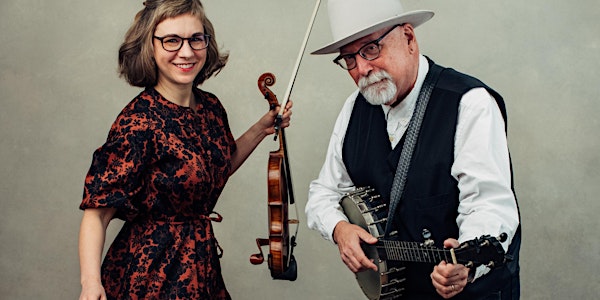 Newberry & Verch
Dinner and drinks service starts one hour before showtime in the Dunsmore Room
When and where
Date and time
Sunday, March 19 · 7:30 - 9pm CDT.
Location
The Dunsmore Jazz Room 6161 Hwy 65 NE Minneapolis, MN 55432
About this event
Canadian & American Old Time
Joe Newberry and April Verch showcase tunes, ballads, step dancing, and original songs by way of Canada and the Ozarks. With beautiful harmony singing, breathtaking instrumentals, and exquisite dancing, these two singular musicians hit the stage in perfect rhythm, making audiences remember why this music existed in the first place. Growing up, Joe Newberry and April Verch absorbed traditions of home and hearth - in his Missouri Ozarks and her Ottawa Valley of Canada. Although they are on the road much of the year, the two musicians are fond of saying that they are rarely homesick, because their music means they always have a bit of home with them wherever they go.
Joe Newberry comes from a family of singers and dancers. He took up the guitar and banjo as a boy and learned fiddle tunes from great Missouri fiddlers. April Verch grew up listening to her Dad's country band play for dances in the Ottawa Valley. She started step dancing at age three and fiddling at age six. In a Newberry & Verch show, delighted audiences see first-hand the roots of their music, their love of performing, and their strong musical connection. Original songs join timeless classics. Stories warm the heart, and give audiences a chance to understand where the music comes from. Lively fiddle and banjo numbers combine with traditional dance steps to illustrate happy times when people made their own fun.
"Chidham Village Hall is used to staging international musicians but it's doubtful whether they've ever come across a duo like April Verch & Joe Newberry." ~ Phil Hewitt, Mid Sussex Times (UK)
AprilVerch.com
About the organizer
Crooners pays homage to an era when Sinatra ruled the airwaves and martinis ruled the bar - a classic 1960's-styled nightclub with award-winning live music, dining and cocktails.