Location
New Jersey Institute of Technology -- Campus Center Ballroom
150 Bleeker Street
2nd Floor
Newark, NJ 07102
United States
Sales Have Ended
Registrations are closed
We are very disappointed to share with you that the situation with COVID-19 has caused the postponement of our 2020 Newark Call to Collaboration scheduled for March 19th and 20th. Our host venue, New Jersey Institute of Technology, has announced that visits to campus by non-NJIT community members are being permitted only for what are deemed essential purposes (health, safety, and welfare-related), among other preventative measures. Furthermore, our C2C brings together a highly diverse group of committed, passionate community members, and in order for everyone to have the best experience possible, it's important to be able to sit shoulder to shoulder, fully present and engaged with one another -- without concerns of spreading a virus. Though the decision to postpone is unfortunate, we are committed to holding the 2020 Newark Call to Collaboration at a later date and will remain in touch with you -- all 350+ of you! -- as plans for that develop over the coming weeks and months. In the meantime, we wish you good health, and look forward to reconvening with you all at a later date. In collaboration, Elizabeth, Kacy, Jeanette and the 2020 Newark Call to Collaboration Host Team.
Description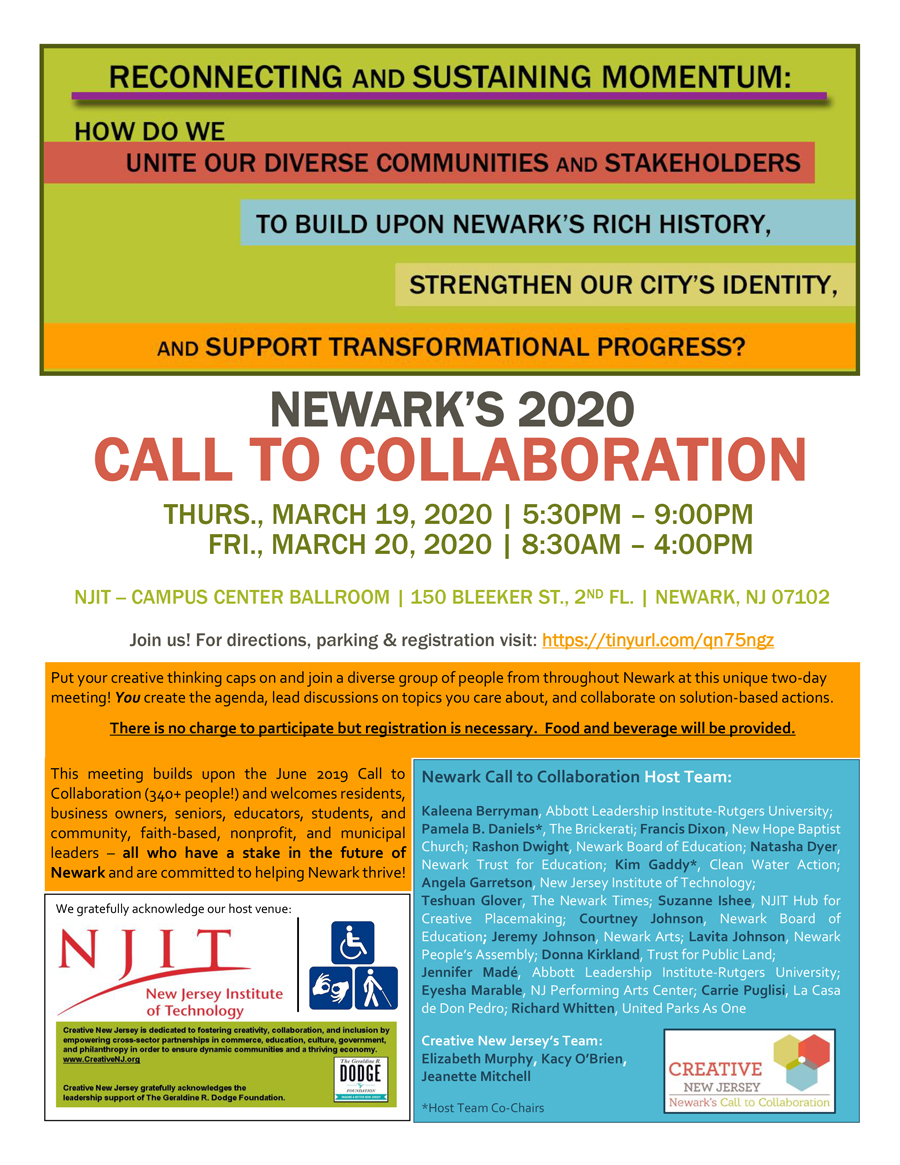 Newark's 2020 Call to Collaboration

You are a valued and important voice in Newark and we need you to join us during our 2020 city-wide Newark Call to Collaboration (C2C), hosted by the New Jersey Institute of Technology.


Together, we will tackle Newark's 2020 Call to Collaboration Central Question:
"RECONNECTING AND SUSTAINING MOMENTUM: How do we unite our diverse communities and stakeholders to build upon Newark's rich history, strengthen our city's identity, and support transformational progress?"

This gathering builds upon the June 2019 Call to Collaboration (340+ people!) and welcomes residents, business owners, seniors, educators, students and community, faith-based, nonprofit, and municipal leaders – all who have a stake in the future of Newark! Newcomers welcome!

In June, Newark C2C participants gathered to discuss critical issues and cooperate on community-based solutions. More than 75+ vibrant, thought-provoking conversations took place, with topics ranging from:

supporting entrepreneurship
greening Newark
assessing vacant or underutilized spaces that could be turned into community art centers
addressing gentrification
supporting Newark's differently abled community members, and
creating less racial separation in Newark.

The C2C's agenda and breakout sessions are created by the people who show up—please make sure you are in the room for this dynamic, democratic, and egalitarian gathering! We expect to sell-out early – please register asap to guarantee your spot!

Our C2C Details:
Part I: evening session
Thursday, March 19, 2020
5:30pm - registration and light food
6pm - meeting start-time
9pm - meeting concludes

Part II: daytime session
Friday, March 20, 2020
8:30am - registration and breakfast
9:15am - meeting start time
4pm - meeting concludes


We hope you can attend both Part I and II in order for you to benefit the most from the C2C.

Registration is FREE and REQUIRED for all participants. Food and beverage is provided. Space is limited -- please register early to guarantee your spot!

Parking & Public Transportation: Parking will be available free of charge at a designated NJIT parking deck for registered participants.
Public transportation to the Campus Center Ballroom: Newark Light Rail Grove Stree/Newark Penn Station Line to the Warren Street/NJIT stop (next to NJIT WEC Center). Or NJ Transit Newark Broad Street Station from the Morris & Essex or Montclair-Boonton Lines (5-block walk to NJIT Campus). Detailed information will be sent prior to the event.

Please join the Creative Newark NJ Facebook group to keep updated about this event and like our Facebook Page keep to updated about Creative New Jersey's work in communities.
For questions, please contact Creative New Jersey Program Associate Jeanette Mitchell: jmitchell@creativenj.org.