Actions and Detail Panel
NEW YOU RESOLUTION: Healthy Living Affair
Sat, Jan 7, 2017, 12:00 PM – Sat, Feb 18, 2017, 6:00 PM EST
Description
Let 2017 Be Your New You Year
NEW YOU RESOLUTION: Healthy Living Fair promises to be insightful. You don't want to miss this event. As we all know most of us make new year resolutions, which we usually don't keep. However, we know that when it comes to making lifestyle changes, sich as: losing weight, eating better, working out, making time for self and the things we enjoy etc We regret not sticking to our plan.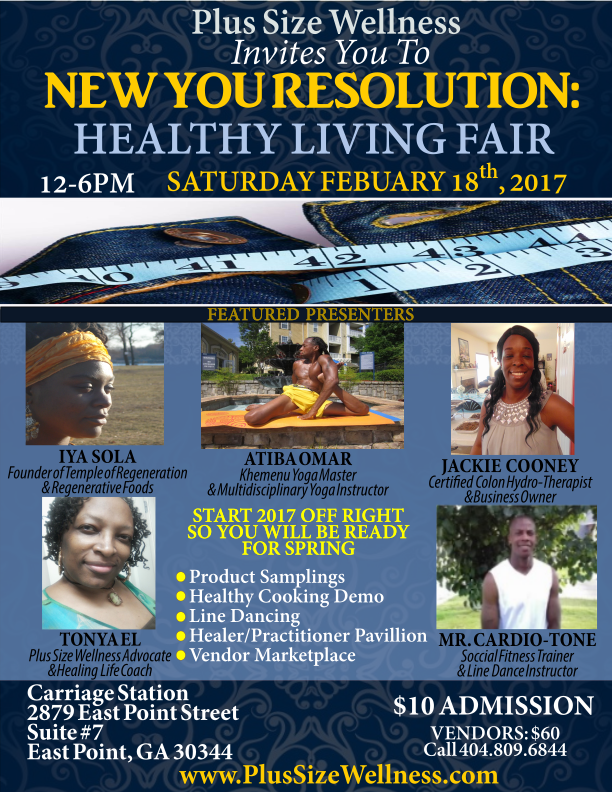 Well, we are presenting to you five insightful and effective practioners in the field of wellness. Each presenting from a holistic perspective (mind, body and soul). They will be offering you tips, suggestions, activities and products. That you can begin implenting immediately, to see those changes you desire and deserve.

Our Featured Presenters Are:

Iya Sola
Founder of Regeneration Temple & Regenerative Foods

Atiba Omar
Khemenu Yoga Master & Multidisciplinary Yoga Instructor

Jackie Cooney
Licensed Colon-Hydrotherapist & Business Owner

Dwight "Mr. Carido-Tone" Calhoun
Social Fitness Trainer & Line Dance Instructor

Tonya El
The Plus Size Wellness Advocate & Healing Life Coach

We also will have a Healer/Practioner Pavillion for your massage, foot detox and etc as well as Food Demos, Food Vendors and A Vendor Marketplace.

Come out ready to be educated and interact. When you leave this event we want you to feel excited and ready to naturally work on the new you.
Children under 12 and Seniors over 65 are FREE.