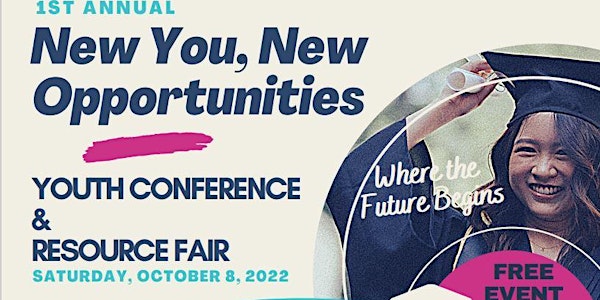 New You, New Opportunities- Youth Conference and Resource Fair
Resource Fair for foster and homeless youth , caregivers, and the community to learn about services available in our Gulf Coast communities
When and where
Location
Region 4 Education Service Center 7145 W Tidwell Rd Houston, TX 77092
About this event
We would like to invite all foster and homeless youth (14- 22) in the Gulf Coast area to join us for a day of learning, engagement, and fun!
Youth will have an opportunity to learn more about agencies and community organizations who can provide them with support. They will also participate in engaging workshops and a virtual reality experience!!!
Our mission: To help ensure that foster and homeless youth within our region have the knowledge and tools to become successful, independent adults.
Community stakeholders who serve foster and homeless youth are encouraged to bring their youth groups!
MC: Justin "Prince" Hayward
What to expect:
FREE breakfast taquitos from Whataburger
Live DJ 10am- 2pm - Sounds by Simone
Raffles, every hour
Virtual Reality- all day
FREE lunch from Jason's Deli
Internet hot spots give-away
30+ resource exhibitors
Workshop Topics (all day):
• Taking Care of Your Mental Health (mental health, self care, self advocacy)
• Planning for Your Future (financial literacy, housing, college/post secondary options)
• Finding Your Career Path (soft skills, labor market information, job training)
Connect with The HAY Center: The HAY Center provides transitional wraparound case management services to current and former foster youth in the areas of life skills assessments and training, education, employment, housing, physical and mental health resources, mentorship, and youth engagement events and workshops. These services also include assisting youth with accessing their PAL educational and financial benefits (rental, transportation, and grocery assistance). Every year The HAY Center serves 1,400 Houston area youth and young adults ages 14 through 25 within Harris and the 12 surrounding counties.
We look forward to seeing you there!
Please, contact Anna Kluth with any questions or accommodation requests: anna.kluth@wrksolutions.com