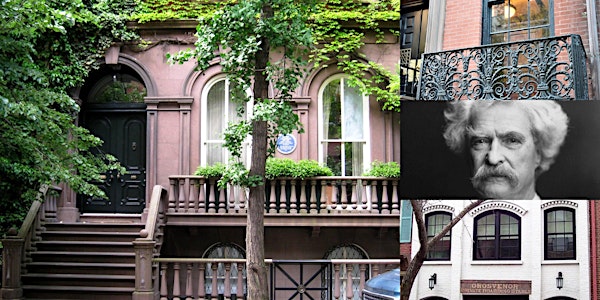 'New York's West 10th Street: A Historical & Architectural Legacy' Webinar
Can't make it live? Register and get access to the full replay for one week! New York Adventure Club | www.AdventureClub.com
About this event
Nestled in the New York City neighborhood of Greenwich Village, the block of West 10th Street between Fifth and Sixth Avenues is one of Manhattan's hidden gems, both architecturally and historically. This charming mixture of 19th and early 20th century structures along one block is not only one of the most picturesque enclaves in New York City, but also plays an important role in America's literary and artistic legacy. Who are some of the notable New York figures who once called this street home, and how has it transformed over the generations? It's time to take a virtual stroll down one of Manhattan's smallest, yet most significant streets.
Join New York Adventure Club as we uncover the historical and architectural legacy of West 10th Street in the Manhattan neighborhood of Greenwich Village, one of New York's most unique blocks that still contains many of its original structures dating back to the 1800s.
Led by historian Tom Miller, our virtual exploration of West 10th Street and its fascinating homes and history will include:
A brief overview of Greenwich Village, from when the neighborhood began to develop to why it became a hub for New York's most notable figures
A discussion around the home of humorist and author Mark Twain, reputed to be one of the most haunted houses in New York City
A virtual look at the house where Emma Lazarus lived when she wrote the poem "The New Colossus" for the dedication of the Statue of Liberty
The house where sitting President Woodrow Wilson proposed to Edith Bolling Galt, and where their wedding reception was held
A former carriage house that became home to famed actor Maurice Evans, playwright Edward Albee, and composer Jerry Herman
Riveting stories of the millionaires, artists, and writers who made this West 10th Street block their home, and how their residences — and even carriage houses — are being used today
Afterward, we'll have a Q&A with Tom — any and all questions about West 10th Street are welcomed and encouraged!
Can't make it live? Don't worry, you'll have access to the full replay for one week!
See you there, virtually!
*Immediately upon registering, you will receive a separate, automated email containing the link to join this webinar
**For the best possible viewing experience, please ensure you're using the latest version of your internet browser — Google Chrome is the most compatible. Exact technical requirements and a webinar user guide will be shared in the automated confirmation email upon registration.
***A full replay of the experience will be available to all registered guests for up to a week
About Tom
Architectural and social historian Tom Miller is the author of Seeking New York, Seeking Chicago, as well as the popular blog "Daytonian in Manhattan." Since 2009 Tom has published a blog post on a different Manhattan location every day — now totaling nearly 4,000.
His research and reporting focus as much on the social histories of the buildings — the tragedies and sorrows, triumphs and scandals of the people who built and lived in the houses — as on their architecture and styles.
Tom Miller's retelling of these stories make the buildings come alive; and suddenly they are more than brick, marble, and limestone, but the histories of real people.
Testimonials
"Really like Tom's presentation style. So knowledgeable about NYC. Liked the stories about the families that lived there. And the historic happenings and connections." -Noelle
"He was certainly knowledgeable about the individual properties. And the architecture!" -Joel
"Content, presentation, Tom Miller is excellent!" -Claire
"Learning the minutiae about a street I have walked on many times!" -Ellen
"Learned details I was not aware of previously" -Gabriela
"Content and pictures and lovely manner in which the speaker delivered the information." -Lisa
"Hearing the details of the house history and the owners." -Joel S.
"The history of the houses I walk passThe images and quality of the content offered by Tom Miller the knowledgable presenter." -James
"I loved the presenter's passion for the material, have read his blog over the years, and was excited to see him on NYAdvClub!" -Tricia
"Great information given in an informal and casual way!" -Martha
"Presenter's knowledge of architecture and the history of the buildings discussed and their inhabitants." -Ellen W.
"Incredibly informative and I used to live in the Village and didn't know all the things I learned in this webinar" -Barbara
Disclaimer
By attending a New York Adventure Club experience, you accept our terms of service.
Photo Credit: Main - Greenwichvillage.nyc
Categories: Virtual, Neighborhoods