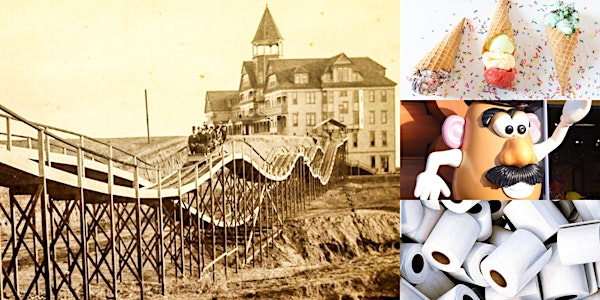 'New York's Unheralded Innovators Who Changed the World' Webinar
Can't make it live? Register and get access to the full replay for one week! New York Adventure Club | www.AdventureClub.com
About this event
Did you know that the safety pin, ice cream cone, crossword puzzle, and bat mitzvah all originated in New York? While countless people around the world are familiar with these Big Apple creations and many others, the same cannot be said for their innovators. Who were these trailblazing New Yorkers and why aren't they as well known as their inventions? It's time to uncover the history and story behind these unheralded New York pioneers, and the rich legacies they left behind.
Join New York Adventure Club as we pay homage to almost 40 unheralded New York innovators throughout the past 300 years whose inventions and creations — many of which we interact with on a daily basis — changed the world for the better.
Led by Laurie Lewis — NYC tour guide and author of New York City Firsts: Big Apple Innovations That Changed the Nation and the World — our unique experience will include:
A deep dive into the backstories of first-of-their-kind New York originals, including a showcase of the little-known names and faces behind big New York creations
Honoring unsung heroes who affect our lives on a daily basis including the inventors of toilet paper, the escalator, credit cards, and many other everyday items
The untold stories of New Yorkers who introduced America to a variety of foods, sports, and games that we all still enjoy
A closer look at the pioneers in often marginalized groups — including Blacks, women, immigrants, and religious minorities — and how their creation experience differed from others
A possible explanation to why so many trailblazers have faded into obscurity despite the wide reach of their accomplishments
Afterward, we'll have a Q&A with Laurie — any and all questions about New York's unheralded innovators are welcomed and encouraged!
Can't make it live? Don't worry, you'll have access to the full replay for one week!
See you there, virtually!
*Immediately upon registering, you will receive a separate, automated email containing the link to join this webinar
**For the best possible viewing experience, please ensure you're using the latest version of your internet browser — Google Chrome is the most compatible. Exact technical requirements and a webinar user guide will be shared in the automated confirmation email upon registration.
***A full replay of the experience will be available to all registered guests for up to a week
About Laurie
Laurie Lewis has been a freelance writer and editor for more than 35 years and a licensed NYC tour guide since 2015. She combined her love of the city, research ability, and story-telling skills to create the 2022 book New York City Firsts: Big Apple Innovations That Changed the Nation and the World. Previously, she wrote the award-winning book What to Charge: Pricing Strategies for Freelancers and Consultants.
Testimonials
"A fascinating presentation based upon a huge amount of research of lesser known stories." -Peter
Disclaimer
By attending a New York Adventure Club experience, you accept our terms of service.
Photo Credit: Top Right - Courtney Cook, Bottom Right - Kev Bation
Categories: Virtual, Moments in History