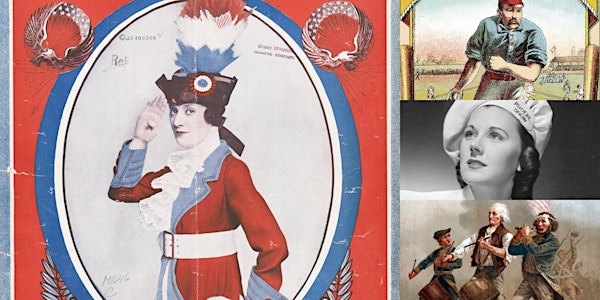 'New York's American Anthems: Tales of America's Best-Known Songs' Webinar
Can't make it live? Register and get access to the full replay for one week! New York Adventure Club | www.AdventureClub.com
Refund Policy
Contact the organizer to request a refund.
About this event
Question: what do America's most iconic anthems such as Yankee Doodle, God Bless America, This Land is Your Land, and Take Me Out to the Ball Game all have in common? Answer: they all originated in New York State! But what's even more interesting are the stories behind their creation and popularization, which are largely unknown generations later. From the American Revolution to the World Wars — and struggles in between — it's time to uncover their little-known stories like never before.
Join New York Adventure Club as we explore the fascinating historical context and riveting stories behind some of the greatest American anthems to have come from New York State, specifically Yankee Doodle, God Bless America, This Land is Your Land, and Take Me Out to the Ball Game.
Led by storyteller and author Sandy Schuman, our virtual deep dive into the little-known New York stories behind some of America's best-known songs will include:
Answers to some of these anthems' biggest mysteries including who was Yankee Doodle, why he "stuck a feather in his cap," and why he "called it macaroni"
How a British song that derided the colonial Americans became our first patriotic song
The story of Irving Berlin's resuscitation of God Bless America twenty years after he rejected it, and what he had to change so it could become the #1 hit
Woody Guthrie's parody of God Bless America, originally entitled God Blessed America for Me (today known as This Land is your Land) and how it more accurately portrayed the country as he saw it
A discussion of the most popular female advertising icon in the early 20th century, Phoebe Snow, and how she helped popularize "suffrage's secret song"
The surprising role of the 1908 song, Take Me Out to the Ball Game, in the struggle to gain "votes for women"
Afterward, we'll have a Q&A with Sandy — any and all questions about New York's American anthems are welcomed and encouraged!
Can't make it live? Don't worry, you'll have access to the full replay for one week!
See you there, virtually!
*Immediately upon registering, you will receive a separate, automated email containing the link to join this webinar
**For the best possible viewing experience, please ensure you're using the latest version of your internet browser — Google Chrome is the most compatible. Exact technical requirements and a webinar user guide will be shared in the automated confirmation email upon registration.
***A full replay of the experience will be available to all registered guests for up to a week
About Sandy
Sandy Schuman tells "New York Tales, Tall & True," stories about New York's history, folklore, and songwriters. Fascinated by familiar things and their unfamiliar stories, he brings amazing historical tales to life ("some of our folklore is truly unbelievable, some of our history is even more so") and reveals the little-known stories behind some of our best- known songs. He plays his theme song on a Jew's harp. When you hear him play the guitar, you'll know why he calls himself a storyteller.
Disclaimer
By attending a New York Adventure Club experience, you accept our terms of service.
Categories: Virtual, Moments in History