Description
IGNITE and the Weissman School of Arts and Sciences at Baruch College are pleased to partner in an effort to inspire more young women to run for office.
Join us for an action-oriented conversation focused on how you can organize and get the support you need to step up and own your fair share of political power.
Prominent elected leaders and politically ambitious young women will share how to best position yourselves as political leaders. You will leave inspired, activated and ready to run!
Meet our Keynote Speaker: Anna Marie Chávez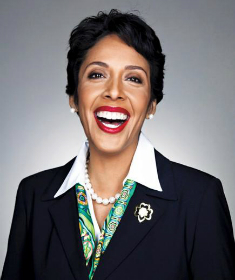 Anna Maria Chávez developed the leadership skills growing up in Eloy, Arizona, that would propel her into a career of public service. Her desire to transform the world through servant leadership led her to Yale University, before pursuing a juris doctorate at the University of Arizona. She held numerous posts in President Bill Clinton's administration, and later returning to Arizona to serve then-governor Janet Napolitano. Her success led to her appointment as the CEO of the Girl Scouts of the USA where she served from 2011-2016. In 2016, Anna was named as one of the World's 50 Greatest Leaders by Fortune magazine, cited for her vision and creativity in working to revitalize the Girl Scout brand for a new century.
Event Sponsor