Description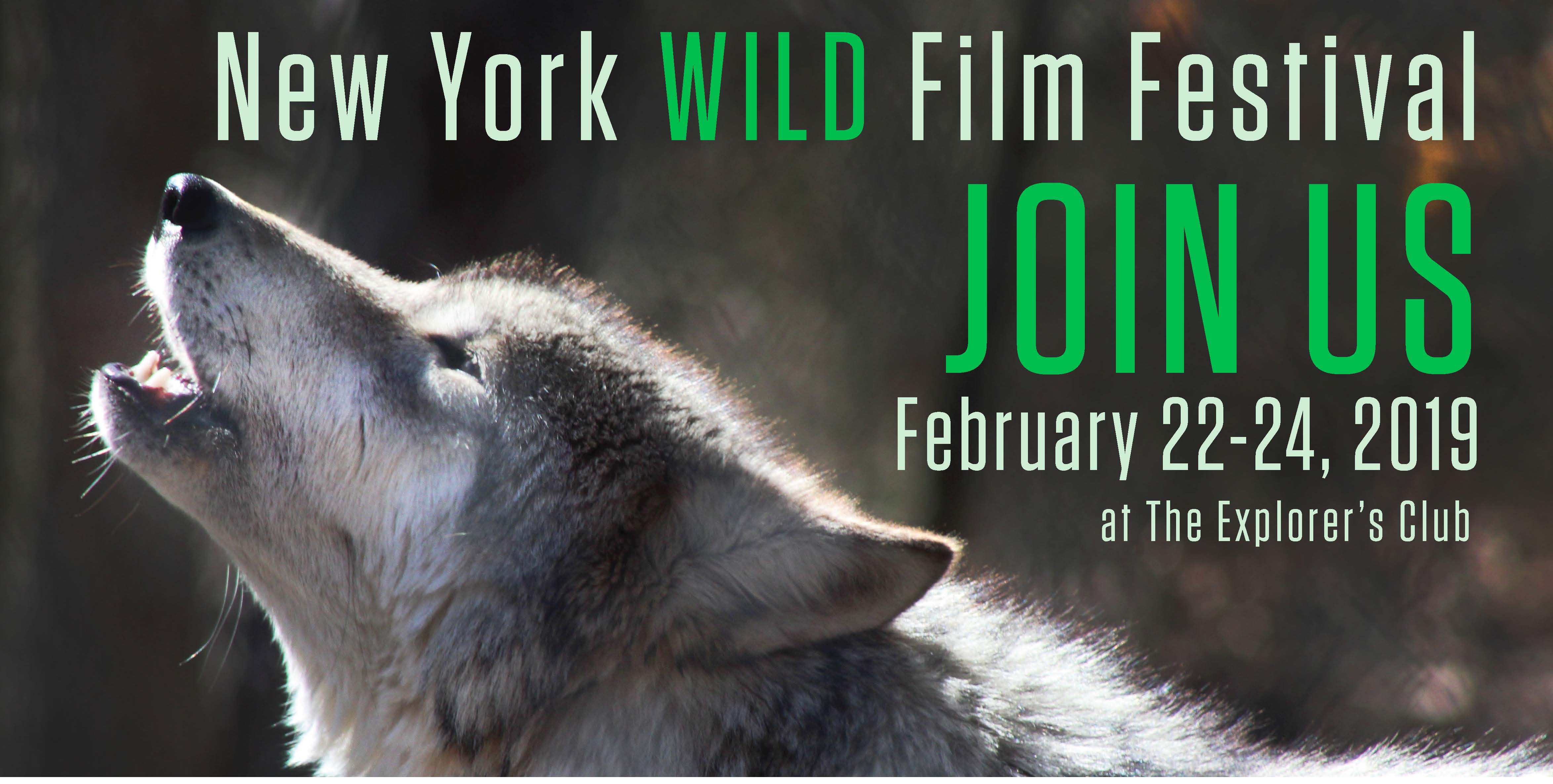 Films, Discovery, and Celebration of all things WILD!
Join us for the 6th Annual New York WILD Film Festival!
New York WILD-- A must-attend film festival for anyone curious about groundbreaking wildlife behavior, astonishing feats of adventure, and topical stories about the environment.
Held at New York's venerable Explorers Club, February 22 - 24, this intimate event offers outstanding films, premieres, receptions, and conversations with some of the world's most creative, adventurous and heroic characters and filmmakers. For the second year we will feature a family program on Sunday!
Limited Student Discount Tickets are available. For student tickets email charlotte.nywildff@gmail.com.
PLEASE NOTE: To purchase tickets to the Opening Night of the Festival, Thursday Feburary 21st, 2019, which will be held at The Paley Center for Media, you must visit New York WILD Film Festival Opening Night Eventbrite. The rest of NY WILD Film Festival will be held at The Explorers Club between February 22-24, 2019.
PLEASE NOTE: 3-Day Festival passes include tickets to Friday-Sunday Programs but does not include Thursday Opening Night at The Paley Center for Media.
See 2019 Films Here and Full Festival Schedule Here
Friday - Sunday Program
Friday, February 22rd
Evening Program, 6-10pm
6:00 – 7:00pm – Check in and reception
7:00 – 9:00pm – Program
Weightless
Into the Okavango, Best Exploration Film || Q&A with Neil Gelinas
9:00 – 10:00pm – Reception
Saturday, February 23rd
Day Program, 9am-5pm
9:00 – 10:00am – Check in and coffee
10:00am – 12:30pm – Program
Age of Ondra
Blood Island, Best Student Film
Bears of Durango || Q&A with Dusty Hulet
12:30 – 1:30pm – Lunch
1:30 – 3:00pm – Program
March of the Newts
Grizzly Country, Best Conservation Hero Award
Ascending Afghanistan: Rising Women, Wild Spirit Award || Q&A
Vaquita, Best Impact Film || Q&A with Craig Waxman & Alfredo Alcantara
3:00 – 3:30pm – Coffee break
3:30 – 5:00pm – Program
Surfer Dan
SILAS, Best Environmental Film || Q&A with Anjali Nayar

Saturday, February 23rd
Evening Program, 6-10pm
6:00 – 7:00pm – Reception
7:00 – 9:00pm – Program
RJ Ripper, Special Jury Award
When Lambs Become Lions, Best in Festival Film || Q&A with Jon Kasbe
9:00 – 10:00pm – Reception
Sunday, February 24th
Afternoon Program, 11:30am-4pm
11:30 – 12:00pm – Check in
12:00 – 2:10pm– Program
Queen Maud Land
Casting in Jaguey Grande
namanu rruni: Albatross Island, Best Short Film || Q&A with Matthew Newton
Reefs at Risk
Take Back the Harbor, Best WILD NY Film || Q&A with Kristi Jacobson & Murray Fisher
2:10 – 2:30pm – Coffee break
2:30 – 4:30pm– Program
The King's Keeper
700 Sharks, Best Wildlife Film || Q&A 700 Sharks
Sunday, February 24th
WILD Family Program, 11-2:30pm
10:30 – 11:00am – Check in
11:00 – 12:15pm– Program
The Zoo – Poo Dunnit?
Dear Mr. President
Blue
Backyard Wilderness
12:15- 12:35pm – Break
12:35- 2:30pm – Program
Weightless
Dave Matthews + The Reteti Elephant Sancuary
Bobtails + Bacteria = BFF || Q&A with Luke Groskin & Sarah McAunlty
Mystery of the Gnaraloo Sea Turtle
Big World
The Great Pretender
Remixing Madagascar || Q&A with Ben Mirin