Description
Help us kick-off our 10x User Group Meetings and join us in New York City!
Hear industry leaders and 10x scientists discuss single cell genomics, de novo assembly and learn how to make the most of the human genome with Linked-Reads.
Featured Speakers Include:
Marlon Stoeckius, PhD, Research Scientist, Technology Innovation - New York Genome Center

Michael S. Campbell, PhD, RD, Postdoctoral Research Fellow of the National Science Foundation - Cold Spring Harbor Laboratory

Rahul Satija, PhD - NYU Center for Genomics and Systems Biology

Anastasia Tikhonova, PhD, Postdoctoral Fellow - NYU Langone Medical Center

Tarjei Mikkelsen, PhD, Director of Molecular Biology - 10x Genomics

Deanna Church, PhD, Senior Director, Applications - 10x Genomics

Alexander Wong, Vice President, Software and Infrastructure - 10x Genomics

Brian Fritz, PhD, Senior Product Manager, Single Cell Genomics - 10x Genomics
AGENDA (Download)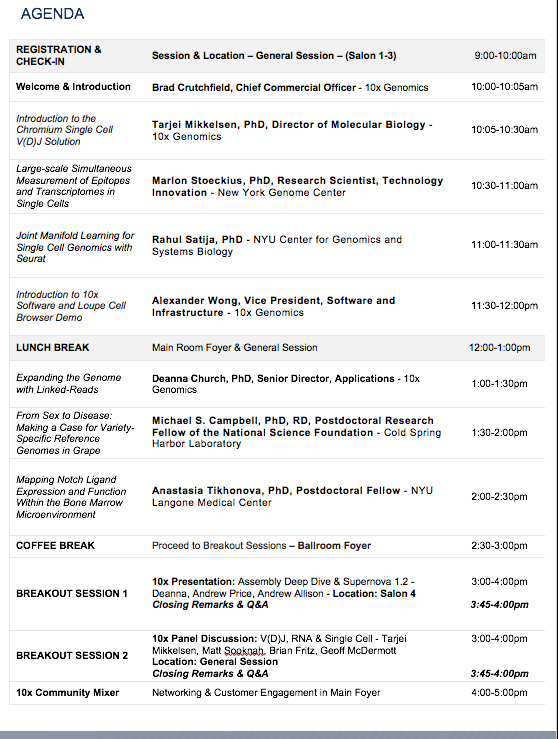 The meeting is free to attend, registration is required. Light breakfast and lunch will be provided to registered attendees. Join us for cocktails after the meeting at our 10x Community Mixer!

So invite your friends and colleagues, check out the locations of future meetings, and join us! Register now, as space is limited.
PARKING: On-site Parking at the Apella Event Center (only) will be validated. Please bring your ticket to check-in to receive your parking voucher.
We look forward to seeing you there!
- The 10x Marketing Team