New York Tech Comedy Ball

Wednesday, May 11, 2011 at 8:00 PM

-

Thursday, May 12, 2011 at 4:00 AM (EDT)
Event Details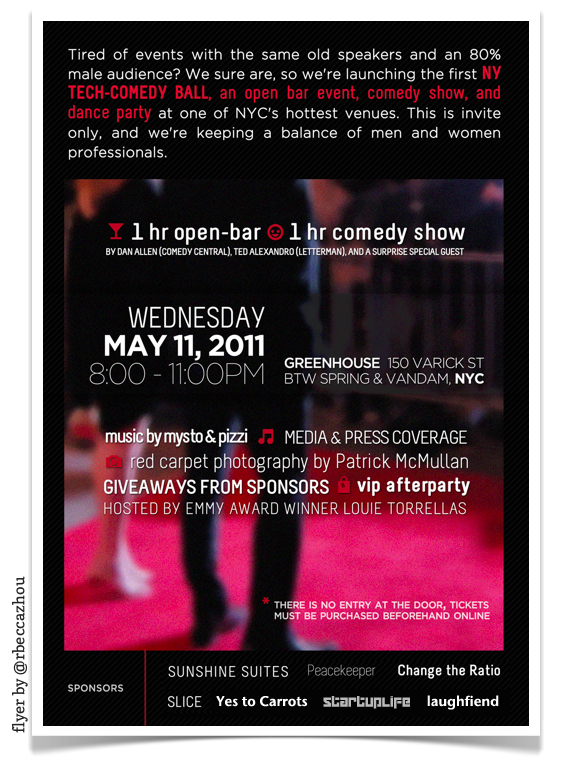 Michele Rella, Louie Torrellas, Trevor Owens, Steve Liu, and Jimmy Aponte would like to invite you to a red-carpet experience at the first NYC Tech-Comedy Ball on May 11th at Greenhouse on 150 Varick Street, New York, NY. This will be night of gathering for the best & brightest tech entrepreneurs, entertainers, and notable personalities in NYC!
VIP Pass includes VIP seating at Greenhouse. Special VIP gift bags and photographs by our celebrity photographer.
*There is no entry at the door, all tickets must be purchased online

Why this event rocks
Let's have fun and build real relationships. We're tired of events with the same old speakers and an 80% male audience. Welcome to the NY Tech-Comedy Ball, an open bar event, comedy show, and dance party at one of NYC's hottest venues. This is invite only, and we're keeping a balance of men and women professionals.
We have a professional PR firm covering the event, a professional celebrity photography crew taking red carpet style pictures, a step and repeat, product sponsors for gift bags, food sponsorship for free healthy food, and celebrity personalities. Come rep your co-working space, your startup, or just your awesome dance moves. 

Event Details
8 to 9 - open bar
9 to 10 - comedy show ft Ted Alexandros (Letterman), Dan Allen (Comedy Central), & special guests
10 to 11 - exclusive networking event
11 to close - dance party with amazing guest DJs (2 hour set ft. Mysto & Pizzi
Free food sponsored by Slice
Free gift bag full of amazing products
Press and media coverage from Lawlor Media Group
Celebrity photographer for red carpet style pictures in front of step and repeat
Celebrities and notables in NYC

Our Amazing Sponsors
Sponsored by Sunshine Suites, Change the Ratio, Yes to Carrots, Peacekeeper, and Slice.


Thanks from the Hosting Committee
Ankur Jain - Founder of Kairos Society
Ben Wolff - President of Tech@NYU
Dan Allen - Founder of SuperMango Media
Dan Lack - Founder, CEO of Meeting of the Big Minds
Denise Rich - Founder of Gabrielle's Angels Foundation
Eddie Cascio - Founder of Angelikson Productions
Eric Lerner - Of Counsel, Pryor Cashman / Founder, Imperial
Gary Whitehill - Founder of New York Entrepreneur Week
Gauri Manglik - Co-founder of SpotOn
Jeff Gaurian - Producer, Comedy writer for Comedy Matters
Jimmy Aponte - Co-founder of LaughFiend Productions
Julianne Feder - President of Young Strategic Forum
Ken Howery - Co-founder of Founders Fund & PayPal
Lauren Francesca - Actress, Producer, YouTube Sensation
Liam McMullan - Photographer, Comedian, Filmmaker
Louie Torrellas - Co-founder of Ambitious Media Group
Matt Shampine - Co-founder of WeWork Labs
Michele Rella - Board Member of Gabrielle's Angels Foundation
Neil Anderson - Founding Investor of Arc Angel Fund
Norah Lawlor - Founder of Lawlor Media Group
Robert Davidman - CEO of EarthQuake Media
Rachel Sklar - Co-founder of Change the Ratio
Sean Koh - Chairman at Koherent
Steve Liu - Co-founder of Lean Startup Machine
Sergio Fernandez de Cordova – Founder of Fuel Outdoor
Trevor Owens - Co-founder of Lean Startup Machine
For questions and sponsorship inquiries: 
Email steve@thisisalifestyle.com or call 973-262-2571
When
Wednesday, May 11, 2011 at 8:00 PM

-

Thursday, May 12, 2011 at 4:00 AM (EDT)
Add to my calendar
Organizer
StartupLife and LaughFiend