Description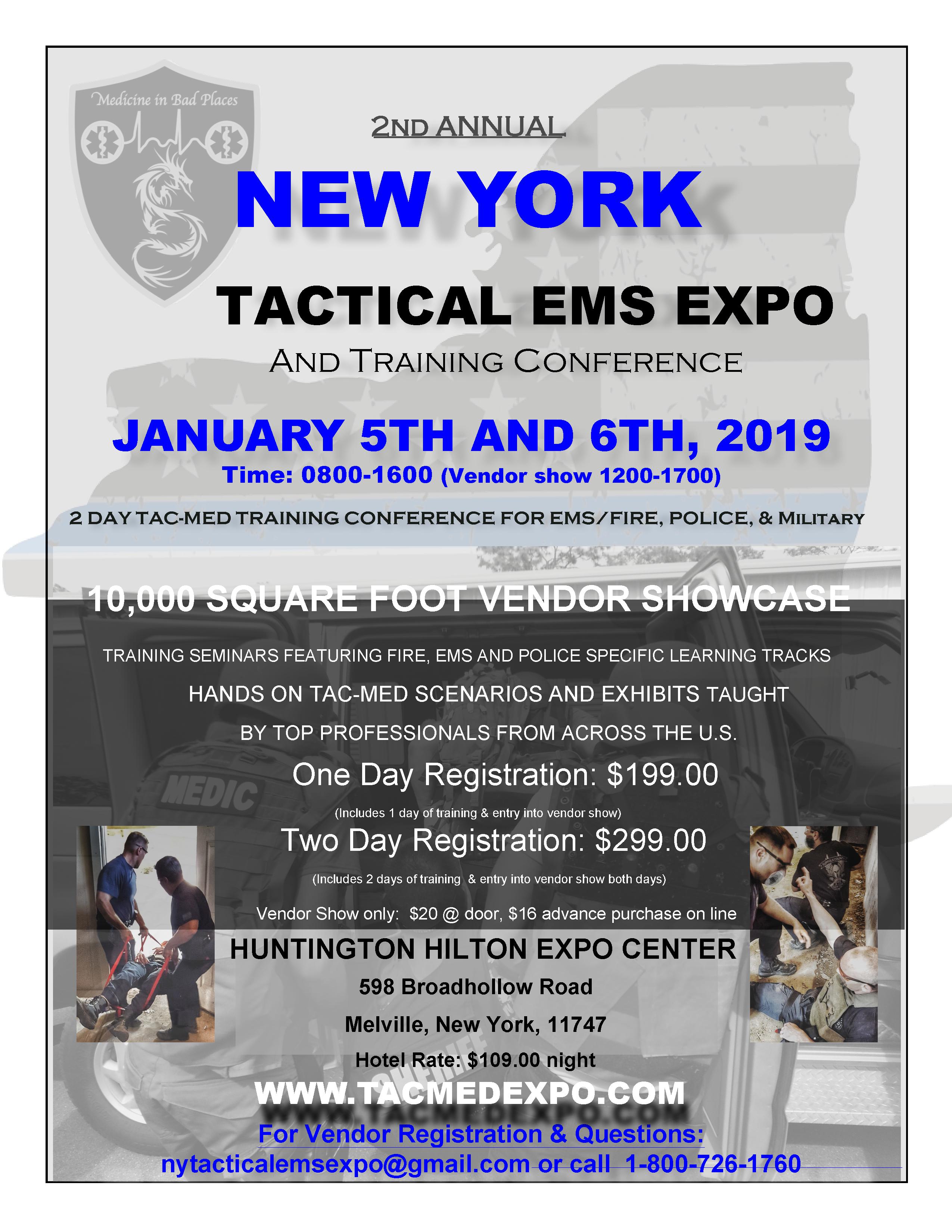 The 2nd Annual NY Tactical EMS Expo is coming to Long Island January 5th and 6th, 2019 at the Huntington Hilton Expo Center in Melville, NY. The expo will feature 2 events under 1 roof bringing together the best training and products in the fields of EMS, Fire and Law Enforcement. There is 10,000 square feet of vendors, exhibits and public safety trade show featuring products by Quick-Clot, Armor Express, ATT Tactical, Techline Technologies, Safariland, North American Rescue, Rescue Essentials, and many more local and national names. The 2-Day Training Conference features some of the top educators. The conference will also have both an NAEMT certified 16-hour Tactical Emergency Casualty Care (TECC) Provider Course and an 8-hour Tactical Combat Casualty Care Course (TCCC). The training conference will feature over 25 classes with MCI incident debriefs, Operational Medicine and Tactical Medicine case reviews, topics and hands on scenario and skills training.
Featured faculty:
Lt. Colonel Stephen Rush, M.D.-USAF Para Rescue Medical Director, Dr. Amado Alejandro Baez, MD- Chairman Emergency Medicine-Kings County Hospital, Chairman-Tactical Medicine, American College of Emergency Physicians, Dominic Marino, DVM - FBI/ATF K-9, and Dr. John Trentini, M.D., Ph.D. Special guest appearance by former US Army Easy Company "Band of Brothers" Medic, SSG. Al Mampre.
Who is the conference designed for?
The NY Tactical EMS Conference is designed for all first responders (EMS/Fire/Law Enforcement/Military/RN/MD/DO/PAs/NPs/Personal Protective Detail/Security and other medical professionals and first responders). The training symposium is designed to provide a different look at the incidents we encounter every day and those that can happen at any moment. These faculty members are sharing their knowledge and experience to help you respond and be as effective as possible when that critical moment strikes. We all know that Long Island is a very dynamic, multi-agency jurisdiction and has many hidden hazards that can present themselves at a moment's notice. There is no excuse not to be prepared and learn directly from those who have done it. Check out our faculty and course list at www.medicineinbadplaces.com/2019courses
Group discounts available for 6+ students from the same department, please email us for the discount code.
Northwell Health Post Conference Bio-Skills Lab January 7, 2018:
Northwell Health's Trauma Institute and Center for Learning and Innovation has partnered with Medicine in Bad Places to create the Surgical Skills Post-Conference Lab. Two 4-hour sessions will be offered and each session will be comprised of 5 skill stations. Please see below for additional information.
https://www.medicineinbadplaces.com/northwellhealthbioskillslab