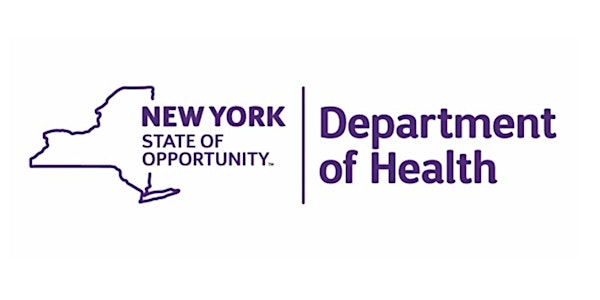 New York State Consortium on Long COVID
Join the NYSDOH now for a virtual, free event discussing long COVID and its impact on New Yorkers live now at the link below!
About this event
Join the webcast live, now at: https://totalwebcasting.com/view/?func=VIEW&id=nysdoh
Post-Acute Sequelae of SARS-CoV-2 (PASC) or "long COVID," a condition in which individuals infected with COVID-19 experience a wide range of physical and psychological symptoms after their initial infection, is impacting a portion of our population across New York State as well as our nation and worldwide. Given the challenges and urgent need to support individuals in their recovery from long COVID, New York State is bringing together an expert group of researchers, clinicians, social scientists, and other stakeholders to share their expertise and insights on this condition. The goal of this event is to develop a set of potential actions that New York State could take to make urgent progress to address long COVID, especially in supporting New Yorkers with long COVID as they recover and supporting the healthcare providers who care for them. Through important discussions on the research, clinical, and policy/regulatory considerations for long COVID, experts from across US will provide recommendations to better understand, treat, and ultimately prevent long COVID.
This consortium will feature three separate panel discussions throughout the day:
The first panel will focus on research to further define what is currently known – and what remains unknown – about PASC, including epidemiological aspects of the condition, biological causes, groups most severely affected, and ongoing research.
A second panel focused on clinical care will discuss the various clinical manifestations and presentations of long COVID, consider whom it most affects, and provide insights into approaches to long COVID treatment in various populations and settings across age, race/ethnicity, and geography.
A third panel on policy and functional outcomes will provide recommendations for policies or initiatives that New York State may consider to address long COVID, in both the near and long terms to aid in the physical, social, and psychological recovery of individuals impacted by long COVID.
Schedule:
8:45am – 9:00am: Introduction from Commissioner Mary Bassett, MD, MPH
9:00am – 10:30am: Panel 1: Research
Moderated by: Eli Rosenberg, PhD – Deputy Director for Science, Office of Public Health, New York State Department of Health
Panel members:
Jennifer Frontera, MD - Professor of Neurology, New York University Grossman School of Medicine
Mady Hornig, MA, MD - Associate Professor of Epidemiology, Columbia University Mailman School of Public Health
Lawrence Purpura, MD, MPH & TM - Instructor of Medicine, Division of Infectious Diseases, Columbia University Irving Medical Center
Akiko Iwasaki, PhD - Waldemar Von Zedtwitz Professor of Immunobiology and Molecular, Cellular, and Developmental Biology, Yale University
Michael Roehrl, MD, PhD - Director, Precision Pathology Center, Memorial Sloan Kettering Cancer Center
11:00am – 12:30pm: Panel 2: Clinical Considerations
Moderated by: Emily Lutterloh, MD, MPH – Director, Division of Epidemiology, New York State Department of Health
Panel members:
Benjamin Abramoff, MD, MS - Director, Spinal Cord Injury Program; Assistant Professor of Clinical Physical Medicine and Rehabilitation, Penn Medicine
Abigail Chua, MD, MPH - Clinical Assistant Professor of Medicine, Division of Pulmonary, Clinical Care and Sleep Medicine, Stony Brook University Hospital
John Baratta, MD, MBA - Clinical Assistant Professor & Medical Director of Stroke Rehabilitation, Department of Physical Medicine and Rehabilitation, University of North Carolina-Chapel Hill
Ixsy Ramirez, MD, MPH - Assistant Professor of Pediatrics, University of Michigan Medical School
Sharagim Kemp, DO - Medical Director, Nuvance Health COVID Recovery Program
Zijian Chen, MD - Medical Director, Center for Post-COVID Care, Mount Sinai
Sarah J. Ryan, MD - Assistant Professor of Medicine, Columbia University Irving Medical Center
1:00pm – 2:30pm: Panel 3: Policy, Functional Outcomes
Moderated by: Johanne Morne, MS – Deputy Director for Community Health, Office of Public Health; Director, AIDS Institute and Center for Community Health, New York State Department of Health
Panel members:
Diana Berrent - Founder, Survivor Corps
David Putrino, PT, PhD - Director of Rehabilitation Innovation, Mount Sinai
Karen Costley-Hoke, MD, MPH - Medical Director and Assistant Vice President, Healthfirst
Monica Lypson, MD, MHPE - Vice Dean for Education, Columbia University Vagelos College of Physicians and Surgeons
Jasmine Harris, JD - Professor of Law, University of Pennsylvania Carey School of Law
Vincent Marchello, MD - Chief Medical Officer and Senior Vice President, Fidelis Care
Sanjiv Shah, MD - Chief Medical Officer, MetroPlus Health