Description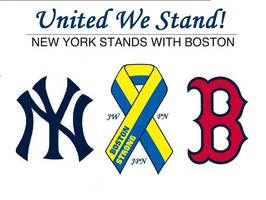 About the Event
The horrific events that occurred at the Boston Marathon on the afternoon of April 15, 2013, will forever change the city of Boston and the lives of those that were directly impacted by this senseless act. The city and the nation have shown tremendous resolve and great courage standing up in the face of terror and refusing to back down. In the wake of the jubilation of finding those responsible, the reality of the long road to recovery for the victims has only just begun.
We ask that "New York and Boston Unite" to join us in a show of solidarity and support for those victims with whom the host committee each shares a special friendship. Paul, J.P. and Jacqui have a long road ahead of them and we will be there every step of the way. Please help us make those steps a little easier. Join us Saturday, May 4th at Professor Thom's from 4 – 9pm.
Each ticket includes entrance to the Event, discounted drink specials, live DJ entertainment, a slient auction and raffle to further suppor the recovery fund and many more surprises in store!
All proceeds from the event will go to the Jacqui Webb, Paul Norden, JP Norden Recovery Fund (www.Facebook.com/WebbandNordenRecoveryFund). If you cannot join us for this great event and would like to make a donation, your generosity would be greatly appreciated. Thank You in advance for your support!
New York and Boston can unite to celebrate a great cause and to further support the recovery efforts of three great friends, siblings, children and people in their greatest time of need.
About Paul, J.P. and Jacqui
Paul, J.P. and Jacqui, along with four other friends, went to the Boston Marathon with much excitement on April 15,2013, to watch one of their best friends cross the finish line. Their friend, who is a firefighter as well as an Afghanistan war veteran, had about a mile to go when the first bomb went off. After the first blast Paul and J.P., being the thoughtful and selfless brothers they are, took Paul's girlfriend, Jacqui, and lifted her over the metal barricade in order to protect her while sacrificing their own bodies. Just moments later, the second bomb blew up nearby and all chaos ensued.
Unaware of each other's whereabouts and in severe physical shape, it was not until days later that the brothers would reunite. The entire time they were apart, the question they continued to ask, "Is my brother all right?"
Saturday, April 20, 2013, was the first time the two inseparable brothers got to talk to each other (via FaceTime). All each of them could say to the other was, "I love you." Despite their injuries and surgeries, Paul, J.P. and Jacqui continued to ask how everyone else was doing.
A lot of us were lucky enough to grow up in the same town as these three amazing people. When we were younger, you couldn't go to a local basketball court without seeing J.P. and Paul. They were there for hours on end, even after the sun went down, cracking jokes and just enjoying time with their friends. They were also the unofficial mayors of the Stoneham Boys and Girls club. Every day after school you could find the brothers holding court at the pool table or running game in the gym. Growing up around J.P. and Paul, there was always plenty of laughter. We were all like family in our Stoneham community.
Their love for sports and one another translated into other areas of their lives. That's how we all got to know Paul's amazing girlfriend, Jacqui. Always the life of the party, both Jacqui and her twin sister, Janel, danced the night away at Craig's going away party. All because they knew it was going to make him happy and put a smile on his face. Jacqui, a well-established Boston realtor, was the first one to show up at Craig's house when she heard he was moving to New York to offer to help.
There are countless stories that show just how wonderful J.P., Paul and Jacqui have always been and will continue to be in the future. The horrific events of Patriots Day 2013 have been and will continue to be well documented. However, the real battle starts now for these true heroes.
It is with your help and support that we can make even the smallest difference in the lives of such loving and grateful people as the Nordens and Webbs.
Please join us on Saturday, May 4th at Professor Thom's in New York City to unite with Boston to support the Norden and Webb Recovery Fund!
Paul & JP News Coverage
http://online.wsj.com/article/SB10001424127887323798104578450842305574534.html
Jacqui on Dateline NBC
http://www.nbcnews.com/id/3032600/