Description

Slow Art
Slow Art at The Noguchi Museum, on May 19, 2013, is part of our annual Community Day. Choose a group hosted by a member of the local LIC community. Each host will ask participants to spend ten or more minutes with each of three works of art. Then join your host for a discounted drink at a nearby restaurant, to discuss the experience.
Arrive at Community Day anytime to enjoy the day and the art. If you would like to join your group for a communal art-viewing experience, join your host at 3:30pm in the galleries. At 5pm, groups will meet at the Museum entrance to head out to The Strand Restaurant on Broadway for 2 for 1 drinks and an extended conversation around the experience of looking slowly at art.
Art viewing: 3:30 - 5:00 PM; feel free to arrive earlier and look on your own
For more information, email education@noguchi.org
THESE EVENTS ARE CONCURRENT; PLEASE DO NOT REGISTER FOR MORE THAN ONE HOST. THANK YOU!
Community Day at Noguchi Museum
May 19, 2013, from 11am - 6pm
In an interview from 1986, Isamu Noguchi described the newly-created Museum as "a place to reflect and see an alternative existence." This year, The Noguchi Museum's Community Day celebrates slowing down and focusing, and explores the contemplative opportunities offered by this special museum space.
For
Slow Art Day is a worldwide celebration of art that encourages people to look at art SLOWLY – and thereby experience art in a new way. You can see more about Slow Art Day and the mission behind it on our website: http://SlowArtDay.com.
As Slow Art Day approaches, you'll hear from your host with more information, as well as instructions about what to do when you arrive for Slow Art Day.
More info about Slow Art Day movement: facebook | twitter | tumblr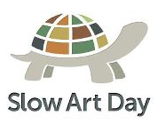 Organizer of New York Slow Art Day - Noguchi Museum - May 19, 2013
The Fresno Art Museum is located in the heart of Fresno, near the intersection of Clinton and First Streets, next to Radio Park. 
Exhibitions include contemporary and modern art and photography and ethnographic and cultural exhibitions which reflect and celebrate the diverse population of the San Joaquin Valley. The Museum is also home to very large and impressive collection of Pre-Columbian artworks from Mexico and what is now modern-day Peru. It is the only museum in Fresno accredited by the Americian Alliance of Museums.
In addition to thought-provoking and exciting exhibitions, the Fresno Art Museum provides the region's 1.6 million residents with a forum for contemporary and modern issues as they relate to art and culture, films, concerts, lectures, docent tours, and symposia to enlighten, educate, and entertain its visitors.
Over 14,000 people from across the Valley and around the world visit the Museum each year.