Description



Is 2018 the year you will live your best life?
Will you Trust and Believe in who you are
... AND in who you are becoming?
Are you ready to do what it takes?
Join us for Shaun T Transforms America
Trainer, Motivator, Entrepreneur and Author, Shaun T, will help you Dig Deep to uncover what's holding you back. Then, he will share his secret formula to push beyond your limits and get what you really want out of your life.

During this immersive 4-hour event, you will discover the 7 Superpowers to help you
live your best life

. Guests will get tips to take your

fitness journey

to the next level, the keys to

make smart decisions

regarding diet and food, find your tribe, and how to make sure your mindset is on point to reach your goals.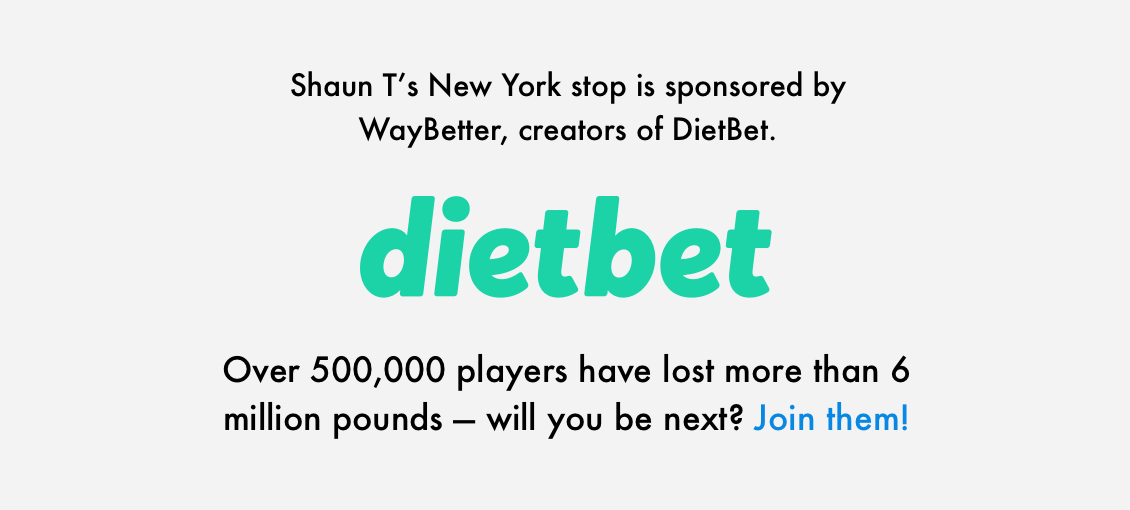 ---
Note: While we won't be doing burpees or jumping jacks, rest assured that Shaun will have you up and moving, pushing past your comfort zone and opening your mind like never before.


Let's make this year the best one yet
Join us January 9th!!
Choose the ticket option that works best for you. We just added a Virtual Option to access all 7 Transformation events from anywhere in the world :
General Admission -- Take part in all activities, plus get a copy of Shaun's new book

VIP -- Additional opportunity to get a photo with Shaun & select seating

Premium VIP Ticket -- for guests seeking a January support group, seating in the first 4 rows and access to the entire tour via video ($450 value)

Virtual Tour -- Attend all7 Shaun T Transforms America events for the price of 1 ticket. Plus, get access to our exclusive January Challenge Group.
Are you ready to make 2018 your your YEAR OF TRANSFORMATION?


Event Details
January 9th
5pm - 10pm
4W43 Building
4 West 43rd Street,
New York, NY
Event Schedule:
5:00pm - Registration and sign in begins
6:00pm - Begin your journey through Shaun's 7 Super Powers
7:30pm - In room challenge and intermission
8:00pm - Key note presentation and Q&A by Shaun T
9:00pm - VIP book signing and photo opportunity with Shaun T
10:00pm - Event concludes
FAQs
WHAT IS SHAUN T TRANSFORMS AMERICA?
On the heels of his first book, T is for Transformation, Shaun wanted to connect with his Fit Fam and bring the book to life through an immersive and interactive experience. Shaun T Transforms America is a great way for guests to dig deep and set their year off with great success.
WHAT SHOULD I EXPECT?
Expect to be meet other members of the Fit Fam, learn about the 7 Superpowers of Transformation, be wildly inspired, positively motivated and to get crystal clear on your goals for 2018. In addition to an awesome and intimate conversation with Shaun, we will also host Transformation Stations and exercises that you won't forget.
While there is no formal workout for this event, all Shaun T events will get you up and moving.
WHAT SHOULD I WEAR?
Number one rule here is to be comfortable. We recommend comfortable shoes, flexible clothing and layers in case it's cool or warm in the venue.
WHEN SHOULD I ARRIVE?
Registration will begin 1 hour before event start.
IS THERE A WORKOUT?
No, there is no formal workout for this event. Please plan to move around, as you will definitely not be sitting in one place.
WHERE WILL I BE SITTING?
All Premium VIP and VIP guests will be seated in their specific section. All guests will be assigned to a row upon arrival. There are no assigned seats.
WILL I GET A BOOK? IF SO, WHEN WILL I RECEIVE IT?
Yes, your ticket includes a copy of Shaun T's book T is for Transformation. VIP and Premium VIP tickets include participation in the book signing and photo session with Shaun at the end of the event. You will receive your book at the event.
WHAT IF I WANT TO UPGRADE MY TICKET?
As long as there are tickets available, you may upgrade your VIP ticket to PREMIUM VIP via the Eventbrite website. Use Code: UPGRADEME to unveil the upgrade ticket for your city. This will unveil and give access to upgrade your ticket. You will need both your original ticket and the upgrade ticket to enter the event as a PREMIUM VIP
WHAT IF STTA ISN'T COMING TO MY AREA?
Join us for our virtual tour or our January 9th Livestream -- www.shauntvirtual.eventbrite.com
WHEN WILL SHAUN BE COMING TO OTHER CITIES?
We have no plans to visit other cities at this point. Based on the success and enthusiasm for these events, we hope to be visiting other U.S. cities soon.
WHAT IS INCLUDED IN THE VARIOUS TICKET LEVELS?
Each ticket level includes a unique experience. The General Admission ticket allows participants access to all event activities.
The VIP ticket includes seating in the VIP section as well as the chance to meet Shaun T and have your photo taken.
Premium VIP ticket holders will be seated in the first 2-3 rows of the event, participate in the photo session with Shaun, as well as access to Shaun's January 2018 Facebook Challenge group which includes all 7 Shaun T Transforms America stops. This ticket is a great way to get the full Shaun T Transforms America experience.
ARE CHILDREN INVITED TO ATTEND?
While all ticketed participants are invited to attend, we recommend that all participants be at least 14 years of age. Unfortunately, we will not be providing childcare for this event.