Sales Have Ended
Ticket sales have ended
Unfortunately ticket sales have ended. Be sure to connect with FutureOfSex.org for our next event.
Sales Have Ended
Ticket sales have ended
Unfortunately ticket sales have ended. Be sure to connect with FutureOfSex.org for our next event.
Description
Join us for the Future of Sex x You Porn Sextech Hackathon!
Our global hackathon series has been to Australia, to Asia and now we'd love you to join us to hack the future of sex in Brooklyn, New York.
*ticket price covers all food, drinks and goodies throughout*
Wait - what's a sextech hackathon?
A weekend-long hackathon in which all members will collaborate intensively on creating sextech products. Unlike other hackathons that may require some coding expertise, we are open to all skills and experience levels. Gathering together in teams, you will innovate, and depending on the expertise of the team, generate a working prototype, whether this is a technology product, a design or a campaign.
Who Can Participate?
We welcome people of all job descriptions, whether you're a designer, developer, marketer, entrepreneur, project manager, therapist or sexologist. Diverse groups often work incredibly well together to produce the best results.
In particular, we are focused on making space for, and elevating the voices and perspectives of, women-identified people, although we support inclusion of all genders and sexualities.
What Is Sextech?
Most simply, sextech is any technology designed with the intention of enhancing human sexuality and human sexual experience.
Solutions may cover any of the areas associated with sexual experience from sexual health and wellbeing, to personal safety, choice of sexual experiences, personal dignity in sex, games, entertainment and dating experiences.
Why Should You Care?
Innovations in sextech will allow us to experience, express, and understand our sexualities in ways we never thought possible.
The key value of sextech products and services is that they are designed around relationships, bringing new ideas of intimacy, pleasure and desire to the human experience. While there is plenty of potential in this space, it is largely untapped.
We believe that women-identified technologies and thinkers can influence the direction of this market, while also changing the cultural conversation and attitudes toward female sexuality. This event is designed to be open to all, but our ambition is for women's voices to be contributing elements to all projects arising from our event.
Program Format & Schedule
Friday evening kicks off with talks from inspiring mentors. We will form teams according to categories of interests and problem statements.
Following the team forming on Friday night, the remainder of the weekend will be spent working together to bring a project to life, and finish on Sunday with a Shark Tank-style pitch to a panel of judges.
Schedule:
August 24 FRIDAY NIGHT 6-9pm - Sextech talks and team formation.
August 25 SATURDAY 9am - 4pm - Hack day, work as teams, receiving expert mentoring from industry leaders.
August 26 SUNDAY 9am - 5pm - Hack day and pitching.
Afterparty!
Speakers and Mentors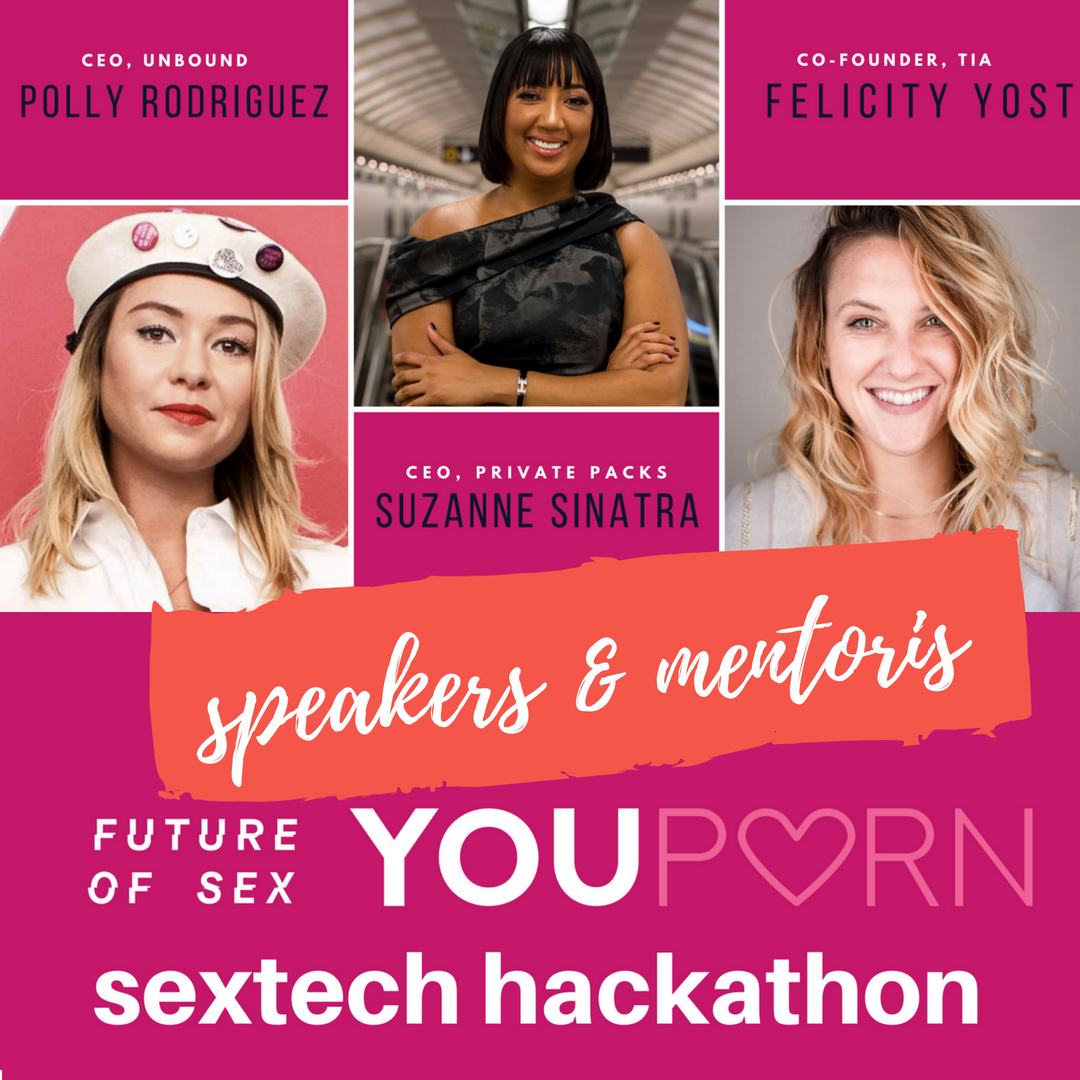 For further enquiries or sponsorship, please contact partnerships@futureofsex.org
PRIZES
Winner (~15K in value)
Prize money ($1000)
2 months of full-time desk membership at The Yard, South Williamsburg
Future of Sex/Disruptor's Handbook Marketing Accelerator (5 workshops over 10 weeks - valued at $10,000)
Hubspot's Platform, Tools @ 90% discount for the first year, 50% discount on the 2nd year and 20% in perpetuity

1 free day-room with HotelsByDay.com for each participant in the winning team
Runner Up
Prize money ($500)
Future of Sex/Disruptor's Handbook Marketing Accelerator (5 workshops over 10 weeks - valued at $10,000)
Hubspot's Platform, Tools @ 90% discount for the first year, 50% discount on the 2nd year and 20% in perpetuity
** Registrants must be at least 18 years or older.
Judges
Samantha Cole, Motherboard
Sam is a Brooklyn-based technology and culture journalist. As an assistant editor at Motherboard, Vice's science and tech outlet, she covers everything from sex workers' rights to water on the moon. She and her team broke the story around "deepfakes," the AI-generated porn phenomenon that became a dystopian matter of national security.
Gabrielle Tuglio, Operation Manager, The Yard, and Wellness and Health Influencer
Gabriella is the Operations Manager at The Yard, a community of Entrepreneurs and Small Businesses. She lives in Long Island City where she focuses on Holistic Health Coaching, recipe development and working on being the best damn version of herself.
Kyle Walford, YouPorn
Kyle Walford, Director of Product at YouPorn relocated from the US to Canada to help build the future of porn. He started his career in sales but quickly discovered his passion for product working in tech startups. He has a deep expertise in solving customer problems for massive content aggregators, SMB marketplaces, and building scalable growth engines. Walford is the father of two young boys and hopes to teach them that it is possible to build a better world for all.
Estrella Jaramillo
Estrella is the Cofounder of B-wom, and a women's health advocate and international speaker. B-wom is a digital coach for women that offers users personalized self-care programs with habits, pelvic floor and core exercises, educational contents, and a tracking tool. B-wom has 220k end users in 10 countries, and helps women enhance their sexual experience and address intimate health issues from incontinence and sexual pain, to endometriosis. Estrella aims to eradicate the anxiety women suffer when it comes to their bodies and their intimate health, removing the stigma and providing a safe space for women to find solutions.
Mal Harrison, Center for Erotic Intelligence
Sexologist and human connection specialist Mal Harrison is passionate about freeing people from shame, stigma, and fear. She wants to live in a world where fluidity, compassion, and deep human connection collide, and where every human is cliterate.
In 2016, she founded the Center for Erotic Intelligence to broaden and reframe our collective understanding of human sexuality and human connection. She studies how the erotic mind can empower our everyday lives, and offers fresh new ways of teaching healthy relationships and healthy sexual development.