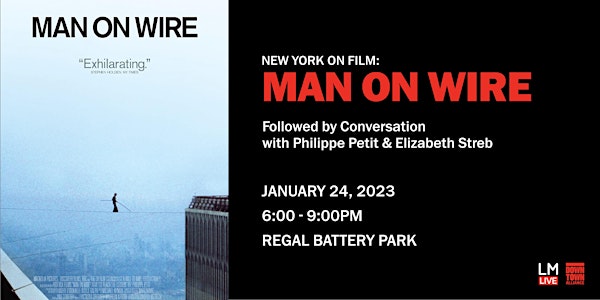 New York on Film: Man on Wire With Philippe Petit and Elizabeth Streb
Nearly 30 years later, Petit and Streb will reflect on the significance of Petit's death-defying wire crossing and its lasting impact.
When and where
Location
Regal Battery Park 102 North End Ave (inside Conrad Downtown New York) New York, NY 10282
Refund Policy
Contact the organizer to request a refund.
Eventbrite's fee is nonrefundable.
About this event
The iconic image is seared into our brains: a man, dressed in black, carrying a horizontal pole, balances precariously on a wire strung between the towers of the World Trade Center– over 1000 feet in the air. Philippe Petit's historic high-wire crossing has spawned multiple films, books and articles, including the Academy Award-winning 2008 documentary Man on Wire.
On January 24, join the Downtown Alliance for a special screening of Man on Wire followed by a conversation between Philippe Petit and groundbreaking choreographer and performer Elizabeth Streb. You'll have a chance to ask Philippe your burning questions about his death-defying crossing, as well as purchase a signed copy of his out-of-print book To Reach the Clouds: My High Wire Walk Between the Twin Towers.
Tickets are $10 and all proceeds will be donated to the STREB organization.
Note: your Eventbrite ticket confirms your spot at the screening. Seat assignments are first come; first served.
About our Speakers:
Philippe Petit was born in France. Not from a circus family, at an early age he discovered magic and juggling and, at age 16, took his first steps on the wire. As he was expelled from five different traditional schools, he learned what interested him on his own, and became adept at equitation, fencing, carpentry, rock-climbing and drawing; he also studied the art of bullfighting.
While performing in Europe, North America, Asia and Australia and touring worldwide as an author and keynote speaker, he taught himself Spanish, German, Russian and English and a bit of Hebrew and Portuguese. He also developed a keen appreciation of art and architecture and a comprehensive understanding of the engineering principles useful to being his own Master Rigger.
On the sidewalks of Paris, he created his street persona: a silent, playful character dressed in black sporting a battered black top hat and riding a unicycle. With his high wire, Philippe has extended the boundaries of theater, music, writing, poetry, drawing and filmmaking.
Elizabeth Streb has dived through glass, walked down London's City Hall, dumped a ton of dirt on her head, and set herself on fire, among many other feats of extreme action. She founded the STREB Extreme Action Company in 1979 and established SLAM (STREB Lab for Action Mechanics) in Brooklyn, NY in 2003. Streb holds a MA in Humanities and Social Thought from New York University, a BS in Modern Dance from SUNY Brockport, and honorary doctorates from SUNY Brockport, Rhode Island College and Otis College of Art and Design and has received numerous honors including the John D. and Catherine T. MacArthur Foundation 'Genius' Award, the Guggenheim Fellowship, a Doris Duke Artist Award and a USA Fellowship Award.