New York, NY - CLEANSE and RESTORE DETOX

Wednesday, August 20, 2014 from 7:00 PM to 8:00 PM (EDT)
Event Details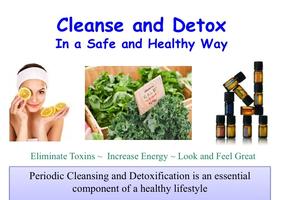 Are you ready to look and feel your very best?
Get started by attending this event!!
Do you have low energy, digestive problems, skin problems, weight gain, allergies, food sensitivities, or aches & pains. 
Do you want to learn how you can get rid of these problems? 
It's time to join us in using natural solutions to restore your energy, cleanse your body, restore the youthful glow to your skin, and enhance your mood on a daily basis!

Learn how to make over the inside and outside of your body using plant-based food and doTERRA's Certified PureTherapeutic Grade (CPTG) plant-based medicine.

You'll learn how to flush your system from built up toxins; infuse your body with vital nourishment; increase your energy and vitality; and allow your body to heal itself at a cellular level in a simple, safe, and cost effective way.

Periodic Cleansing and Detoxification is an essential component of a healthy lifestyle.

Learn about:

How to use plant-based food nutrition to improve your health

Easy detoxing to release weight naturally and quickly

How to use essential oils that will smooth fine lines in your skin and keep your skin looking its best

How to sleep better, increase energy, and live a happier, healthier life!

 

Taught by New York Green Smoothie Girl Health Coach Carol Galanty and Health Coach Stacy Young.


 

Reach Carol at CoachCarol@GreenSmoothieGirl.com for more information.

 

Empower yourself to learn more by attending this event.

Taught by Green Smoothie Girl Coach Carol Galanty and

Health Coach Stacy Young.

You'll get a FREE sample of Wild Orange essential oil for coming and home made natural body scrubs with doTerra Lavender essential oil ($25 value).

 

 

We hope to see you there! 

$200 GIFT CERTIFICATE TOWARDS COACHING PACKAGE WITH Health Coach Stacy Young CHHC, ADDP

5ml bottle of Wild Orange essential oil

 
**doTERRA IPC's:  Our classes are private events, despite ticketing on Eventbrite. They are hosted by a GSG coach who has expended significant time and expense. This coach is well trained and will teach her audience how to take their healthcare into their own hands. Additionally, she will show the audience many perks exclusively available to the GreenSmoothieGirl team – which include ticketing classes on the high-traffic GSG site, nationally advertised classes, and more. 
When & Where

AlleyNYC
500 7th Ave, 17th Floor
New York, NY 10018


Wednesday, August 20, 2014 from 7:00 PM to 8:00 PM (EDT)
Add to my calendar