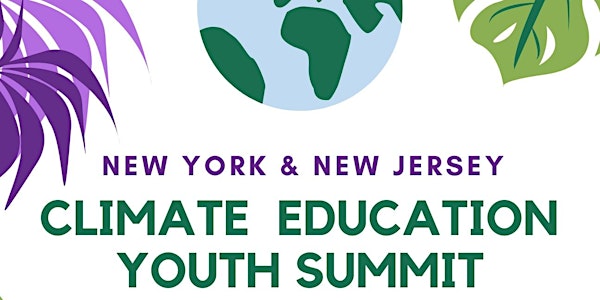 New York & New Jersey Climate Education Youth Summit
New York & New Jersey Climate Education Youth Summit
About this event
About this Event
Columbia University's Eco Ambassadors Program of the Center for Sustainable Development at the Earth Institute, in partnership with the National Wildlife Federation in New York City and New Jersey Audubon, is organizing a Climate Education Youth Summit for New York and New Jersey's students.This Summit is best for middle and high schoolers as well as college students, but all are welcome! Each day of the Summit will include a panel of inspiring speakers as well as hands-on, skills-oriented workshops addressing the climate crisis. Our conversations will be based on the following key questions, with a theme each day.
The themes include climate education, community organizing, action planning, communication & arts for climate, and tips from students on college and career preparation.
How can communities take up climate change related actions?
How are students addressing the issue of climate change education?
What role does education play in addressing climate change?
How can institutions help to raise awareness and change behaviors?
The goal of the Summit will be to spread awareness about the climate crisis and its links to education through fun and engaging discussions. It will also help students learn how to address sustainability issues in their communities.
REGISTRATION***
Each day has a separate registration - you can select the registration date in the dropdown date menu below the green registration button. We welcome you to register for all 5 days!
***Zoom links will be sent to the email address you used on Eventbrite to register***
Please note: Attendees who register for one specific Summit day will automatically receive Zoom links for all five days, to provide convenient access to all the week's events.
AGENDA & THEMES
Monday Feb 8th: Why Climate Action through Education?
Tuesday Feb 9th: Pushing for Climate Action Inside and Outside the Classroom
Wednesday Feb 10th: Education for Climate Action
Thursday Feb 11th: Communication & Arts for Climate Education
Friday Feb 12th: Action Planning Day
LINK TO JOIN ON FRIDAY, FEB 12: DAY 5, LAST DAY!
3:30PM - 6:30PM Join Zoom Meeting
Join Zoom Meeting
https://columbiauniversity.zoom.us/j/91333413908?pwd=YXJQNHFscDkxZ2NjcUV5UmNYeVU3Zz09
Meeting ID: 913 3341 3908
Passcode: 380184
Find your local number: https://columbiauniversity.zoom.us/u/adGtxpYDqn
For details, please visit:
https://www.edforsd.org/post/ny-nj-climate-education-youth-summit