Description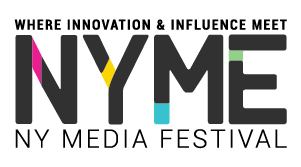 New York Media Festival (NYME)
October 4-5, 2018 | NYC
NY Media Festival is an innovative event that brings together over 4,400 registered attendees for 2 days of city-wide events. Over 1,000 senior brand, games, music, television and video leaders, investors and start-ups attend the daily executive conferences: Digital Music Forum (Oct. 4), NY Games Conference (Oct. 4), Future of Television (Oct. 5), and Rightstech Summit (Oct. 5). These events focus on networking, meetings and deal-making and the conferences feature fireside chats, panels, demos and presentations. Discussion topics include digital content creation, distribution, marketing, investment and monetization. The NYME VR/Innovation Alley showcases creativity, technology and innovation with demos and hands-on experiences for attendees. Each day provides a new opportunity for power networking and each evening is filled with dinners, receptions and parties as part of the Tech-Media Crawl.
---
Check Out Our Highlights for NYME 2018
DAY 1 (Oct. 4): Digital Music Forum Agenda

VIEW FROM THE TOP: Streaming Revenue Milestones & Goalposts

Investing in Music

Digital Radio

Data: What Does it Mean to You

Branding in a Digital World

Marketing with Video and Livestreaming, How the Socials have Changed
DAY 1 (Oct. 4): NY Games Conference Agenda

VIEW FROM THE TOP: The Future of the Digital Games Market

What's Nest For Mixed Reality Location-Based Entertainment (LBE)?

Creativity Rules: Making Successful Games for Mobile Paltforms

VR/AR for Games and Entertainment

Blockchain Gaming Revolution

The Future of Esports: The Opportunity for Brands, Agencies, and Marketers
DAY 2 (Oct. 5): Future of Television Agenda

VIEW FROM THE TOP: The Future of Television

The Melting pot of OTT, Cable, and Linear Television

The X[R] Factor: Creating Immersive Experiences for Television

Investing in Video Innovation and Technologies

TV & Industry Dealmakers Roundtable

Voice-Activated AI for Media & Enteratainment
DAY 2 (Oct. 5): Rightstech Agenda

VIEW FROM THE TOP: Crypoto, Code, and Copyrights: The Future of Media Rights Management
Rights I/O: Mapping Rights-In to Rights-Out
Provenance, Priority, and Authentication
Hands-Free Licensing: Rights Hubs and Online Exchanges
Copyright Reform in the U.S. and Europe
View the full 2017 NYME Agenda
---
Our 2018 Featured Speakers

View Our Confirmed List of 2018 NYME Speakers

CONFIRMED SPEAKERS
Keynotes and Fireside Chats:
NY GAMES CONFERENCE
Nick Earl, CEO & President, Glu Mobile
Simon Sim, President, Netmarble US
Dr. Songyee Yoon, President, NCSOFT West
Interviewed by: Mike Vorhaus, President, Magid Advisors
DIGITAL MUSIC FORUM
Shahendra Ohneswere, SVP Content Development, Columbia Records
FUTURE OF TELEVISION
David Gandler, CEO & Co-Founder, FuboTV
RIGHTS TECH SUMMIT
Merck Mercuriadis, CEO, Hipgnosis Music Ltd.
Nile Rodgers, Grammy-Winning Composer, Producer & Guitarist / Co-Founder, CHIC
Panelists and Presenters:
Marcie Allen, President, MAC Presents
Sheryl Allen, Director, Next Big Sound, Pandora
Jon Bahr, VP, Creator Services, CD Baby
Allen Bargfrede, Managing Partner, PDX Media Partners
Jonathan Barzilay, Chief Operating Officer, PBS
David Beck, EVP, Corporate Strategy and Operations, Turner
Noah Becker, President, AdRev
Dwayne Benefield, VP & GM, PS Vue, PlayStation
David Berkowitz, Head of Marketing, Storyhunter
Dae Bogan, CEO, TuneRegistry
Hale Boggs, Chairman, Manatt Venture Fund
Susan Borst, Vice President, Mobile, IAB
Jeff Bronikowski, SVP, Business Development, Head of Innovation & Emerging Tech, Warner Music Group
Alex Bulkin, Co-Founder & Chief Alchemist, CoinFund
Ina Burke, Vice President, Original Content, iHeartMedia
Tom Christie, Chief Operating Officer, Showtime Networks
Jeff Clyburn, Managing Director, Mass Appeal Records
Emma Cooper, Global President- Nonfiction, Pulse Films
Russ Crupnick, Managing Partner, MusicWatch
Jarrod Dicker, CEO, Po.et
Domenic DiMeglio, SVP of Distribution and Operations, Digital Media, CBS Interactive
Colin Dixon, Chief Analyst & Founder, nScreenMedia
Chris Donohue, Senior Director, Strategic Alliances, AMD
Craig Donato, Chief Business Officer, Roblox
Bernarda Duarte, Director, Content Acquisition, Roku
Matt Edelman, Chief Commercial Officer, Super League Gaming
Ahmed Elgammal, CEO, Artrendex
Tim Fields, CEO, Kabam
Kristen Finney, EVP, EMEA, Television Distribution, 20th Century Fox
Chuck Fletcher, Chief Technology Officer, Barbarian
Taishi Fukuyama, Co-Founder & COO, Amadeus Code
Seth Geiger, President, SmithGeiger LLC
Sean Gibbons, SVP Product and UX, SiriusXM
Eric Goldberg, Managing Director, Crossover Technologies
Harold Goldberg, Founder, The New York Videogame Critics Circle
Jesse Grushack, Co-founder, UJO
Nader Hamda, CEO, Ozobot
Brian Anthony Hernandez, Senior Editor of Music & Culture, ONE37pm.com
Gabrielle Heyman, Head of Global Brand Partners, Zynga
Rick Howe, The iTV Doctor, Interactive TV Today
Grace James, Vice President, Marketing, Atlantic Records
Mike Jbara, CEO, MQA
Mark Jocson, SVP, Strategic Initiatives and Business Development, Rakuten Viki
Jesse Kirshbaum, CEO, Nue
Todd Klein, Partner, Revolution
Paul Kontonis, CMO, WHOSAY
Keith Kupferschmid, President, Copyright Alliance
John Lasker, Vice President of Digital Media Programming, ESPN
Damon Lau, Head of Esports, United Talent Agency
Craig Levine, Global Chief Strategy Officer, ESL
Mitch Liu, Co-Founder and Chief Executive Officer, Theta Labs
Stephanie Llamas, Head of XR, SuperData Research
Amir Lotan, Creative Director and Head of Production, FTX Games
Jennifer MacArthur, SVP, Global Marketing and Strategic Partnerships, Treeti
Jim Mahoney, General Manager, US, MERLIN
Damian Manning - Founder, CEO, Hifi
Brandon Martinez, VP, Live Nation Video Network, Live Nation Entertainment
Paul Martino, General Partner, Bullpen Capital
Nari Matsuura, Partner, Massarsky Consulting
Richard McBeath, VP, Marketing, Masterworks.io
Ben McEwen, Commercial Director, ICE (London)
Andrew McInnes, Founder, TMWRK
Vaughn McKenzie-Landell, CEO and Co-Founder, JAAK
Marty Moe, President, Vox Media
Soniya Monga, Global Agency Partnerships, Snap
Eugene Mopsik, CEO, American Society for Collective Rights Licensing
Vida Myslon, Sr. Director, Brand Sales & Marketing, Electronic Arts
Enrique Olives, Global Business Development Head and Business Unit Head – TFC Online, ABS-CBN International
Jacob Pace, CEO, Flighthouse
Sahil Patel, Senior Reporter, Digiday
Mario Pena, Product Manager, Safe Creative
Cheryl M. Potts, Founder & CEO, Cleerkut
Jennifer Prenner, Global Head of Marketing, Growth & Engagement, Amazon Fire TV
Erick Opeka, Executive Vice President, Digital Networks, Cinedigm
William Quigley, CEO, WAX and OPSkins
Jon Radoff, CEO, Disruptor Beam
Jeff Ratner, Chief Media Officer, iCrossing
Benji Rogers, Chief Strategy Officer, Dot Blockchain Media
Raymond Roker, Vice President, AEG Studios
John Rosso, President, Market Development, Triton Digital
Scott Ryan, Global VP Music, Gracenote
Zihla Salinas, CEO, Trailer Park Group
Seth Schachner, Managing Director, Strat Americas
Fabrice Sergent, Co-Founder and Managing Partner, BandsinTown
Evan Shapiro, Founder, eshapTV
Ned Sherman, Counsel & Director, Manatt Digital / Founder, Digital Media Wire
Julie Shumaker, VP, Business Development, Unity Technologies
Lee Simpson, Head of TV & Entertainment, ustwo
Howie Singer, Special Technology Advisor, Universal Music Group
Jason Sklar, Managing Director, Shamrock Capital
Jon Skogmo, CEO, Jukin Media
Pete Soldinger, Sr. Director of Strategy, Fullscreen
Todd Spangler, New York Digital Editor, Variety
Bart Spriester, VP and General Manager of the Video Platform, Comcast Technology Solutions
Christopher Sprigman, Professor, New York University School of Law
Brad Spychalski, Creative Strategy Lead, Pinterest
Sarah Stringer, SVP, Head of Innovation, Carat USA
Jonathan Stringfield, Global Head of Business Marketing, Measurement, and Insights, Activision Blizzard
Christy Tanner, Executive Vice President and General Manager, CBS News Digital
Erin Taylor, CEO, Musiconomi
Daniel Tibbets, President & GM, El Rey Network
Rasty Turek, CEO, Pex
Benoit Vatere, CEO & Co-Founder, Mammoth Media
Preeya Vyas, Managing Partner, Digital, Saatchi & Saatchi New York
Christoffer Wallin, Founder & CEO, Pindify
Matthew Wang, Managing Director / Deputy COO, U.S. Investment Banking, Evercore
Megan West, VP, Content Relations, Soundcloud
Mark WIllis, Co-Founder and Chief Design Officer, Texel
Dick Wingate, Principal, DEV Advisors
Matthew Yazge, Head of Brand Partnerships, Music & Film, Nielsen Entertainment

Interested in Speaking at NYME?
We are always looking for speakers with fresh and innovated takes on our topics and subjects. If you are interested in being a speaker at the NYME 2017, please submit your application here.

Sponsorship and Exhibit Tables
For sponsorship and exhibit information at any of our events, please contact: Tinzar Sherman, CEO, at tinzar@digitalmediawire.com.
FAQs
Do I have to bring my printed ticket to the event?
No. However you may be asked to show a government issued ID or drivers license to verify identity.
What is your return policy?
Refunds are subject to a $100 processing fee, which will be subtracted from your refund total. We must receive your written request for a refund by September 4, 2018. Cancellation requests received after September 4, 2018 are non-refundable.
Is my registration/ticket transferrable?
You may transfer your registration to another person. Please provide written authorization to info@digitalmediawire.com. Confirmed and paid attendees who do not attend or who cancel after the deadline are liable for the entire fee.
Where can I contact the organizer with any questions?
For questions, please call us at 310-855-0033 or email info@digitalmediawire.com.
Organizer of New York Media Festival (NYME) 2018

Digital Media Wire, Inc. is a media company that provides strategic consulting and manages marketing campaigns for digital media brands, and owns and produces industry conferences. DMW has one of the largest and most engaged and senior-level communities in the digital media industry.
www.dmwmedia.com