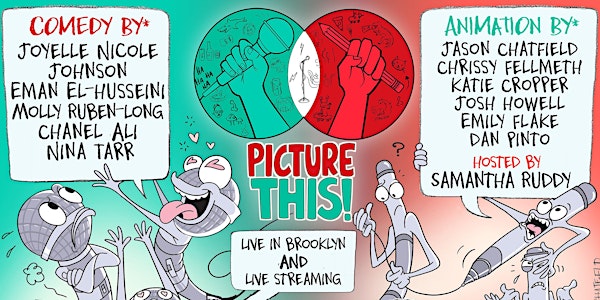 NEW YORK LIVESTREAM ONLY Picture This!: Live Animated Comedy
Brooklyn's ONLY live animated comedy show is LIVESTREAMING! One night only pairings of amazing comedians and television's best animators!
About this event
LIVESTREAM TICKETS ONLY: $10
For in person tickets to the live show at Union Hall please go here: https://www.eventbrite.com/e/picture-this-live-animated-comedy-tickets-407756770477
PICTURE THIS! is a show from Brandie Posey & Sam Varela: two girls who want to push the boundaries of what a comedy show can be. Picture This! is a live comedy show with stand-ups performing while they are drawn live by some of the best animators, cartoonists, and other artists in Hollywood, CA, SF, NYC, and Portland. Picture This! has also debuted in Toronto, New Zealand, and Australia! The comedians don't know what the animators are drawing and the animators don't know how the comedians will react.
Hosted by
Samantha Ruddy
Comedy by
Joyelle Nicole Johnson
Eman El-Husseini
Molly Ruben-Long
Chanel Ali
Nina Tarr
Animation by
Jason Chatfield
Chrissy Fellmeth
Katie Cropper
Josh Howell
Emily Flake
Dan Pinto
Saturday 9/24
Show 7:30pm EST / 4:30pm PST
*Please note*
- Not all performers guaranteed to be on the livestream
- This will be a one time only livestream, there will be no archived version available
- Any inappropriate behavior will result in immediate removal from the livestream
- There will be no refunds unless the show is cancelled by the host
*Please check emails for instructions to viewing link
*Lineup subject to change without notice
Presented by Naked Comedy Productions
Flier by Jason Chatfield
Follow us: PictureThisShow.com, IG: @PictureThisComedy, Twitter: @PictureThisShow, FB.com/PictureThisShow