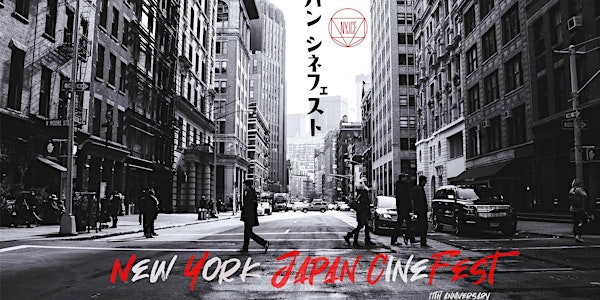 New York Japan CineFest 2022: In-Person Screening
New York Japan CineFest will celebrate the 11th anniversary and host the opening event at Scandinavia House in Manhattan on Monday, November
When and where
Location
Scandinavia House 58 Park Ave New York, NY 10016
Refund Policy
Contact the organizer to request a refund.
Eventbrite's fee is nonrefundable.
About this event
New York Japan CineFest will celebrate the 11th anniversary and host the opening event at Scandinavia House in Manhattan on Monday, November 14, 2022.
[IN-PERSON SCREENING on November 14 only] Featuring selected 9 short films
Tickets | Adults: Advance: $15.00 / At door: $18.00
Students: Advance: $12.00 / At door: $15.00
[ONLINE FESTIVAL: November 15 - 20] Please visit http://watch.nyjcf.com and register/purchase a festival pass to watch 21 short films onlinne.
[Program]
1. Bigger Is Better
Dir. Larry Tung | documentary | Taiwan | English, Japanese, Mandarin Chinese | 2021 | 24'57"
Bigger Is Better is a documentary about the identity culture and body politics of the bear subculture within a larger gay male community in Asia. It takes the audience to Japan, Taiwan, Hong Kong, and China to meet with stakeholders and examines the development of this unique subculture and its meaning and impact.
2. I Love Today's Sky
Dir. Kazuma Yano | drama | Japan | Japanese | 2022 | 6'26"
Do you remember yesterday's sky?
The sky always extends beyond your upward gaze. I love today's sky where clouds scatter leisurely.
The poet Shuntaro Tanikawa wrote a new poem entitled "I Love Today's Sky". Based on this poem describing a bright future.
3. Submittan
Dir. Susumu Kimura | Sci-Fi, Dystopian | United States | English, Japanese | 2021 | 18'14"
In the future city of Submittan, people over 80 years old are forced into 'retirement' to a remote mountain area, as the city deals with increased population. The burden falls on the shoulder of an immigrant artist, who is tasked to design a propaganda poster to convince citizens of this new registration.
4. KAGEBOSHI
Dir. Ken Ochiai | drama, horror | United States | English, Japanese | 2021 | 4'56"
In the 1930's, a Japanese-American father & daughter must play a deadly game of shadow tag to escape from a demon child, Kageboshi.
5. Final Deathtination
Dir. Marika Tamura | animation | United States | English | 2021 | 2'05"
A suicidal man encounters "Death" who is a "travel agent" to find the best place to die.
6. Living While Black in Japan
Dir. Shiho Fukada & Keith Bedford | documentary, Non-Fiction | Japan | English | 2021 | 15'13"
African Americans in Japan discuss how racial issues in the U.S. affected their decision to live abroad.
7. Pain of the Anonymous
Dir. Daichi Amano | drama Japan | Japanese | 2021 | 27'00"
Struggling to find work and entrenched in a personal health crisis, a former middle school teacher accepts a position as an online content moderator. She is faced daily with death, violence, and abuse—and reminders of unspeakable past traumas.
8. Mi
Dir. Masayoshi Nakamura & Zak Engel | animation | Japan | Japanese | 2021 | 4'23"
This film is the journey of father and son. The young son enters into this crazy and unknown world, and the father tries to guide him though as best as a father could. Somethings the father himself doesn't fully understand, and he lets the son know that's ok.
9. Ukujima
Dir. Tekko Nogami | drama, history | Japan | Japanese | 2021 | 4'02"
Today's travelers follow the path of Iemori Taira that has been passed down to Ukujima, and while thinking about it, they will eventually synchronize as they come into contact with a livelihood for life and culture of the people on the island that are still alive. past and future. It is a journey story that encounters a miracle that "people return to themselves".