Refund policy
Contact the organizer to request a refund.
Eventbrite's fee is nonrefundable.
View the recording of our online livestreamed conversation about the legacy of Dutch rule of NYC in the 1600s. Recorded Oct 6, 2020.
About this event
New Amsterdam History Center Presents: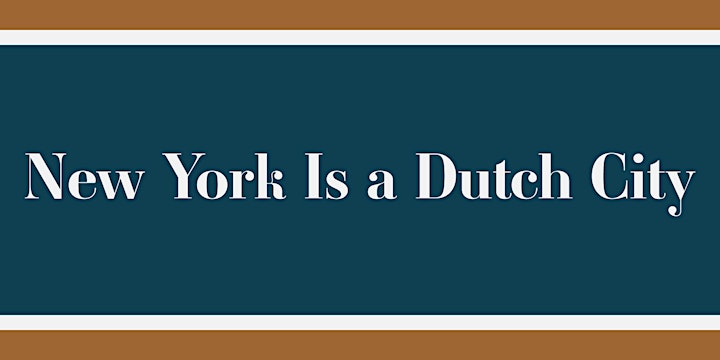 the recording of our livestreamed event from October 6, 2020
A CONVERSATION with:
Author Russell Shorto
and
Architectural Historian Barry Lewis
Moderated by Robert Snyder (Manhattan Borough Historian)
Join us online for a lively discussion of the enduring legacy of the 40-year Dutch rule of New York City, 1624-1664.
Shorto and Lewis will trade observations about how our democratic institutions, rule of law, hyphenated nationality, entrepreneurial spirit, multiculturalism, and vocabulary are indebted to our Dutch origins.
*Conversation will be pre-recorded, with a Live Q+A to follow
Reservations are required:
a private watch link and password will be emailed to registered participants immediately on purchase. Previous ticketholders will receive the video link by email.
GENERAL ADMISSION
$15
Free for Patrons, Students and New York City Tour Guides (Click 'Tickets' to select one of these free ticket options if eligible)
About the Speakers
Russell Shorto is an American author whose books have been translated into 13 languages. The Island at the Center of the World was a national bestseller in the U.S., and it and Descartes' Bones were named among the top 100 books of the year by the New York Times. His most recent published book is Revolution Song. Since 2003 he has been a contributing writer for the New York Times Magazine, and writes for other publications, both American and Dutch. From 2007 to 2013 he was the director of the John Adams Institute, an independent American culture center in Amsterdam. He is currently Senior Scholar at the New Netherland Institute in Albany, New York. He has a Bachelor's Degree in Philosophy from the George Washington University, in Washington, D.C. (1981).
Barry Lewis is an architectural historian who focused on the evolution of modernism in European and American architecture and its effect on NYC's "urban genes". Educated at the University of California, Berkeley, the Sorbonne, Paris, and the New School for Social Research in NYC, he taught for over 30 years at Cooper Union Continuing Education, The City Transformed , on the history of NYC through its architecture & city planning. He's best known for the decade long series of video walks he co-hosted with David Hartman and produced by WNET Channel Thirteen, including the Emmy award nominated 42ndStreet, Broadway and Harlem and was the on-camera commentator for Thirteen's Dutch New York, produced in 2009 to honor New York's Dutch origins.
Dr. Robert W. Snyder is the Manhattan Borough Historian and professor emeritus of American Studies and journalism at Rutgers University-Newark. Most recently, he is the co-author of All the Nations Under Heaven: Immigrants, Migrants and the Making of New York and the author of Crossing Broadway: Washington Heights and the Promise of New York. He is a member of the New York Academy of History and in 2016 was a Fulbright lecturer in American Studies in South Korea.
About NAHC
Founded in 2005, the New Amsterdam History Center encourages public exploration of the early history of New York, its diverse people and institutions, and its global legacy today with a dynamic Internet presence, a digital archive, and programs focused on the New Amsterdam era, 1609 -1674. It performs a unique service for New Yorkers and the public at large, exploring the enduring legacy of the early Dutch colony.