About this Event
On Wall Street - Engaging companies and investors in unavoidable discussions pertinent to the global economy.
New York Investment Week 2020 is a week-long of investment conferences, capital introduction One-on-One meetings, pitch room presentations, and networking gatherings held in iconic venues of the Wall Street area in New York City. Over 500 active investors, companies' executives, entrepreneurs, fund managers and government officials will gather in Manhattan NY to exchange on the pressing challenges and uncertainty looming over the global economy, and take tangible steps towards strategic partnerships and actual investing.
The convention is hosted by Bervann Capital - a New York City based investment company, leading an investors' ecosystem with over $900 billion assets under management.
On Wall Street - Pairing the brightest minds with strategic capital from active investors of the United States and foreign countries.
Bervann Capital's events are known to be well attended by a curate set of:
- Institutional Investors
- Private Equity firms
- Asset Management firms
- Commercial Banks
- Venture Capital firms
- UHNWI + HNWI + Angel investors
- Family Offices
- Business Owners
- Corporate Executives
- Founders & Entrepreneurs
- Incubators & Accelerators
- Government Officials.
On Wall Street - Providing alternative to traditional investment banking: Direct peer-to-peer meetings between investors and capital seekers.
This event is sector agnostic, with featured industries as:
- Real Estate & Hospitality
- Infrastructure
- Technology
- Healthcare
- Financial Services
- Energy & Natural Resources
- Venture Capital
- Consumer Goods
- Manufacturing & Shipping
- Agribusiness & Cannabis
- Sport, Fashion & Entertainment.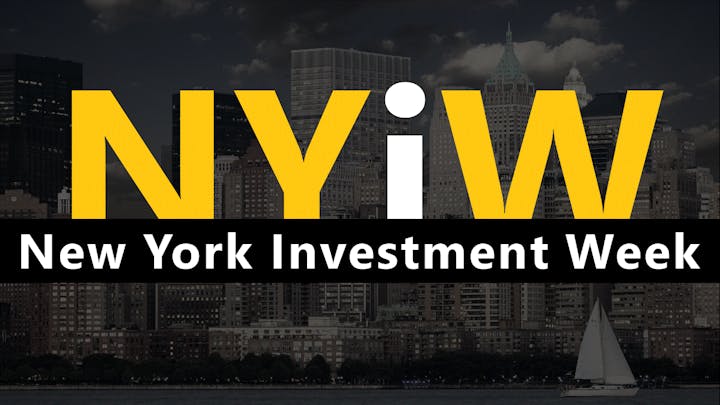 A Signature Investment Convention - by Bervann Capital:
- 1 Week on Wall Street
- 15 Networking Gatherings
- 50 Investment Conferences
- 100 Pitch room Presentations
- 500 One-on-One Meetings
The Real Estate & Hospitality Off-market Investment Conference.
Monday March 16, 2020
Developers, Owners, Asset managers, buyers, investors, lenders to tackle accuracy and diligence challenges encountered on both buy and sell sides.
Forecast and Anticipation of an uncertain 2020 at the center of most exchanges.
Beyond intermediaries, this is a connecting platform for active sellers and buyers, to initiate conversations or enter into agreements for real-time transactions.
Office buildings - Coworking Spaces - Logistic or Data Centers - Warehouses - Retail properties - Hotels - Hospitality Centers - Life Sciences properties - Single and Multifamily properties.
The Venture Capital & Startups Investment Conference.
Friday March 20, 2020
Our ecosystem is known for assembling investors with appetite for large ticket size, experienced managers or late stage companies with proven track record. We have however been flooded with requests from startups over the years, and have now elected to support that segment of the industry.
Bervann Capital's investors ecosystem will deploy $100 million into US and foreign early stage companies in 2020. The consortium aims to review opportunities and bet on reliable founders, disruptive visions, problem-solving approaches, uniqueness, niches, and products that can ultimately leverage the Bervann network for distribution and strategic access.
While startups may contact us directly, incubators and accelerators are welcome to request partnerships with our organization, as well.
As part of the New York Investment Week 2020, we've scheduled a Venture Capital & Startups Conference on Friday March 20, 2020 that will bring together a select group of startups' investors with pre-committed capital, to meet with cohorts of entrepreneurs seeking to showcase their dream ideas and projects for an investment ticket.
Full Agenda NYiW2020
We will update the below agenda as we finalize contents and speakers for all sessions. Keep an eye on the event page, or RSVP to receive updates as they are published.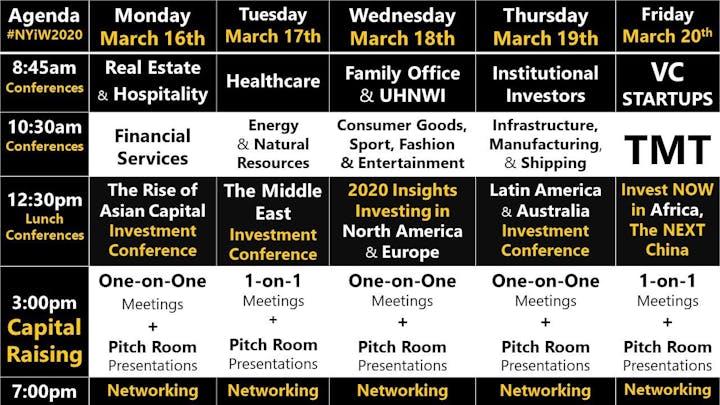 Past Events:
Dec 2018 - 1 World Trade Center and JW Marriott Essex House, NYC.
April 2019 - 1 World Trade Center and Harvard Club New York City.
August 2019 - Metropolitan Club New York City.
Exclusive Event. Access is granted per Invitation Only. Request an Invite:
Investors, capital seekers, prospective sponsors: Register to Request an Invite, Sponsorship details or Speaking slots. Our team will review your information and reach out for further details or Confirmation.
Please do not finalize any travel or schedule arrangement prior to receiving a confirmation from us.
Thank you.