Description
YOURS TRULY
2018 | India | 84 mins | Hindi (with English subtitles)
Directed by SANJOY NAG
Cast – Soni Razdan, Pankaj Tripathi, Aahana Kumra, Mahesh Bhatt
Post Screening Q&A with director Sanjoy Nag

Synopsis: As 57-year-old government employee Mithi Kumar finds herself on the brink of retirement from her mundane office job, she realises there's just one thing she'll miss about work- or rather her daily commute. It's the voice of a stranger that she has been irresistibly drawn to; one she has felt a deep connection with amidst the everyday din of the railway station. That voice belongs to the station announcer- her invisible but constant companion as she goes to work every day.

Ever since the first time she heard his voice, she felt something stir in her- and over the last decade it began to feel as if he was speaking directly to her, as she began conjuring up her own images of him- even writing letters to him, sharing her deepest emotions with this stranger. As her days at work come to a close, Mithi searches anxiously for her imagined soulmate. Will she ever find him- and more importantly, is he for real? Yours Truly is a story about seeking connection and discovering how love can strike at any age- and in the most unexpected places.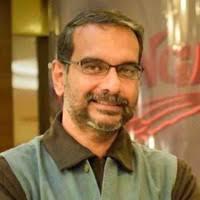 Director: Sanjoy Nag, born and raised in Kolkata, started out with documentaries before branching out to feature films. His debut feature 'Memories in March,' was world premiered at the New Currents Section, Busan International Film Festival 2010 & won the Indian National Award in 2010 apart from featuring in the Indian Panorama, IFFI, Goa '2011; MAMI, Mumbai; Kerala IFF, Durban IFF, South Africa and numerous others across the globe. 'Parapaar,' starring Rituparna Sengupta, Paoli Dam and based on a Moti Nandy novel was his sophomore feature, released in 2014. He has just completed his first Hindi feature 'Yours Truly' starring Soni Razdan, Pankaj Tripathi, Aahana Kumra & Mahesh Bhatt. 'Yours Truly' will have its World Premiere in the Windows on Asian Cinema section at the Busan International Film Festival 2018 before travelling to other Festivals and a release later in the year. Sanjoy is currently busy with the postproduction of his recent feature film 'Good Morning Sunshine' starring Revathy, Shweta Tripathi, Rituparna Sengupta, Tejaswini Kolhapure and Shabana Azmi.
Presently involved with the scripting of his feature film concept Starring Ranbir & Hrithik which was selected for the Asian Projects Market, Busan International Film Festival, 2016. A web series is also on the anvil.
An obsessive foodie and traveler, he dons the grease paint for exciting roles in films which have had their share of critical acclaim and commercial success.


(with English subtitles)