Description
SINDHUSTAN
2019 | India | 61 mins | English
Directed: Sapna Bhavnani
Cast - Leila Advani, Laj Badlani, Chaho Bhara, K.C Bhavnani, Sapna Bhavnani, Sundri Keswani, Haji Muhammad, Sunder Nachnaney, Jairam Rupani, Anila Sunder, Kamla Thakur, Dada Vaswani, Yogesh Waghmare

World Premiere
Sponsored by Sadhu Vaswani Centers
Post Screening Q&A with director Sapna Bhawnani

Trailer: https://www.youtube.com/watch?v=yY-6AGCrpz0

Synopsis: A decade ago, I was visiting India after living in America for 14 years. My body was considerably inked by then. One afternoon while lunching with my grandma, an inked woman herself, I found myself trying to cover my inked body. She caressed my ink and said, "Sapna, you're so old fashioned. You know, when we first came as a human race, we all had our markings, we all looked like you. I'm happy to see to you are going back to our roots, your roots." "What!" This entire time I was getting inked rebelling Indian culture and expectations of being and looking like an "Indian" woman.
This was the afternoon that changed me forever.
My documentary will include stories from India and Sindh (Pakistan) and mine, illustrating their journey on my skin. My legs, symbolising our journey and my feet, the lack of our roots. My body is already half tattooed and after this I will be complete and go back to my roots as my grandma said.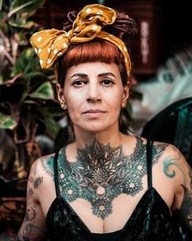 Director: Sapna has naturally assumed poster-child status as a powerful female figure. She traverses mainstream success with just as much ease as she skirts the underground youth art & culture movement. Ageless, fearless and forever metamorphosing in her endeavours. Sapna has recently begun giving her celebrity-hood the voice of an activist.
Just recently Sapna was awarded the "IBelieve" award by Savvy Magazine and the "FemEmpowerment" Award by Zee Tv for her work with ex sex workers by starting a free hair academy called Path
Currently Sapna is writing a book for Harper Collins tentatively titled "Chapter One" and editing a documentary she has been working on for 5 years called "Sindhustan."
Actor, spoken word artist, hair stylist, writer, director, producer- Sapna embodies it all as a visionary and change-maker. No matter how many times she evicts herself, the public always votes her back in!
The rest, like they say, is her story.

Social Media Handles:
Facebook
Twitter
Instagram

Film URL: http://www.sindhustanthedocumentary.com/