Description
SALUTE
2018 | India | 140 mins | Punjabi, Haryanvi & Hindi with English subtitles
Directed by – Harish Arora
Cast - Nav Bajwa, Jaspinder Cheema
Trailer: https://www.youtube.com/watch?v=5DcEqPQURAY
Post Screening Q&A with director Harish Arora

Synopsis: The movie is based on personal interaction with young war widows & inspired by true events of their lives. Instead of saluting these "Veeranganas", they are targeted, misbehaved and sexually assaulted by their own relatives and society. Highlighting heart rending fact that the death compensation amount paid to the war-widows are extracted by black mailing them emotionally. No one appears to understand their agonies and helplessness. Through this feature film, we want to spread this strong message of love towards nation, society & family. These "veer narees" and their children deserve the love and respect from the society and A.W.W.A. (Army Wives Welfare Association) is always there to support them to live in the society with dignity. Through this feature film, we want to spread multiple strong messages of inter-caste marriage, drug/alcohol addiction, "Beti bachao, Beti Padhao", women empowerment and love towards nation.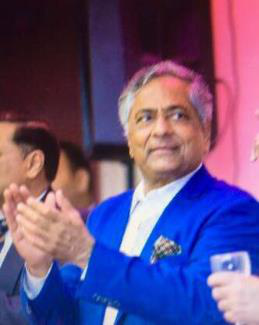 Director Bio: Born at Dujana, District Jhajjar (Haryana) on 12.07.1949, done Mechanical Engineering from Government Polytechnic, Jhajjar (Haryana).
Art / Cultural / Cinema activities
I was a born artist. During my school / college time, I had performed stage programmes in the various occasions / youth festivals and received various awards
Year 1964 to 1985
In year 1964, I have constituted a Ramlila Club in Dujana and remained as unopposed Chairman of the club till 1985. Apart from conducting Ramlila every year, I had played the key roles as Veer Haqiqat Rai, Veer Bhagat Singh, Pooran Bhagat, Bhagat Sur Dass (Bilwa Mangal), Sikandar Poras, Daanvir Karan & Veer Abhimanyu. Our club's aim was to create awareness among the young generation to keep alive our heritage culture.
Year 1986 to 2003
In 1986 shifted to Delhi and to carry forward my journey of arts, I associate myself with Ashok Vihar Ramlila Committee till 2003. In 1989, I produced and acted the most popular Haryanvi Film "Zar, Zoru aur Zameen. My character role in film as "Chaudhary Pratap Singh " gave me a big fame and appreciations by then Chief Minister and Dy. Minister of Haryana and by all walks of society.
Year 2018 : I directed film "SALUTE" (Punjabi) and also performed the role of Brig. R.K. Singh.
Social Media Handles:
https://www.facebook.com/HarishAroraUsa/