Description
BHONSLE
2018 | India | 128 mins | Hindi (with English subtitles)
Directed by – Devashish Makhija
Cast – Manoj Bajpayee , Santosh Juvekar, Ipshita Chakraborty Singh, Virat Vaibhav
Post Screening Q&A with producers Abhayanand Singh and Saurabh Gupta

Synopsis: In tumultuous Mumbai, at a time when scheming Maharashtrian politicians use violence to rid the state of North-Indian migrants, a terminally-ill lone wolf Maharashtrian cop Bhonsle, retired against his will, finds himself forging an unlikely companionship with a 23 year old North-Indian girl and her little brother, while the raging conflict destroying the world around them reaches his doorstep, giving him one last battle worth fighting for, but it might just be too late.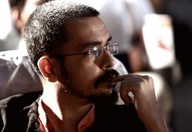 Director Bio: Devashish Makhija has researched and assisted on 'Black Friday' (dir. Anurag Kashyap) and has written numerous screenplays, notably Anurag Kashyap's 'Doga'; has had a solo art show 'Occupying Silence'; written Tulika's bestselling children's books 'When Ali became Bajrangbali' and 'Why Paploo was perplexed'; a Harper-Collins collection of short stories 'Forgetting' and the forthcoming book of poems 'Disengaged'. 'By Two', a story by him in the omnibus 'Mumbai Noir', has been adapted into a feature length film to be directed by him next year. He has written and directed the multiple award winning short films 'Taandav', 'El'ayichi', 'And then they came for me', 'Don't cry for Rahim LeCock' and 'Absent', the full length feature film 'Ajji (Granny)' and the forthcoming 'Bhonsle'.