Description
CAT STICKS
2019 | India | 94 mins | Bengali, Hindi (with English subtitles)
Director: Ronny Sen
Cast - Tanmay Dhanania, Sumeet Thakur, Joyraj Bhattacharya, Saurabh Saraswat, Rahul Dutta, Raja, Sounak Kundu, Kalpan Mitra, Soumyajit Majumdar, and Sreejita Mitra

Trailer: https://www.youtube.com/watch?v=XZfDsRpQPXk
Post Screening Q&A with director Ronny Sen

Synopsis: On a rainy night in Calcutta a group of desperate addicts chase brown sugar, but the permanent intoxication they seek proves elusive. 'Cat Sticks' weaves their stories into a chiaroscuro, traverses with them through states high and low, spaces real and unreal. A relentless downpour plays backdrop to lives balanced on the precarious heights of addiction. Some of them seek a release, while others do not seem to want the night to end.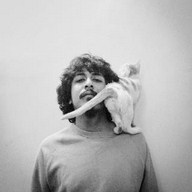 Director: Ronny Sen (b. 1986, Silchar) is a film director, writer and photographer based in Calcutta. His debut feature film 'Cat Sticks' world premiered in the competition section at Slamdance Film Festival, 2019 where it won the jury honourable mention. He has previously directed television documentaries for BBC. He started his career as a photographer and has made two artist books, 'Khmer Din' (2013) and 'End of Time' (2016). He was invited to be an artist in residence in Japan by The Japan Foundation in 2013 and in Poland by the Polish Institute in 2016. He received the Getty Images Instagram Grant in 2016 for his work in Jharia coal mines which were shown in his debut solo exhibition in 2018 titled, 'Fire Continuum' at gallery Tarq in Mumbai. His works are included in the permanent collection of the Alkazi Collection of Photography.

Social Media Handles: https://www.instagram.com/catsticks/?hl=en