Location
Broadway Comedy Club
318 West 53rd Street
New York, NY 10019
OFF BROADWAY Interactive musical comedy improvised on the spot based on audience suggestions and participation. Come be a part of the show!
About this event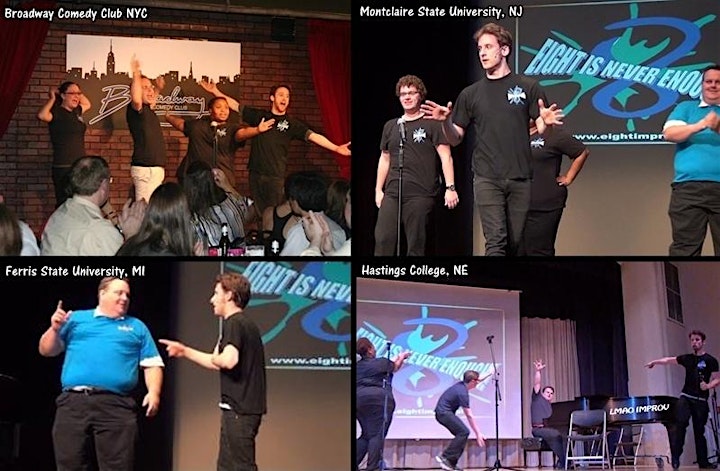 Interactive Musical Comedy Improvised Off Broadway NYC
The cast of EIGHT IS NEVER ENOUGH delivers high energy fast paced interactive comedy improvised on the spot based on audience suggestions. Every 5 minutes the MC interacts directly with the crowd and you decide what the next scene or song is about. Politics, Sports, your favorite TV shows and films and New York City itself all serve as topical subjects. Many games require the help of audience volunteers on stage to more directly steer the comedy pros. NO TWO SHOWS ARE EVER THE SAME!
All professional comedy cast includes international talent from STAGE, TV and FILM including WALT FRASIER (Billions, Friends of the People, Royal Pains, Blue Bloods, Letterman, MTV), AMELIA FOWLER (Top Five w/ Chris Rock, Power, Bull, Mysteries of Laura, Orange is the New Black, Blue Bloods), THOMAS BURNS SCULLY (Comedy Central's Broad City, HBO's The Rock n' Roll Project, and IVANA MENDEZ (Start Up on SONY Crackle, Wrecked on TBS).
Follow on Instagram and other platforms @eightimprov
COME BE A PART OF THE SHOW!
General Admission $25 plus a ONE drink minimum
VIP Seating - $50tickets include the first round form the bar and the BEST seats in the house waiting for you upon arrival.
Food & Beverage Served - NO ADDITIONAL PURCHASE REQUIRED!!!!
Seating is Limited due to current health code restrictions
Arrive 15 minutes before showtime. Guests will be checked in outside (unless weather is bad)
NO LATE SEATING, NO REFUNDS. Arrive by showtime. Due to health concerns we will not be allowing late seating.
For private events, group sales and more information  about shows classes contact IMPROV THEATER LLC  212-568-6560    eightimprov@gmail.com
- Corporate Events, Holiday Parties, Team Building Workshops Ask about our extensive client list!
- College Comedy - Main stage shows and small event entertainment
- Private parties - Fundraisers, Bachelorette Party, Birthdays, Family Reunions, Weddings etc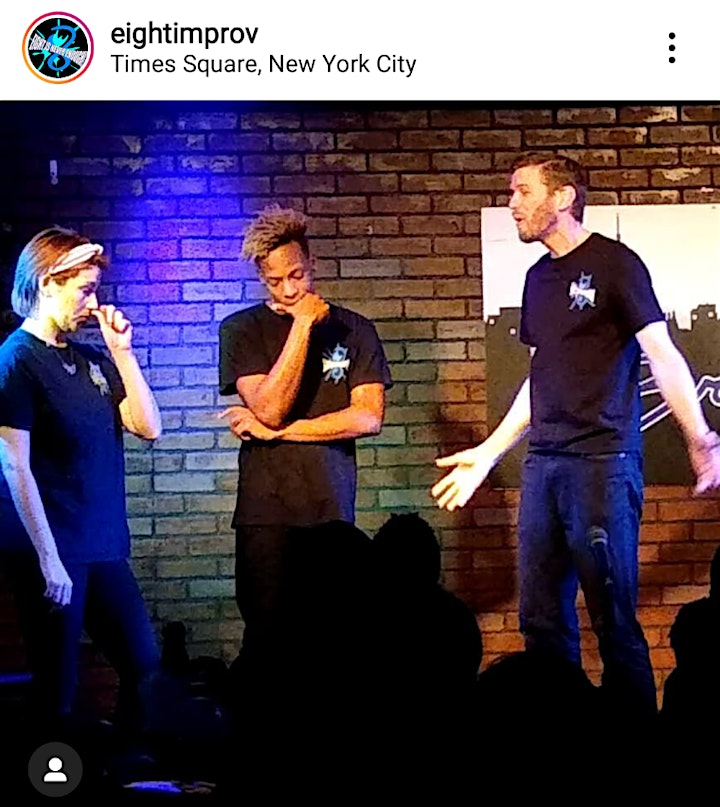 Laurice Fattal: Member since 2002, Laurice has worked in casting, directing, and writing with professional companies based out of NYC, MD and DC. Laurice has written and performed in dozens of sketch comedy digital shorts for LMAONYC. Other credits include the Indie short mockumentary: P.O.O.P: The Movie, Writer/Director of The Top 8 at Eight (original web series), Fox & Friends. Musicals/Operas: Amahl and the Night Visitors (Riverside Opera NYC), 27 Santa's & and Elf Called Kevin, The Phantom Tollbooth – By Sheldon Harnick, The Lounge @ Under St. Marks. In addition to developing the concept for "Eight is NEVER Enough!", she is thrilled to be the co-founder of "IMPROV 4 Kids!" and Bully Assemblies NY – both are outreach programs that currently tour K-12 schools.
Walt Frasier: Member since 2002, TV credits include Billions (CBS), Friends of the People (TruTV), Blue Bloods (CBS) Royal Pains (USA), Lilyhammer (NETFLIX), Naked Brothers Band (NICK), Fat Pants (Dr. Oz Promo), Late Night with David Letterman (9 eps), Hair Trauma (2 eps, WE). Walter is a New Yorker since 1997, but grew up in Maryland, getting his theatrical start in Washington DC area. Walter has also performed internationally in theater, music and even Opera.
Amelia Fowler: Member since 2009, Amelia is a native of Brooklyn, New York and proud to have performed in works like "POSE", GLAAD award winning play "She Like Girls" and her one woman show "Flozetta" performed at HERE as part of the Downtown Urban Theater Festival. Amelia has also been seen in commercial spots for Cablevision, the History Channel, IFC, as well as comedy venues throughout the Northeast with her fellow cast mates of the improv troupes "Comedy Sportz-New York," and "Eight is Never Enough." She is also totally psyched about projects she is anxiously awaiting to be released like, "Are You Happy Now" and "The Many Saints of Newark".
Evan Schultz: Member since 2009, TV/Film: 30 Rock, Law and Order, Gossip Girls, Fringe, Cupid, When in Rome. This New York native is a graduate of Wagner College with a BA in Theatre Performance as well as Voice and Speech. Off Broadway: LMAO, Isabelle and the Pretty-Ugly Spell, The Gayest Christmas Pageant Ever. Off-Off Broadway: Lost Boys or an Awfully Big Adventure, JAR'D, Isabelle and the Pretty-Ugly Spell, Hollywood-Hollywood!, Booth! The Musical, Dickens Condensed. Regional Theatre: Shrek The Musical, Jekyll and Hyde, Seussical The Musical, A Wonderful Life, Grand Hotel, Into The Woods, James And The Giant Peach, The Wizard Of Oz, Harry Connick Jr's The Happy Elf, Sleeping Beauty, Charlie and the Chocolate Factory. Touring Theatre: Improv4Kids, Charlotte's Web, 1776, A Christmas Carol. Thank you to all for the love and support!

Patrick Reidy
Member since 2010, Patrick is an actor, comedian, musician, and improviser in NYC. He can currently be seen as a host and improv comedian at the Broadway Comedy Club for the Eight Is Never Enough and LMAO-NYC Interactive Comedy Shows as well as touring with their family friendly cousin, Improv 4 Kids. He is also an established improv teacher, having taught for the Comedy Hall Of Fame and independent residences throughout the five boroughs. As a sketch writer and performer his work has been featured on Funny Or Die, College Humor, and the Absent Minded Comedy Show. He is a graduate of Salem State University and has studied improv, sketch-writing, stand-up, and screen writing at the Upright Citizens Brigade, The Peoples Improv Theatre, and The Annoyance Theater. Yes, and he would love to help you with your next artistic project!
Nathan Armstrong
Member since 2011, Nathan has been seen in many productions, including recent tours of Phantom, Brigadoon, and Richard Sherman and Milt Larson's new musical Pazzazz! Other regional credits include Buddy, the Buddy Holly Story, Guys and Dolls, Anything Goes, Big River, and Joseph… He is also on the soundtrack for the feature film Rock Slyde and has performed in venues worldwide, from the Hilton Hawaiian Village to festivals in the Czech Republic and Hungary. In addition to producing, Nathan has vast experience in corporate management and sales.
Thomas Burns Scully
Member since 2012, TV: BroadCity (Comedy Central), Vinyl (HBO), Neil Patrick Harris Birthday Celebration Original from North Wales, via a childhood in Oman, Thomas works internationally in TV, theater and music. He is a Max Fischer Award winning graduate of the American Academy of Dramatic Arts, and has been performing with Eight is Never Enough since 2013. Notable projects as an actor include: appearing in the award-winning short film "The Boy Under the Piano" and the New York Times critically-acclaimed "A Girl Without Wings" (For which he also composed the score). He has been playing the guitar and the banjo since age ten, and his work as a musician is available online. As a writer, his work has been produced on three continents. He also workshops new plays with his theatre group 'Ruffian Productions' and writes reviews and editorials for OnStageBlog.com
Ivana Méndez
MC, Teacher, Dance Instructor, Member since 2015 TV: Start-Up (SONY Crackle), Wrecked (TBS), Born and raised in San Juan, Puerto Rico, Ivana has been acting since she was negative 12 months old Credits: Off-Broadway- Everything No One Should Know, Press Play. Puerto Rico: High School Musical, Diary of Anne Frank, El Condominio, and other spanish titled plays. Proud member of SAG-AFTRA. Pace University BFA. She would like to thank her family, friends, and El Pollo Mendez.