New York Giants & New Orleans Saints Party Weekend Celebration
Courtesy Of New Orleans & NYG 4Life Atlanta Metro Presents....Welcome to New York-Orleans aka The Giants & Saints Party Weekend Celebration
About this event
NYG4LIFE ATLANTA WE ARE HEADED TO NEW ORLEANS OCTOBER 1ST - OCTOBER 3RD for the Giants / Saints game, and we partnered with COURTESY OF NEW ORLEANS - The Saints group here in Atlanta for this Epic 3 day Giants vs. Saints party weekend which will be $150.00 for the weekend which includes ALL YOU CAN EAT ON FRIDAY!!!!!
WE WILL NOT BE DOING A BUS TRIP THERE!!! THIS DOES NOT INCLUDE THE PRICE OF THE TICKET!!!!
Below are the details:
Friday October 1, 2021 (Meet And Greet and Comedy Show) - ALL YOU CAN EAT ON FRIDAY!!!!
Location @ DON LEONCIO CIGARS at 430 Canal Street, New Orleans, LA 70130
New Orleans Comics vs. New York Comics - 6pm to 10pm CST – Music by: Flava1 Radio
Saturday October 2, 2021 (Rep Your Team Jersey Day Party)
Location @ TREME HIDEAWAY at 1234 N. Claiborne Avenue, New Orleans, LA 70116
Music provided by Flava1 Radio - 3pm-until
Sunday October 3, 2021 (Saints vs Giants Indoor Tailgate Game Watch Party) – THE FINALE
Location @ OVERTYME @ 5TH QUARTER at 9734 Hayne Blvd., New Orleans, LA 70127
Music provided by Flava1 Radio - 12pm-until
Weekend packages are $150 for all 3 events for Friday, Saturday, and Sunday which includes ALL YOU CAN EAT ON FRIDAY!!!!
Daily events are $65.00 for individual events which includes ALL YOU CAN EAT ON FRIDAY!!!
Tickets are available via the following:
Website: www.nyg4lifeatl.com
Cashapp: $courtesyofneworleans
Zelle: 404-423-4742
We are only accepting CASH @ the door of the events if a ticket is not purchased prior
For More information call 404-423-4742 or 678-270-7701 or inbox Anthony Fernandez , Sandra McCoy Keion Taylor, or Curtis Smith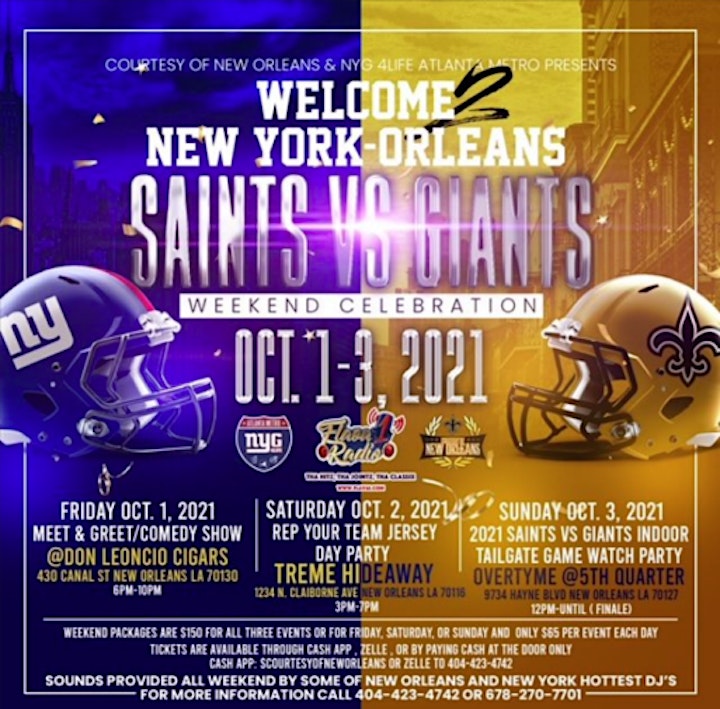 Organizer of New York Giants & New Orleans Saints Party Weekend Celebration
NYG4LIFE ATLANTA METRO Sports & Entertainment is a group designed for  New York Giants Fans residing in METRO ATLANTA who LOVE the NEW YORK GIANTS, and Bleed BLUE!!!!! We are a group of fans who treat every member like we are family as we have the same love for our New York Giants.  We are also a group who enjoys fellowshipping with other fan clubs across the country by attending road games as well as we have a true passion for serving the community.
Our goal is to build an atmosphere for all New York Giants fans who currently live in Metro Atlanta area, but have a huge void for the culture, energy, and vibe of being back in New York.  Our NYG4LIFE Atlanta Headquarters is at Monticello Bistro, Cigars and Sports located at 2000 Powers Ferry Road, Marietta, GA 30067.  Monticello's website is www.monticelloatl.com We can also be found on various social media sites:
Instagram: NYG4LIFEATLANTA
Twitter:NYG4LIFEATLANTA
Facebook: NYG4LIFE ATLANTA METRO
Meetup: NYG4LIFE ATLANTA METRO
Website: www.nyg4lifeatl.com