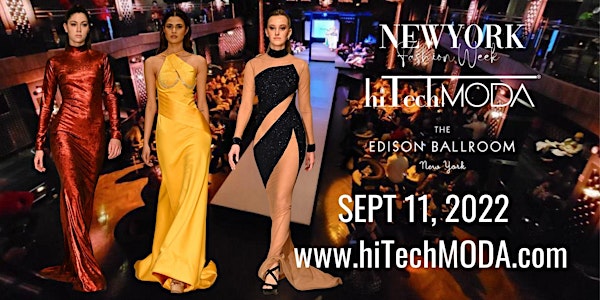 New York Fashion Week/NYFW hiTechMODA Sunday Main Events BALLROOM
SUNDAY Main BALLROOM - New York Fashion Week hiTechMODA Season 8
When and where
Location
The Edison Ballroom 240 West 47th Street New York, NY 10036
About this event
REFUND POLICY: hiTechMODA has a No Refund policy. If you are unable to make it to your show, we will credit your ticket towards a future hiTechMODA event.
*The coupon code location has changed! Enter promo code (in the upper left corner, above the first ticket option.)
Covid: There is NO vaccine check, no requirement for COVID test results, masking is optional. We request if you are running a fever or not feeling well, please do not attend the event.
hiTechMODA is back, by popular demand, for an encore New York Fashion Week event at the historic and exclusive Edison Ballroom! hiTechMODA is bringing its unique blend of hi-tech and sustainable fashion from some of the top emerging and established designers and boutiques from around the world.
Get your tickets to the award-winning most talked about independent fashion show on the NYFW scene!
MODA2022 for 15%
Show Times at:
10:00 AM/9:30 AM Doors open
Marc Defang New York Winning Pageantry Wear 2023 - North Carolina
Crown Garland Productions presents Charjean Couture
Belle Le Chic - International Australia

12:00 Noon/11:30 AM Doors open
House of MUSA Private Show
Joy Soo - International Philippines
Khishi Soo - International Philippines
Alegre De MUSA - International Philippines
Nicole Santos - International Philippines
KEIKAIKOA - International Philippines
2:30 PM/2:00 PM Doors open
Elizabeth's Designs - New York
Artisan Soul - New York
Mitch Desauni - International Phillippines
Phyllis Emelda Wardrobe in a Box- Bay Area
Designer Dream Collection - Ohio
Disclaimer: By purchasing a ticket, you understand that photography, videography, and audio recording will be taking place throughout the venue and connected spaces, and that you have no expectation of privacy with regards to incidentally being photographed, filmed, or recorded. Further, you acknowledge you hold no rights to any photograph, video, or audio recording that may happen to have your likeness or voice captured thereon.
Please note: NO CASH REFUNDS will be granted. Refunds will be in the form of a credit towards a future hiTechMODA event of equal or greater value, and redeemed within 1 year of this event.
Several seating options are available, while quantities last:
VIP Buckets: Right up against the stage – the best seats in the house. 1 ticket buys 1 bucket seat.
VIP Sofa Seating: Right up against the stage. 1 ticket buys 1 seat on the couch. Couches seat up to 6 people.
Elevated Alcove: A favorite of many, high-boy tables and seats with a commanding view of the runway. 1 ticket buys 1 seat at the table. Tables have 4 seats each.
Box Seats: Special table with seating at the head of the stage, for those who prefer to be seen. 1 ticket buys 1 seat at the table. Table seats up to 6 people.
General Admission: Includes several rows of ballroom chairs, first come first served, and standing room. 1 ticket buys access to the general admission areas of the theater, seats are not guaranteed.
Balcony: Exclusive access to the public area of the Mezzanine, where you will get a bird's eye view of the entire runway. 1 ticket buys access to the public area of Mezzanine for 1 person. Very limited quantity available.