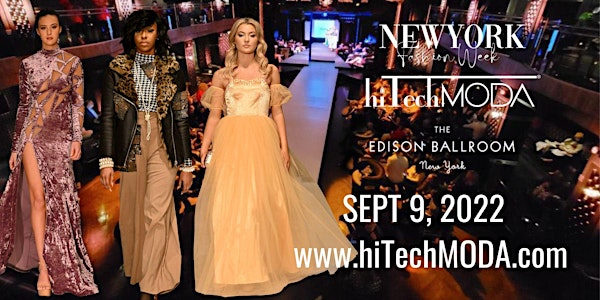 New York Fashion Week/NYFW hiTechMODA Friday Main
FRIDAY Main BALLROOM - New York Fashion Week hiTechMODA Season 8
When and where
Location
The Edison Ballroom 240 West 47th Street New York, NY 10036
About this event
REFUND POLICY: hiTechMODA has a No Refund policy. If you are unable to make it to your show, we will credit your ticket towards a future hiTechMODA event.
*The coupon code location has changed! Enter promo code (in the upper left corner, above the first ticket option.)
Covid: There is NO vaccine check, no requirement for COVID test results, and masking is optional. We request if you are running a fever or not feeling well, please do not attend the event.
hiTechMODA is back, by popular demand, for an encore New York Fashion Week event at the historic and exclusive Edison Ballroom! hiTechMODA is bringing its unique blend of hi-tech and sustainable fashion from some of the top emerging and established designers and boutiques from around the world.
Get your tickets to the award-winning, most talked about independent fashion show on the NYFW scene!
MODA2022 for a 15% discount
CLICK THE TICKET LINK TO PURCHASE AND APPLY YOUR DISCOUNT CODE
Not in order of showcase
Show Times at:
10:00 AM /9:30 AM Doors open
Nita Belles Closet - North Carolina
Olesja Mueller-Astrauskas presents Cabriolle - Indonesia
House of STL - New York
Glam 2 Glow - Pennsylvania
3:00 PM/2:30 PM Doors open
Mark XO - California
Phyllis Emelda - Bay Area
BY SARASTY - New York
ALEGRE DE PILIPINAS - Chicago
5:00 PM/4:30 PM Doors open
Marc Defang New York - North Carolina
Meleisa Robinson - New York
Carlos Benguigi - International Venezuela
7:00 PM/6:30 PM Door open
Hoa (Mary) Tran: Eleven S - International Vietnam
Phyllis Emelda - Bay Area
Alicia Perrillo - Chicago
Exclusive INDUSTRY ONLY EVENT
8:30 Adore Me Runway
Disclaimer: By purchasing a ticket, you understand that photography, videography, and audio recording will be taking place throughout the venue and connected spaces, and that you have no expectation of privacy with regards to incidentally being photographed, filmed, or recorded. Further, you acknowledge you hold no rights to any photograph, video, or audio recording that may happen to have your likeness or voice captured thereon.
Please note: NO CASH REFUNDS will be granted. Refunds will be in the form of a credit towards a future hiTechMODA event of equal or greater value, and redeemed within 1 year of this event.
Several seating options are available, while quantities last:
VIP Buckets: Right up against the stage – the best seats in the house. 1 ticket buys 1 bucket seat.
VIP Sofa Seating: Right up against the stage. 1 ticket buys 1 seat on the couch. Couches seat up to 6 people.
Elevated Alcove: A favorite of many, high-boy tables and seats with a commanding view of the runway. 1 ticket buys 1 seat at the table. Tables have 4 seats each.
Box Seats: Special table with seating at the head of the stage, for those who prefer to be seen. 1 ticket buys 1 seat at the table. Table seats up to 6 people.
General Admission: Includes several rows of ballroom chairs, first come first served, and standing room. 1 ticket buys access to the general admission areas of the theater, seats are not guaranteed.
Balcony: Exclusive access to the public area of the Mezzanine, where you will get a bird's eye view of the entire runway. 1 ticket buys access to the public area of Mezzanine for 1 person. Very limited quantity available.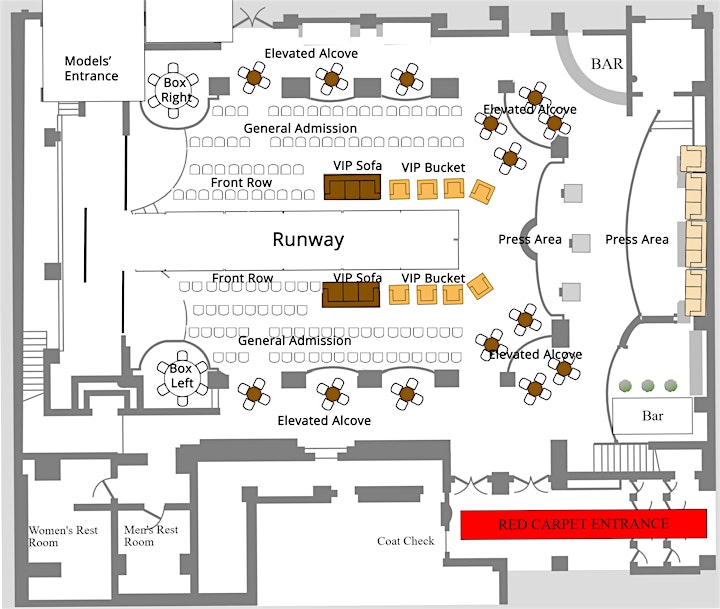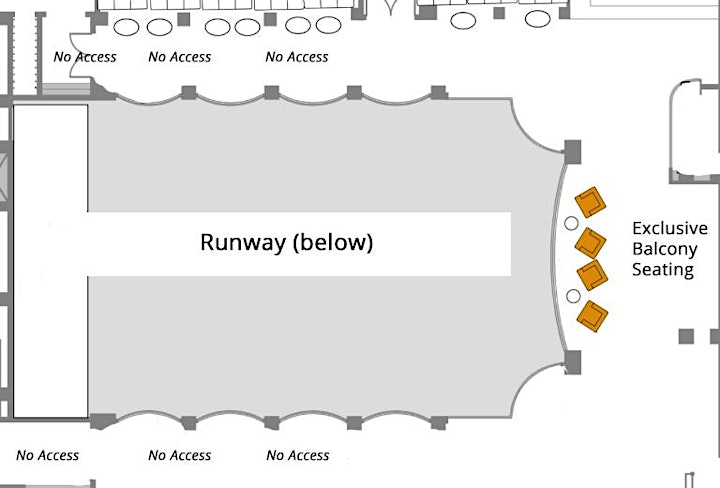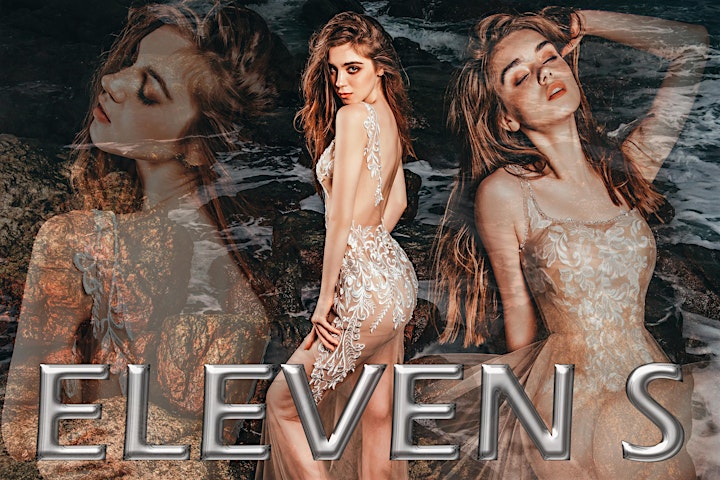 Wedding fashion designer Tran Phuong Hoa – a dream to bring Bridal line to the world
As a founder of the fashion brand Eleven S, designer Tran Phuong Hoa has been in the bridal industry for over ten years. Although fashion design was not her main education and training at the University, the passion with creative artwork has been there since she was a little girl. She was born in 1992, is known as a young designer, highly active in the fashion industry in Hanoi and Ho Chi Minh in Vietnam. While attending the prestigious National University of Economics in Hanoi, she showed her strong passion in the field of design, which led the foundation of the fashion brand "Eleven S."
Eleven S's starting products are wedding dresses. Talking about her predestined relationship with this road, Hoa shared: "I accidentally saw the bride's photos appearing in international fashion magazines. At that time, I really wished that Vietnamese wedding fashion would also appear on the world wedding fashion map, as radiant as Vera Wang, Elise Saab." Starting from the thought of wanting to bring the country's mark to international fame, Hoa began to step by step to make dream of come true. She studied, researched, designed and in turn released wedding dress collections and received positive reviews from experts.
Eleven S's customers in the early days were mainly through social networking platforms, many overseas Vietnamese brides contacted and ordered dresses at Eleven S to send. "I was worried at first because I missed it. Any problem with the dress is difficult to handle, but most of my brides were easy going, and most importantly, they trusted me. Therefore, when they recognized themselves, they took the time to carefully study the customer's body shape and personality to give them the most satisfactory designs. To date, my skirts as well as "Ao Dai" have "settled" in more than 30 countries with tens of thousands of Vietnamese and foreign customers, "- Hoa humorously shared. She started designing evening gowns, event costumes for singers, actors, models, and beauty queens in the country. Fortunately, thanks to her continuous learning efforts, Hoa's designs has been well received many rewards and media coverage.
Speaking of herself, Hoa also frankly shared that there are times when she has ideas, customers urge and just want to finish quickly. But at that time, looking back at the product, looking back on the whole journey of trying, looking back at the love of those who trusted, she told herself to be very strict with herself, only allowed to bring the product to customers. The most perfect product. She believes: "Eleven S does not follow the rampant trend, instead, pays attention to every detail, suitable for each customer and creates a distinctive feature. I myself will not be a limited edition, but an always groundbreaking, unique version."
The love for sacred things belonging to the nation, especially inspired by the beauty of Vietnamese women, is the spark that helps designer Tran Phuong Hoa take the first steps on this path. Until today, that same love allows her to be present at New York Fashion Week in New York in September 2022, organized by HiTechMODA. This is one of the four biggest fashion weeks in the world, collectively known as the "Big 4", along with the weeks in London, Paris, and Milan.
Her Floral de Annam collection will present more than 20 designs. The name of the collection contains many messages that she sends. "Floral" means "flower"; flower in her name, the flower is also a symbol of peaceful, fresh, blooming beauty. "Annam" is the national name of the old Vietnam – Annam. Inspired by the country's traditional flowers such as lotus, lily, apricot, peach, porcelain, etc., designer Phuong Hoa hopes to convey all the quintessential beauty of the nation through the Floral de Annam collection at New York Fashion Week.
Moreover, Hoa plans to open her design showroom in Texas - the US state, in October 2022. Most customers are Americans, so the products are mainly inspired by the combination of traditional values. She is rushing to complete the final preparations for both these big projects. Bringing the bell to beat the country, Hoa could not avoid the pressure and worry, she had many sleepless nights. However, the little girl understands that she is facing great opportunities to bring the Eleven S brand to the world. Above all, Hoa said what she is most happy about is that through this, the national voice, as well as the beauty of Vietnamese culture, will be known by international friends.
Tickets
@elevens.bridal
@ElevenSbridal
elevens.vip