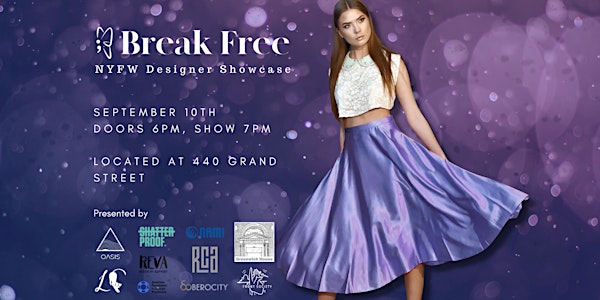 New York Fashion Week Designer Showcase ft Project Runway's Helen Castillo
Break Free NYFW is an immersive runway experience of art, design, fashion, and social issues.
When and where
Location
The Grand Hall 440 Grand Street New York, NY 10002
Refund Policy
Contact the organizer to request a refund.
Eventbrite's fee is nonrefundable.
About this event
Break Free NYFW is an immersive runway experience of art, design, fashion, and social issues. The show will be held during New York Fashion Week on Saturday, September 10th, 2022 at 6 pm ET and is sponsored by the Greenwich House. Designers include Project Runway's Helen Castillo, Renee Cafaro, Dynasty George, and Ashley Alt.
6 pm: Doors open to the venue, mocktails will be served to all
7 pm: The fashion show begins
Leading the discussion on mental health and substance use disorders within the fashion industry, Break Free NYFW is a runway show with a cause. We have invited mental health and addiction rights activists to not only walk in this show as models but to be featured designers showcasing their collections to immerse the audience within their brands' core mission of shining a light on this pressing issue.
The Break Free NYFW Designer Showcase will be held on Saturday, September 10th, which is World Suicide Prevention Day, a day to raise awareness of suicidal behaviors and how to effectively prevent them. September is also National Recovery Month, a month to celebrate those who have sought recovery from a substance use disorder and to encourage others to seek ways to gain sobriety and live a sober lifestyle.
All proceeds from this showcase will go towards the Break Free Foundation's scholarship fund, which is partnered with the nonprofit organization 10,000 Beds, to provide scholarships for those seeking treatment for a substance use disorder through attending a rehabilitation center.
Use code RECOVERYMONTH for $5 off your order.
****************************************
FEATURED DESIGNERS
Break Free is excited to have the following designers on the runway this season: RCA Public Label by Renee Cafaro, Helen Castillo, Dynasty George, and VALT by Ashley Alt.
RCA Public Label is the debut ready-to-wear brand by Renee Cafaro Atelier. Cafaro is best known to the plus-size fashion world as the US Editor for the premier print media for curvy women, SLiNK Magazine, and as an influencer formerly known as FoxyRoxyFashion on Instagram. As a fashion expert, journalist, and consumer, Renee is all too aware of the pitfalls in the industry which is why she has committed to providing high-quality items with a focus on fit and functionality for sizes 16-32.
Renee creates as she lives – with purpose. RCA Public Label is NYC-made from patterns to production, by her and a collection of BIPOC New Yorkers from materials purchased locally in hopes to revitalize the Garment District one dollar at a time.
About Renee Cafaro
Renee Cafaro is a freelance writer who has written articles on a myriad of topics, from politics to travel. Her work has been published in the New York Post, Yahoo! Travel, and many online outlets. Cafaro serves as the US editor of the premier plus-size fashion magazine SLiNK, available at Barnes & Noble and retailers in 18 countries.
Her more than 12 years of experience as a former political strategist as well as her subsequent career change led her to become a contributor to Mind of a Mentor, a podcast that highlights struggle-to-success stories to inspire women in the workforce.
Renee has spent a lifetime fighting for the underdog and social justice, and despite many thinking her transition from the government is odd, she actually feels that size inclusivity is a political issue. She is very passionate about all aspects of her life and seamlessly interweaves them.
Cafaro is a woman with many projects but never one to skimp on quality. She hopes that her life's success and the recent integration of her diverse creative and professional experience will inspire the next generation of women to go after their dreams and reach their full potential.
About Helen Castillo
Beginning her fashion studies at the Fashion Institute of Technology at age 13, Helen Castillo continued to pursue her career in fashion fulfilling four years at FIT and graduated in 2012 with a Bachelors Degree in Special Occasion design/Couture studies. After numerous internships, some of which included Vera Wang Bridal House and Vivienne Westwood (London, UK) ambition took her on to bigger opportunities with becoming a finalist on back-to-back seasons of Project Runway Season 12 and Project Runway All Stars Season 4 and more recently Project Runway All Starts Season 6. Having designed Mary Lambert's 54th Grammy performance and red carpet gowns working with Madonna's stylist B. Akerlund to compliment her performance look. The exposure launched her career and she was personally recruited by Zac Posen to work for him as a designer after PRAS Season 4. Lifetime reached out to Helen again for PRAS Season 6 as a 'Veteran' designer to compete and rank as the last standing female designer.
Most recently she developed the entire curriculum and teaching program for Mood Fabrics 'MoodU' University during the 2020 pandemic. Having reached 665 students internationally from 2020 to spring of 2022 by instructing pattern making, custom draping, and garment development, and creating countless patterns for free download via the Mood 'Sewciety' blog ranging in sizes 0-30. Teaching within her hometown community of Union City, she recently was employed by the Board of Education to write the updated curriculum for the high school's Career and Technical Education department FashionDesign and Apparel Design curriculum and lesson plans that will be used for future academic school years. Completing a Masters in Education via New Jersey City University in the Spring of 2022 she was a mentor not only to her colleagues but to her aspiring fashion design students.
Dynasty George
Dynasty Casanova is a Brooklyn, NY native, Christian and Fashion Designer. Dynasty was raised by 4 incredible women, her Puerto Rican mother, grandmother, aunt and sister. These women inspired her personal style immensely. Living in a multigenerational home of women curated Dynasty's love for vintage, feminine, whimsical and cultural fashion.
Dynasty graduated from the Fashion Institute of Technology with her BFA in Fashion Design. Post-graduation, Dynasty worked in the fashion industry until the height of the pandemic, where she found herself working from home and pregnant. This led Dynasty to work on her brand full time. She started creating dresses herself and reinvested her profits to create samples at a family owned workshop in India. She used those samples to launch a Kickstarter in April 2021 and raised $30,000 in pre-sales to launch production for her brand.
Dynasty's whimsical designs have inspired thousands across the internet and made homes internationally in the closets of many women. Dynasty aims to continue to create clothing that grows with women throughout their life and empowers them in their femininity. Dynasty currently lives in Brooklyn, NY with her husband, son, and expecting child.
About VALT
VALT is a luxury clothing brand made for the socialite. Built on the foundation of positive mental health, VALT's mission is to dress women in jaw-dropping, sophisticated styles so they can lead a life of elegance and fabulousness. Working only with sustainable fabrics, each collection of robes and jumpsuits is a limited edition to ensure style exclusivity.
About Ashley Alt
VALT's designer, Ashley Alt, is a Connecticut-based writer and stylist looking to raise awareness of the positive impact dressing up has on our mindset. She started her clothing line — a vibrant collection of one-piece wonders — upon the realization that getting dressed again got her mind right again. After battling postpartum depression when her son was born, Ashley has since made it her mission to enlighten new moms and women on the power that getting dressed holds, which she intends to portray through her playful-yet-elegant pieces.
****************************************
FEATURED SPEAKERS
About Mary Lambert
Mary Lambert is not your typical triple-platinum selling artist. Lambert had never recorded any music formally when she received the call from Macklemore and Lewis to collaborate on their marriage equality anthem, "Same Love". Writing and singing the hook to "Same Love" led to an MTV VMA win and two Grammy nominations, and culminated in the iconic 2014 Grammys performance, which featured a mass wedding and an unforgettable duet with Madonna.
Lambert is currently working on a new book and EP about body image; co-starring in the Netflix animated musical and series, I Heart Arlo and Arlo the Alligator Boy; hosting The Manic Episodes, a queer and mental health podcast with her fiancé, Dr. Wyatt Hermansen; and facilitates a virtual workshop on fat liberation and body image called Everybody is a Babe.
About Bershan Shaw
Bershan Shaw is the CEO of the mental health app, URAWarrior, which launches in beta on World Mental Health Day on October 10th, 2022. Shaw is also an international speaker, podcast host, tv personality from the Real Housewives of New York, and America's #1 business and mental wellness coach. Shaw is also a breast cancer survivor.
Since creating her "URAWarrior Method", Bershan has coached over 1,000 leaders, executives, entrepreneurs, and more. She shares her message with nearly half a million people at live events and inspires millions with her story and perseverance and dedication around the world. She has graced the stage with notable names like Les Brown, Tony Robbins & Pitbull to name a few, sharing her transformative story of turning her business into a million-dollar enterprise from the chemo room.
About Jean Krisle
A charismatic leader and innovative socialpreneur, Jean Krisle founded and continues to lead 10,000 Beds, Inc. a 501c3 nonprofit organization now in its 7th year of operation.
Building from a desire to support the many individuals without resources seeking help for a substance use disorder, Jean grew 10,000 Beds from a simple idea to a nationwide, life-changing, and inspirational force in the addiction & recovery community with more than $10,000,000 in addiction treatment scholarships awarded to date.
Jean passionately reminds us that we are all in recovery from something and that recovery from anything- loss, failure, disappointment, heartbreak, unemployment, addiction, etc. – is something we can recover from and build on for a brighter future.
You can support 10,000 Beds by making a contribution on our website today to help provide scholarships for those without resources seeking help for addiction. #onebedonelife
****************************************
Join Us for Mocktail Hour at 6 pm
Mocktail hour will feature drinks from Fever Tree, Ghia, and Liquid Death, and our signature mocktail the "Greenwich House".
As well as provide an opportunity for guests to gain resources on suicide prevention, mental health, and substance use disorders provided by NAMI NYC, the Greenwich House, AFSP, and Shatterproof.
****************************************
THE OFFICIAL BREAK FREE NYFW RECEPTION, SPONSORED BY THE GREENWICH HOUSE
Break Free NYFW - September 10th, 2022 from 8:30 pm to 9:30 pm ET
LOCATION: The Grand Hall in the Lower East Side
Entrance is not guaranteed if you arrive late as space is limited.
Get to know our Models, Designers, Influencers, & the Break Free NYFW team as we celebrate another successful season. Mocktails will be served for all.
****************************************
To cover this event or to interview any of the designers, please contact Break Free NYFW publicist, Eve at team@breakfreenyfw.com, for a press pass.