New York Fashion Week (Chicago Model Audition)

Sunday, March 3, 2019 from 4:00 PM to 7:00 PM (CST)
Event Details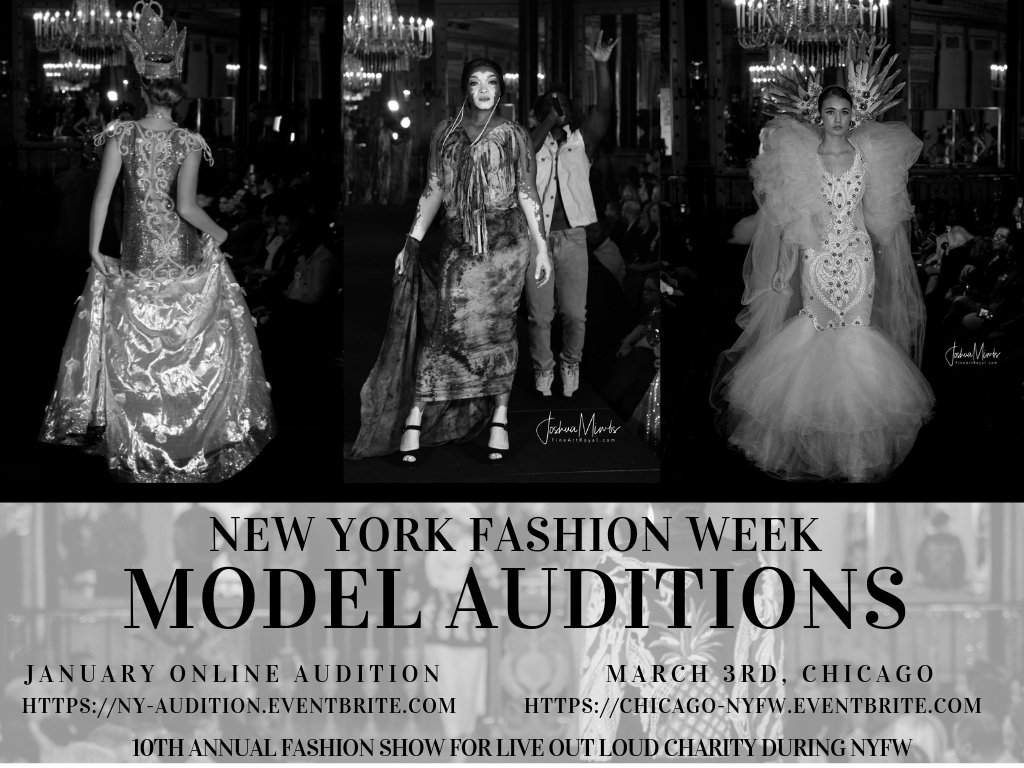 *Photo taken during LOLC 9th Annual Fashion Show 
(photographer: Joshua Mimbs, designers: MJ Designs and PranaMaker)

Dear Model, 

This is your 1st step to confirm your participation in the Official Model Audition to walk during New York Fashion Week in the 10th Annual Fashion show for  Live Out Loud Charity.  Last year's Chicago LOLC Show had over 400 in attendance and our Kentucky Derby show had over 500 audience members with two news stations that covered our event along with bloggers, fashion magazines, and more. Take a stand with us and walk in NYFW on World Suicide Prevention Day. Simply register your name and email address on the ticket link. The ticket is free and confirms your spot in the audition. The audition date/information is below along with the fashion show date/information.  (Please note: parents or model chaperones are more than welcome to accompany the model they are supporting. Therefore, parents/chaperones do not need to register for a ticket (only fashion show models do). You simply show up with the model. Only models need to register. If there are siblings or family members that each want to audition, then, each person must register under their individual name even if the same email address is used.)

Chicago Audition Information 
Sunday, March 3rd at 4pm CST
We will hand out model paperwork, take your measurements, ask you to walk, interview you very briefly, and take your photograph.  

Palmer House Hilton- Chicago
17 E. Monroe Ave
Floor 6 Adams Ballroom
Chicago, IL 60603
Wardrobe: walk in with high heels on or dress shoes for men (age appropriate heels for girls ages 14 and under), wearing all black, and tight fitted clothing. We prefer black shoes. Please wear tight fitted clothes and figure flattering outfits. Please arrive full makeup on and hair nice so you can look your best in the photo we take of you. 


Other Audition Dates
There will be only ONE Chicago audition and only ONE virtual onlne audition held Jan 7 through 30th. Models that audition in person will be given first priority and booked with designers first. We will only hold one month of virtual auditions (from January 7th through 30th) for models that know they can not attend the Chicago audition. It will be harder for Virtual Models to make it into the show since spots will be limited. Virtual Models will be notified after February 15, 2018 since we will prioritize models that auditioned in person. *Please note you only need to attend ONE audition and we recommend attending the Chicago audition for your best chances of getting into the show. 
When you audition we will ask for six things:
1. To see your runway walk. 
2. To take your photo (after we take your meausurements).
3. To interview you asking why you support Live Out Loud Chairty for anti bullying, core character development, and suicide prevention. 
4. LIKE OUR FAN PAGE on facebook: https://www.facebook.com/liveoutloudcharity/ Leave a positive comment under one of our recent posts and continue to share/like/comment under our fashion show posts, especially if you are selected as a model in the show. We appreciate your support. 
5. Check out our website to learn more about the charity to best prepare you for the in person interview: www.worldwideleadershipacademy.org and www.liveoutloudcharity.org
6.Save our text messages for future reference in case you make it in the fashion show.  We will text you ALL fashion show model information from the ticket link to rehearsal dates, model bag essentials so you are prepared for your fittings and big day, news articles, charity info, expectations, locations, and more. Different team members will text our official models so be sure to save all lolc members names' once they contact you. We have a 24 hour rule... if you do not respond within 24 hours to our teams' text messages we will assume you are no longer in the show and delete you from the event. Be sure to be diligent in your responses.  Remember rehearsals (model practices) are mandatory. 

CHECK US OUT IN THE NEWS
NBC5 CHICAGO NEWS
WAVE 3 LOUISVILLE NEWS
AWARD WINNING PUBLICIST FASHION BLOG
I LIVE IN A MAGAZINE FASHION ARTICLE
DAILY 24 MAIL (BANGLADESH, ASIA)


IMPORTANT INFORMATION
We do ask models to truly advocate for our cause. Therefore, we select models that have been touched by anti bullying, low self esteem, depression, and/or suicide. We ask those models to sell three tickets to our event to not just raise funds but to also raise awareness for our cause. We need models to be true activists for our cause and bring people from their community to hear our message. This event is about educating the audience members on the signs of depression, how to save lives through suicide intervention steps given during the show, and where to go for help. Our event actually saves lives through the education we provide to audience members and to models. Models play a crucial role not just as volunteers gaining an experience of a lifetime but also as real advocates in their community that work hard to bring family, friends, coworkers, collegues, and acquaintances to the show to save lives. Our shows are top of the line, professional, offer local, national, and some lolc events offer international exposure. As models you are walking for Live Out Loud Charity while gaining real, qualified experience in the industry with photos to build your portfolio, connections that can help to launch your career, and an opportunity to get you to the next level. If models want to take this a step further we invite them to our Model Boot Camp one day prior to our event.

View how our charity makes a difference through fashion CLICK HERE. 
View our suicide prevention video CLICK HERE
View our anti bullying video. CLICK HERE.


There are mandatory rehearsals listed on the flyer above. Attending both back to back rehearsal dates in July  is mandatory for all models selected for our show. The July 13th & 14th rehearsal dates will be held in  Chicago at the Palmer House.  We want everyone prepared for our professional fashion show.  These two back to back rehearsals will feature industry professionals teaching you to walk: model scout, model agency, top models (which lasts for 5 hours plus a lunch break each day). To help the charity we do charge a very small $20 model fee to help our non profit cover the costs of the: facility, lunch/food, and coaching for the 5 hour July training per day. We bring in different coaches so our models are prepared and confident the day of the show. This training is life changing. View VIDEO HERE.  Tickets will be due and turned in at the July rehearsal. Models can bring payment or purchase online that day or prior to that day. 

There will be a short mandatory rehearsal on show day in the venue held Tuesday, September 10, 2019 on World Suicide Prevention Day. Model Fittings will most likely occur during show day but if you live local to your designer they may ask you to come in for an alterntive fitting date as they prepare for this major show.  If you book several designers you could be at fittings throughout the entire day. Therefore, we recommend ALL MODELS participating in the show to BLOCK out the day before for arrival and to stay at least until Wednesday. Other models will stay all week long to try and book other New York Fashion Week shows and to go on go-sees with agencies. We recommend you to stay near the venue (a hotel nearby) so you are ready for the September 10, 2019 show. Another more affordable option is to stay in hotels in Long Beach Island that are close to La Quardia airport, then take the subway 45 mins to 1 hour into the show.  *Please note some designers will require other dates for fittings so you must attend those should you be selected as a model in our event. 


MANDATORY MODEL FITTING & OPTIONAL 
New York Model Boot Camp
Tuesday, September 10th, 2019 (this applies to every single model in the show and is MANDATORY)
*Call times depends on designer(s). Location: New York, New York (TBA this week)
Plan on the time frame being from 10am to 9pm to have different call times for hair/makeup, fittings, rehearsal, and show. We will also hold Model Boot Camp where models have an opportunity to shoot with an Irish Photographer flying in from Ireland along with photographers from across the nation (this is a great way to build your portfolio in NY with phenomenal photographers while making real industry connections). There are two dates to choose from Saturday, Sept 7th or Monday, September 9th, 2019. Model Boot Camp is not mandatory but fittings held on show day are. Pack a lunch and snacks. It is a long and awesome day full of networking possibilities with multiple designers and industry professionals. Be quiet, stay focused, and make sure to be polite while also thanking your designer(s) and producer(s)/staff of LOLC. 


MODEL BAG
We recommend models to read this article to know what they should bring in their model bag. READ HERE. 
*This article has also been published in Europe and Asia. It is written by Sherrie Gearheart (www.sherriegearheart.com)
MODEL COMMUNICATION
Ms. Sherrie Gearheart or one of her core team members will give all fashion show updates and inform models of their designer(s), fitting call time(s), or if they have made it in the show via TEXT MESSAGE. If you do not have text messaging on your phone please state this at the audition and email us at info@liveoutloudcharity.org
Also, Sherrie posts fashion show updates and asks models to add her on facebook so they can share the posts and help spread awareness of the show and charity. www.facebook.com/sherrie.gearheart
Questions/Concerns
Contact Person/Producer: Sherrie Gearheart 
Text is the best way to communicate: 815 914 8602
You may call/leave a voicemail or email info@liveoutloudcharity.org


FASHION SHOW DETAILS
When you audition, you may be chosen to walk in our New York Fashion Week show for Live Out Loud Chairty. Show information is below:
September 10th, 2019 (World Suicide Prevention Day)
Model call time 10am (this call time is tentative and could be earlier)
Location TBA this week. 
New York, New York 
Ticket link for futher details: TBA this week.

Please note that everyone involved in this event is volunteering their time, talents, and passions. We thank you for your tremendous support. Learn more about our cause today www.liveoutloudcharity.org or www.worldwideleadershipacademy.org

Interested in our Model Boot Camps? See the 2019 schedule below (each date is unique and offers something different): go to www.sherriegearheart.eventbrite.com to see the MBC LIVE links and register today!


When & Where

Palmer House
17 E. Monroe St.
State Ballroom- 4th Floor
Chicago, IL 60603


Sunday, March 3, 2019 from 4:00 PM to 7:00 PM (CST)
Add to my calendar
Organizer
Fashion Show Producer- produced over 100 events since 2015, Founder of Live Out Loud Charity & the Worldwide Leadership Academy, Mrs. Illinois Royalty International 2019 and the former Miss United Nations 2015, Editor of Tiara Magazine and writer. Professional Model having graced New York Fashion Week, LA Fashion Week, Paris Fashion Week, Chicago Fashion Week, China World Supermodel Tour, Tennessee Bridal Shows, Indian Bridal Shows, and more.