New York Fashion Week 2016 Rising Stars of Fashion

Thursday, February 11, 2016 at 7:00 PM
Event Details
Rising Stars of Fashion New York Fashion Week 2016 to benefit The Women & Fashion FilmFest (WFF). The Women & Fashion FilmFest is a partner of Global Fashion 4 Development as well as the United Nations Association Film Festival and endorsed by the International Council for Film, Television and Audiovisual Communication. 
Featuring designers: Imaji, Saint x Sinner, Pink Sheep Heiress, Nippy Lavern Collection.
It will be an exclusive occasion for NYC's finest, to gather and indulge in an illustrious runway fashion event. To make this event even more special, it will be sponsored by Prive Group, Star Vodka, DEG Production, StylingOn Showroom, Make-Up Pro, Eurocircle, Tease Tea, and Andrea Maack Fragrances. There will be a one hour open bar from 7:30pm to 8:30p, sponsored by Star Vodka. 
The event will take place in one of New York's most desired full service event destinations, Hudson Terrace: 621 West 46th Street, overlooking the Hudson River in midtown Manhattan. This transformed turn-of-the-century stable is a genuine piece of NYC history. Hudson Terrace imaginatively unites the elements with its intimate interiors and climate-controlled retractable rooftop. This unforgettable landmark has become the venue of choice for a spectacular and unforgettable celebration.
Thursday, February 11th 2016 at 7pm
Sponsored Open Bar 7:30pm-8:30pm
Hudson Terrace 621 West 46th Street, New York, NY 10036
For table reservation and info contact us at degoffice@gmail.com
For our upcoming events visit us at www.degproduction.com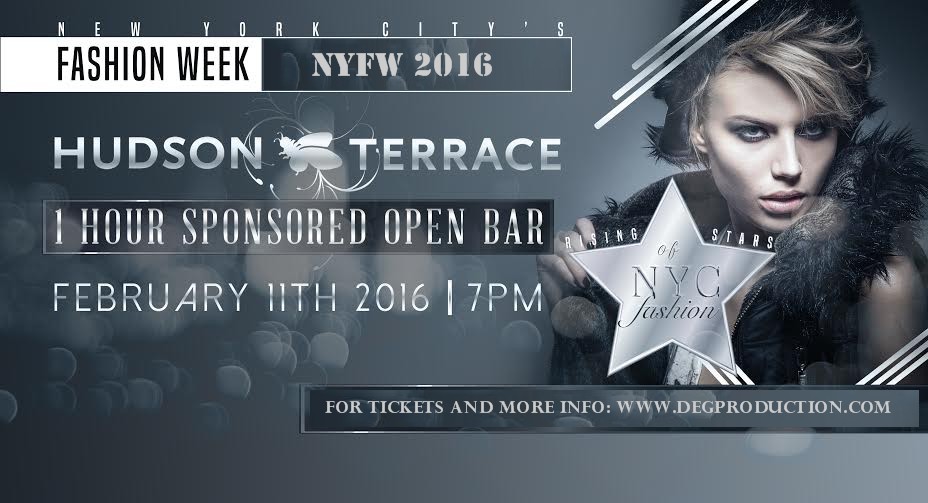 Organizer

Dining Engagement Group specializes in the production of unique high-end dignitary and celebrity events. Our events combine the prestige of the financial and dignitary world together with the beauty and glamour of the Fashion, Music and Entertainment Industry. We structure, produce and manage the event from start to finish, bringing together all the elements for a Class A #1 success. To sign up for our coming events and parties visit us at http://degproduction.com/mailing-list/