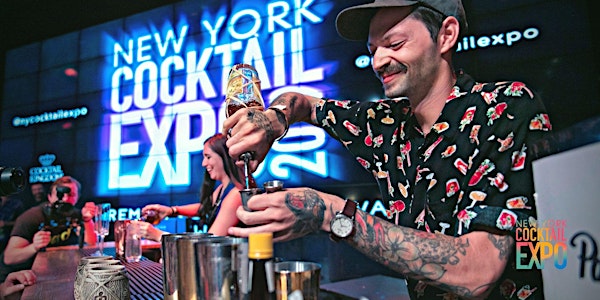 New York Cocktail Expo 2023
New York's Premier Cocktail Festival Returns!
Location
Melrose Ballroom 36-08 33rd St. Long Island City, NY 11106
About this event
New York Cocktail Expo 2023!
NY's Premier Cocktail Festival! & Official Tiki Throw Down!
Tasting Session 1: 2pm - 5pm  
Tasting Session 2: 6pm - 9pm
Rooftop After Party! 9pm - 10pm (VIP TICKETS Only where indicated) 
The New York Cocktail Expo Returns August 20th at the Top Venue in LIC, Queens!
3 Full Floors Of New Yorks Top Bars, Craft Spirit Distilleries, Curated Drinks & Beverages!
Get Early Bird Discount Ticket Prices Now While you Can For Epic:
Cocktail Tastings!
Exotic Cocktail Tastings!
Spirit Tastings! 
Rum Room!
Spirit Collecting!
Best Cocktail of 2023 Competition & Awards! 
Official Tiki Throw Down, Exotic Cocktail Competition! 
Legacy of Bars!
The Aviary
Death & Co
Mother of Pearl
Patent Pending
Osamil
Paradise Lounge
Donna Cocktail Club
Jeepney
Ardyn NYC
and many others
Legacy of Spirit Brands:
Empress 1908 Gin
Tommyrotter Distillery
Koval Distillery
Balcones Distilling
Heaven Hill Brands
Plantation Rum
Virtue Cider
Barking Irons Spirits
Marie Brizard, Yaguara Cachaca
Sobieski Vodka, Blue Nectar Tequila
Brockman's Gin
Purple Wine Spirits - Benham's Gin
Purple Wine Spirits - Redwood Empire Whiskey
Neversink Spirits
Mezcal Sacrvm
Redemption Whiskey
Murph's Famous Bloody Mary Mix
Cask & Crew Whiskey
Old Elk Distillery
PM Spirits - Nouaison Gin
Our / New York Vodka
Copper & Kings American Brandy
Corgi Spirits
New Belgium Brewing
Appalachian Gap Distillery - Mythic Gin and Ridgeline Whiskey
Pinhook Bourbon
Starward Whiskey 
Kumomoto Distillery
Virginia Distillery
G4 Tequila 
Mew Holland Spirit
Legacy of Rum Room Exhibitors
The Real McCoy Rum
Pusser's Rum
Plantation Rum
Appleton Rum
Back Bar Project - Rum Bar
Stroh Rum
Ten to One Rum
Denizen Rum
Rum Fire
Soggy Dollar Rum
Clairin The Spirit of Haiti
Diplomatico Rum
Tanduay Rum
100's of Bar Industry Panelists have come through NY Cocktail Expo Events!
Past NY Cocktail Expo Panelists & Judges:
Jillian Vose (Hazel & Apple), Eamon Rockey (Rockeys Botanical Liqueur), Shannon Mustipher (Author, TIKI Modern Tropical Cocktails) Roger Avila (Employees Only) and many more!
Featured in Time Out New York Magazine, THRILLIST, Grub Street and more! NY's Premier Cocktail Festival is the annual coming together of all cocktail enthusiasts, Industry & media guests. It will feature tastings from 30 - 40 + craft spirits, cocktails, curated drinks and amazing new beverage products!  Sample cocktails from Award Winning Bars with the Best Cocktail Competition of 2023 and Tiki Throw Down Exotic Cocktail Competition! This is the tasting adventure and showcase that is like no other! 
See a video of the event here!
Purchase your Tickets in Advance as we expect our usual spirited Sell Out. Thank you!
Bars! To Participate Register by Clicking Here!
SPIRIT BRANDS, BEVERAGE BRANDS & BAR TOOLS! Register to Participate by requesting info at nycocktailexpo@gmail.com
++++Please read carefully the session time you have chosen. Only those who have purchased VIP will be allowed early entry.
PLEASE NOTE: Tickets are NON-REFUNDABLE. All sales final. By purchasing your ticket you are agreeing to these terms and waiving any right to have a claim or dispute for a return.  No exchanges. Please double check that you have selected the ticket you really want. Exhibitors subject to changes. Thank you so much!
 nycocktailexpo.com
About the organizer
Curating the top online cocktail events, education, showcasing the latest in cocktails and spirit trends!