NEW YORK CITY - The Punany Poets' O Show with Nikki Morgan

Saturday, November 9, 2019 from 10:00 PM to 11:55 PM (EST)
Event Details
The Head Doctor presents Sexologist Nikki Morgan as seen on the Breakfast Club. This sensual episode of The Head Doctor show will address pleasure capacity, orgasmic healing, and Erectile Dysfunction while keeping you engaged in artistic expression and hands-on theatrical therapy.
Have you ever stopped yourself from being too happy? Ever pulled your energy back while you were in the throes of passion. Have you ever been afraid, of surrendering to love... or worse, chased it away? You do not want to miss this intimate live theater experience. Expand your pleasure capacity and learn techniques to use orgasm for healing with Master Teacher, Nikki Morgan as she conducts a full-scale Punany classic with audience interaction, exotic dance, exercises in the power of touch and touch less energy exchange... all set to a delicious blend of poetic tales by Jessica Holter and a soundtrack by music producer Dwayne Wiggins of Tony Toni Tone'!
Arrive and meet in The Producers' Club Bar area by 9:45pm
Products Available: Natural essential oil and herb products for supreme healing.
Parking just a few feet away
You must be at least 21 to attend
When & Where

Producers Club Theaters
358 West 44th Street
New York, NY 10036


Saturday, November 9, 2019 from 10:00 PM to 11:55 PM (EST)
Add to my calendar
Organizer
HIP Room
presents
Romantic Comedy Shows for the Holidays from December through Valentine's Season and Black History Month and on through the Spring. There are special interest events, full stage plays and poetic cabaret shows, classes, date night, LGBT Events, All Man Revues and One Woman Shows by Jessica Holter (which feature more serious content). Join us at The HIP Learning Annex in Norcross and around the country, in celebration of The Punany Poets' 25th Anniversary. Of course Jessica Holter can not be everywhere performing new material from her now collection Verbal Penetration 2, Pussy Willow. You will find her at select events, but you may consider attending one of 25 Silver Sizzle Reel Tribute shows in cities we love but do not frequent. Please check out our tour planner at www.punanytickets.com. All donations, contibutions, volunteer services, and other participation benefits a very new program, Voices of Foster Care. Please check out this rare and special documentary series at www.VoicesofFosterCare.com.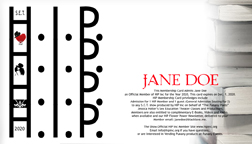 GET HIP TO H.I.P.
Holter Intellectual Property, Incorporated is an Education-based Nonprofit Organization, serving our Norcross community and Greater Atlanta with resources for self-enhancement. Come by and see us at the HIP Learning Annex in Norcross for cool classes, local tours, artistic activities and creative community service.
Click here to subscribe to our text messages.
HIP Member Events: If you are a member event, you may register to attend a show when Member seats are available, free.
Membership: To become a member of The HIP Team, email info@hipinc.org or visit www.hipinc.org.
The HIP Room presents various events for edutainment and education purposes on behalf of HIP Inc., through our Health and Wellness Team.