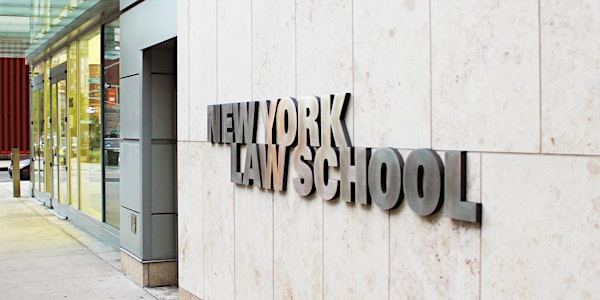 New York City Property Tax CLE 2018
When and where
Location
New York Law School 185 West Broadway New York, NY 10013
Refund Policy
Contact the organizer to request a refund.
Description
New York City Property Tax CLE 2018
Presented by New York City Tax Commission, Center for New York City Law, and Center for Real Estate Studies
Date: Monday, January 22, 2018
Time: 2:00 p.m. – 5:00 p.m.
Location: Auditorium
*Registration: $250 General Admission / $100 NYC Agency Attorneys
CLE: 3.0 Transitional and Nontransitional CLE Credits: 2.5 in Professional Practice and .5 in Ethics and Professionalism

AGENDA
1:30 – 2:00
Event Check-in
2:00 – 2:50
Session I - The New York City Tax Commission
Speaker: Ellen E. Hoffman, President of the NYC Tax Commission
Introduction

The Administrative Review of Property Tax Assessment in New York City

A Look Back at 2017
I. Preliminary Data
II. Notable Developments

What's New in 2018
2:50 – 3:20
Session II - Ethics Issues in Practice Before the NYC Tax Commission
Speakers: Ellen E. Hoffman, President of the NYC Tax Commission
Leonard Picker, Special Counsel and Director of Compliance and Investigations
BREAK
3:30 – 5:00
Session III - Exemptions/Abatements Roundup: ICAP, Not-for-Profits, 421-a New Multiple Dwellings
Moderator: Jonathan Sherman, Esq., Sherman & Gordon PC
Speakers: Philip H. Azarian, Esq., Marcus & Pollack LLP
Robert P. Carver, Esq., Emmet, Marvin & Martin, LLP
Brett J. Gottlieb, Esq., Tuchman, Korngold, Weiss, Liebman & Gelles, LLP
___________________________________________________________
Seats will only be held after receiving full payment. If you would rather not use our online payment option, Mastercard and Visa payments (not AMEX) can be made over the phone at (212) 431-2855. Checks should be made payable to "New York Law School" and mailed to:
Lillian Valle-Santiago
Center for New York City Law
New York Law School
185 West Broadway
New York, NY 10013-2921
* For those who register online, but opt to send in a check for payment, checks must be received within 1 week after registration. However, if you register on or after January 15th payment must be received immediately in order to hold your seat. Late payment will result in your seat going to someone on the waiting list.
If your schedule changes and you are unable to attend, please note the deadline to request a refund is January 18, 2018.
CLE financial aid assistance is available. Application for financial aid assistance must be received no later than three weeks prior to a course offering. Please visit NYLS's CLE Tuition Assistance page to view the Law School's financial aid policies for CLE events.
For questions about accessibility or to request special accommodations, please contact Center for NYC Law Coordinator Lillian Valle-Santiago at (212) 431-2855 or lillian.valle-santiago@nyls.edu.