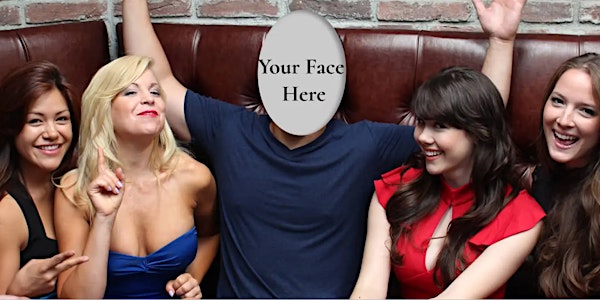 NEW YORK CITY, NY: Premium Bootcamp (JULY 2023)
The dating bootcamp taught by USA's #1 Asian Dating Coach. Learn a proven system to attract any woman regardless of race, height or looks!
When and where
Date and time
July 28 · 6pm - July 30 · 8pm EDT
Location
WeWork 27 E 28th St New York City, NY 10016
Refund Policy
Contact the organizer to request a refund.
About this event
2 days 2 hours

Mobile eTicket
(If movie does not automatically play, then download the MP4 video by clicking here)
==> CLICK to Download FREE Bootcamp Brochure <==
(Refer to the FAQ for ticketing information and refund policy guarantee)
Are YOU ready to date the girl of your dreams?
Whether you're a newbie to dating, or have been studying the art of attraction for years, you've likely come to this page for one reason:
YOU WANT MORE SUCCESS WITH WOMEN.
At the ABCs of Attraction, this is our ONE AND ONLY goal for our students.
By signing up for our bootcamp, we GUARANTEE that you will get:
Exclusive and field tested tactics, routines, and stories that utilize being Asian (or other) to YOUR ADVANTAGE for Interracial Dating & Pick-up SUCCESS!
21+ hours worth of training over 3 days and 3 nights
The workshop section has four hours of seminars, lectures, & intense interactive drills
FREE Pre-bootcamp Package that includes assignments, missions, videos and homework specially designed to get you READY and WARMED up BEFORE the bootcamp!
FREE Pre-bootcamp Phone Consultation with an ABCs staff member to go over your homework and prepare you for the big day!
FREE Bootcamp Workbook with over 130 pages that will give you EVERYTHING that you need to make meeting women EASY
A detailed understanding of the unique, intuitive, and easy to understand and implement ABCs Structure:The ONLY HOLISTIC mind & body form of pick-up that combines:
Then the fun starts!
Each evening, students head out to local hotspots with our instructors for a night of socializing with the kind of women they have only dreamed of before.
Our 3:1 student – instructor ratio offers each ABCs student as much 1-on-1 help as they can handle. And after each in-field exercise is a debriefing session where students can get feedback on how they did.
Often times, our students meet someone special during the bootcamp, which alone can be well worth the price of attending.
AND HERE IS THE BEST PART:
Head instructor JT the Asian Playboy does not belong to any large corporation, and is not interested in fly-by-night schemes. He is interested in YOUR SUCCESS, and has designed a program that keeps students in REGULAR contact with instructors through meetings and our internet boards.
In other words, THIS IS NOT A ONE- WEEKEND THING.
We've gotten tired of hearing stories where a guys takes a bootcamp at another company, gets some success, and then slowly loses his skills. THIS IS NOT TRUE INSTRUCTION, but a temporary fix.
After YEARS of teaching his own highly successful bootcamps, APB has designed a SPECIALIZED program of hardcore instruction combined with multiple follow up meetings. Our alumni have a chance to meet with their instructors even AFTER they graduate from the bootcamp.
We believe our students are a reflection of our company, and our goal is to assure that all of them are successful. Where other companies cut contact with students when the bootcamp ends, your bootcamp is an induction into a brotherhood of amateur and veteran social artists who truly want to help each other.
And guess what? WE DON'T CHARGE EXTRA FOR THE FOLLOW-UP REUNIONS.
This is not some scheme where we raised the prices of our programs.
APB has chosen to offer FREE follow-up events because he is dedicated to seeing his students grow and become successful with women. Having learned from the best, APB understands that, while a bootcamp can skyrocket your success, follow up is essential to truly develop your social skills.
Here is what some students are saying about our program:
The ABCs of Attraction is one of the rare companies that offers programs like this, which is why we have had such a high student success rate.
- SCHEDULE -
Day One:
Lecture: 6:00pm to 9:00pm | Infield Nightgame and debrief 10pm-2am
Day Two:
Lunch and Learn 3pm (With JT Tran)
Matermind Lecture: 4pm to 8pm | Infield Nightgame and debrief 10pm-2am
Day Three:
Lecture and Daygame Infield:1pm to 5pm
Lifestyle Day Three Lecture: 5pm-8pm
We view teaching as more than a method. We see it as a MOVEMENT of men learning how to properly socialize, interact and date women.
Now you can learn the A-F secrets of how to meet beautiful women and begin your own journey of personal improvement.
Don't you think it's time?
EMPOWER YOURSELF!
For a more detailed look at the syllabus or typical daily schedule, click here.
About the organizer
CEO & Founder of the ABCs of Attraction

http://www.abcsofattraction.com
"If you want the WOMAN of your dreams, become the MAN of her dreams first!"
International Customer Support:
+1-323-317-2431