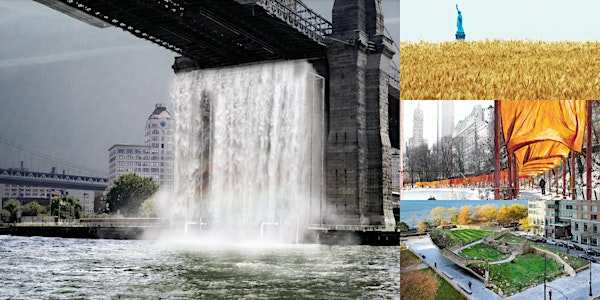 'New York City Land Art: From Man-Made Waterfalls to Wheat Meadows' Webinar
Can't make it live? Register and get access to the full replay for one week! New York Adventure Club | www.AdventureClub.com
About this event
During the 1960s, artists revolutionized our concepts of what art could be: it moved out of the galleries, was made of non-art materials, became performative...and started drawing our attention to nature in many interesting ways. Even though far removed from nature, New York City became a thriving hub for these experimental art pieces — it's time to explore the value of nature in new ways, through groundbreaking art installations from NYC's past and present.
Join New York Adventure Club as we explore the hidden, quiet, and ephemeral nature of Land Art in New York City, and the fascinating works throughout the decades that have become an integral part of the city's fabric.
Led by Sylvia Laudien-Meo — art historian, museum educator, and NYC tour guide — this digital showcase will include:
An overview of the artists associated with Land Art in NYC since the 1960s
A look at relevant artworks currently on view in the city, including public art installations, and those in commercial and permanent galleries
A discussion around the most memorable ephemeral Land art projects that temporarily 'lived' in the city
A reflection on the lessons to be learned, and inspiration to be found, in these nature-based artworks
Afterward, we'll have a Q&A with Sylvia — any and all questions about Land Art are welcomed and encouraged!
Can't make it live? Don't worry, you'll have access to the full replay for one week!
See you there, virtually!
*Immediately upon registering, you will receive a separate, automated email containing the link to join this webinar
**For the best possible viewing experience, please ensure you're using the latest version of your internet browser — Google Chrome is the most compatible. Exact technical requirements and a webinar user guide will be shared in the automated confirmation email upon registration.
**A full replay of the experience will be available to all registered guests for up to a week
About Sylvia
Sylvia Laudien-Meo is a freelance Art Historian who works in and around the city in various capacities, specializing on Modern and Contemporary art, with a strong focus on Public Art. She teaches art history at Fairleigh Dickinson University and has been working as a museum educator at MoMA, the Guggenheim and the Jewish Museum for over many years, engaging visitors in conversation based, interactive art experiences of permanent collections and changing exhibitions.
For the Municipal Art Society, UFT, Brandeis Univ., and private clients, she has been touring the city for over 20 years, exploring art and architecture, parks, neighborhoods and history. Working in various different capacities gives her a unique opportunity to make intriguing connections and weave together the complex perspectives that make out the tapestry of our fascinating city.
SLM holds a Masters Degree in Art History (with minors in History and American Studies) from the Joh. Gutenberg University in Mainz, Germany, as well as a Tourism degree from the EST in Paris France.
Testimonials
"I liked the historical and current public art sites around Manhattan. Great for someone like me, a relatively new NY-er to know about to add to my list of things to see. Knowledge of the history and inspirations of the exhibits was also illuminating." -Brent
"This subject was a little bit of a stretch for me but I was quickly hooked. Some works I had seen but this was an added perspective. So many I want to visit." -Sondra
"The topic was novel and the speaker so knowledgeable." -Nadine
"Good slides, lots of variety in terms of material presented. Lively presentation, and familiarity with artists and their work." -Molly
"She spoke about so many different artists! It was a great overview of Land Art, land & environmental art from NYC, and the work of those artists from elsewhere. I would love to attend one of her tours!" -Alison
"Well done sequence of pictures, quotes from artists and historical contexts. Lovely to hear from such a knowledgable professor." -Eva
"All the facts and different pieces she reviewed - the variety was fantastic (past and present)." -Christina
"Very informative, gave me a brand new perspective on art in NY!" -Cameron
"The novelty, creativity, delight in seeing fantastic art." -Dora
"I love the great knowledge and enthusiasm Sylvia has for the topics." -Noelle
"I like Sylvia's passion for art and her knowledge." -Linda
"So many artist, both familiar and new. Sylvia is always a font of information. Thanks to her for a rich webinar." -Claudia
"The great variety of land art, especially in NYC" -Ida
"The presenter's always thorough research and documentation, and her obvious enthusiasm for the subject." -Ellen
Disclaimer
By attending a New York Adventure Club experience, you accept our terms of service.
Categories: Virtual, Art & Entertainment