New York City Council Leader Keynotes: Making Cities of the Future Smarter through Broadband

Tuesday, September 20, 2011 from 8:00 AM to 10:00 AM (EDT)
Event Details
You are invited....
to an event of the Broadband Breakfast Club
Making Cities
of the Future
Smarter through Broadband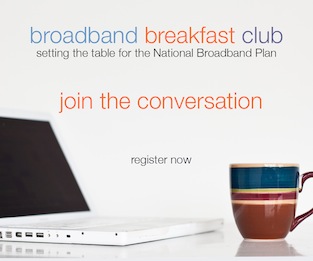 Making Cities of the Future Smarter through Broadband
Cities are able to ensure better services, promote better jobs, and become more livable through high-speed internet services. What are cutting-edge cities doing to showcase the capabilities of broadband?
Telecommunications advocates, policy-makers, journalists, top officials and the general public, all seeking to trade insights on these important issues, are invited to attend this event of the Broadband Breakfast Club, which includes full American and Continental breakfasts, for as little as $45.00, plus a modest registration fee.
This event is on the record and open to the public. 
For News and Events on BroadbandBreakfast.com follow us at http://www.twitter.com/broadbandcensus
Keynote:
Gale Brewer, Councilmember, New York City Council
Council Member Brewer has been representing the Upper West Side and the northern part of Clinton neighborhoods of Manhattan in the New York City Council since 2002. Her service in the Council is a continuation of nearly 30 years of public service. Brewer currently chairs the Committee on Governmental Operations and chaired the Committee on Technology in Government (now the Committee on Technology) from 2002-2009, where she worked to make better use of technology to save money, improve City services, and bring residents, businesses and non-profits closer to government and their communities. She also serves on a variety of other committees. In addition, she co-chairs the Manhattan Delegation (MD), sits on the Council's Budget Negotiating Team (BNT) and is a member of the Rules Committee Working Group. Brewer has been instrumental in passing numerous laws, including a bill establishing the Broadband Advisory Committee and legislation requiring City publications to be made available via the Web. In addition, Brewer was a member of the New York State Universal Broadband Initiative's Digital Literacy and Community Outreach Action Team, New York Foundation Center Library Advisory Committee, and the Information Technology and Communications Committee of the National League of Cities. As Deputy Public Advocate for Intergovernmental Affairs (1994-1998), Brewer promoted legislation, wrote policy, and monitored the implementation of the National Voter Registration Act. Her web site, the first in City government, won an award from New York Magazine. Brewer has received numerous awards for her service and has taught urban policy at Barnard, Baruch, Brooklyn, Hunter, and Queens Colleges. Gale has an MPA from Harvard's Kennedy School of Government and did her undergraduate work at Columbia University and Bennington College.
Panelists:
Stephen Ezell, Senior Analyst, Information Technology and Innovation Foundation (ITIF)
Stephen Ezell focuses on innovation policy, international information technology competitiveness, trade, and manufacturing and services issues. He is the co-author with Dr. Atkinson of the forthcoming book The Global Race for Innovation Advantage, and Why the U.S. is Falling Behind (Yale, 2012). Mr. Ezell was previously at Peer Insight, an innovation research and consulting firm he co-founded in 2003 to study the practice of innovation in service industries. At Peer Insight, Mr. Ezell co-founded the Global Service Innovation Consortium, published multiple research papers on service innovation, and researched national service innovation policies being implemented by governments worldwide. Prior to forming Peer Insight, Mr. Ezell worked in the New Service Development group at the NASDAQ Stock Market, where he spearheaded the creation of the NASDAQ Market Intelligence Desk and the NASDAQ Corporate Services Network, services for NASDAQ-listed corporations. Previously, Mr. Ezell founded two successful innovation ventures, the high-tech services firm Brivo Systems and Lynx Capital, a boutique investment bank. Stephen holds a B.S. from the School of Foreign Service at Georgetown University, with an Honors Certificate from Georgetown's Landegger International Business Diplomacy program.
Ellen Satterwhite, Program Manager, Gig.U: The University Community Next Generation Innovation Project
Ellen was Consumer Policy Advisor to the FCC's Consumer and Governmental Affairs Bureau. She was responsible for consumer research and analysis of emerging trends in communications services. And she supported the Commission's agendas on education and broadband adoption. Ellen co-authored the Commission's first surveys of broadband nonadopters and business subscribers and led analysis of these data for the National Broadband Plan, as well as co-authoring on the Plan. Before joining the Commission, she managed the University of Texas at Austin's efforts to attract funding under the Broadband Technology and Opportunities Program. Ms. Satterwhite earned a Master's in Public Affairs at the LBJ School of Public Affairs at UT Austin and her undergraduate degree from Grinnell College.
Benjamin Lennett, Policy Director, Open Technology Initiative, New America Foundation
As Policy Director for the Open Technology Initiative at the New America Foundation, Benjamin Lennett contributes to the program's efforts to develop and advocate policy proposals aimed at achieving universal, open and affordable broadband access and promoting open technologies through policy research, writing, and outreach. Prior to joining New America, Mr. Lennett served as Associate Communications and Development Manager for the Media Access Project. He holds a bachelor's degree in political science from the University of Florida and is also a graduate of American University's School of Public Affairs, where he received a master's degree in public policy.
Sarah Williams, Director, Spatial Information Design Lab, Columbia University
Sarah Williams' research focuses on the representation of digital information/mapping and ecological design & planning. Before Sarah came to Columbia University she was at MIT where she started the Geographic Information System (GIS) Laboratory. While at MIT, Sarah also worked with the SenseAble City Laboratory, which is a joint program between MIT's Media Lab and Department of Urban Studies and Planning. Before starting MIT's GIS Lab, Sarah worked with the West Philadelphia Landscape Project and the Philadelphia Water Department. In this work she applied her GIS and design skills to target vacant lots that could be used as both stormwater retention basins and environmental education centers. Sarah has 10 years of experience with Geography Information Systems (GIS), dating back to her early work with the Clark Labs/IDRISI project. At the Clark Labs, Sarah worked on Remote Sensing research and was a member of the IDRISI Programming team. Sarah has a background in Geography, Landscape/Urban Design, and Urban Planning. Sarah has a Masters degree from MIT in Urban Planning and Urban Design and received her Bachelors degree in Geography and History from Clark University.
Moderator:  Lynn Stanton, Senior Reporter, TRDaily
Lynn Stanton is a reporter at Telecommunications Reports and TRDaily, currently focusing on broadband policy.  She joined TR as a copy editor in 1994 and for most of the past 17 years has reported on telecom regulatory policy.  She has also covered pharmaceutical marketing issues for another trade publication.  A native Washingtonian, Ms. Stanton studied political philosophy at the University of Maryland and the University of Virginia.
Additional panelists have been invited
Event Details
Title:  Making Cities of the Future Smarter through Broadband
Date:  Tuesday, September 20th, 2011 8 a.m. - 10 a.m. 
Where:  Clyde's of Gallery Place, 707 7th Street NW, Washington, DC 20001
The breakfast begins at 8 a.m., followed by a discussion, beginning shortly after 8:30 a.m. and ending by 10 a.m.
The Broadband Breakfast Club is a "widely attended event" under House of Representatives Rule 25, clause 5(a)(4)(A).
-----
For individuals outside of Washington, or those whose schedule doesn't permit attendance in person, archived webcasts of the Broadband Breakfast Club are available for free on BroadbandBreakfast.com.
The Broadband Breakfast Club seeks sponsorship of our events from interested companies and organizations. We especially encourage organizations to sponsor a package of multiple events — such as one of our upcoming topical series. For details on sponsorship opportunities, please contact Sylvia Syracuse at 646-262-4630 or sylvia@broadbandcensus.com. The Broadband Breakfast Club is produced by Broadband Census News LLC. 
Follow us on Twitter at www.twitter.com/broadbandcensus
______________________________________________________________
The Broadband Breakfast Club is Sponsored By:




When & Where

Clyde's of Gallery Place
707 7th Street NW
Washington, DC 20001


Tuesday, September 20, 2011 from 8:00 AM to 10:00 AM (EDT)
Add to my calendar
Organizer
Broadband Breakfast Club
BroadbandBreakfast.com is an internet policy news and events service devoted to breaking news on Broadband policy issues including Broadband Stimulus, Wireless, the National Broadband Plan, Universal Service, and more. Our trenchant articles are free at BroadbandBreakfast.com.

To complement our news service, BroadbandBreakfast.com also hosts monthly "Breakfast Club" events and other special events.
Our Broadband Breakfast Club series meets monthly on the THIRD Tuesday of the month (except for August and December).
Events are held at Clyde's of Gallery Place, 707 7th St. NW, Washington, DC. Metro Stop: Chinatown/Gallery Place.
Events are open to the public and held from 8 am - 10 am, with full Continental and American breakfasts served from 8 am - 8:30 am.
To subscribe to our news service go to BroadbandBreakfast.com.
To register for our next event click on
http://broadbandbreakfast.eventbrite.com
To view our past and future events see 
http://broadbandbreakfastseries.eventbrite.com
To view our event videos see
http://broadbandbreakfast.com/category/broadband-tv/
The Broadband Breakfast Club is Sponsored By:



New York City Council Leader Keynotes: Making Cities of the Future Smarter through Broadband